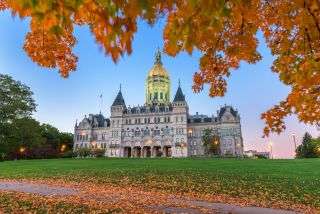 Connecticut State Capitol in Hartford, Connecticut.
Last updated May 6 at 11:47 am ET
There are 30,621 confirmed COVID-19 cases in Connecticut, according to the Connecticut State Department of Public Health. This makes Connecticut 10th in the list of states with the most U.S. coronavirus cases.
Cases have been reported in all eight of Connecticut's counties and 2,633 people in the state have died: 935 in Fairfield County, 43 in Tolland County, 804 in Hartford County, 610 in New Haven County, 45 in New London, 95 in Litchfield County, 4 in Windham, 95 in Middlesex County and 2 are pending address validation.
Governor Ned Lamont announced has proposed a four-stage reopening plan for the state beginning on May 20, according to the Hartford Courant. Some businesses will be allowed to reopen with restrictions on May 20 including restaurants, retail stores, nail and hair salons, museums and zoos and outdoor recreation areas, according to the Courant.
On April 1, Governor Ned Lamont announced the first pediatric death related to COVID-19 in Connecticut. A 6-week-old newborn from the Hartford area was brought to the hospital unresponsive and couldn't be revived, Governor Lamont wrote on Twitter. The newborn tested positive for COVID-19. "We believe this is one of the youngest lives lost anywhere due to complications relating to COVID-19," he wrote.
This "stresses the importance of staying home and limiting exposure to other people," he added. "Your life and the lives of others could literally depend on it." Governor Ned Lamont ordered all non-essential businesses to close in-person functions, starting on March 23. [Here is a list of business exemptions] Lamont's "Stay Safe, Stay Home," order remains in effect until May 20, unless otherwise modified, according to the state website.
Workplaces that are considered essential must follow a set of guidelines posted on the Connecticut State Department's website. These guidelines include eliminating all non-essential workplace travel, wearing a mask at all times while in the workplace and controlling access to external visitors such as prohibiting entry into the workplace for non-essential visitors. Stores that are considered essential to stay open must follow another set of guidelines to ensure safety, including reducing occupancy at 50% capacity and creating floor markings for customers to stand 6 feet apart at checkout lines.
All social or recreational gatherings — such as sports games, parades, concerts, festivals, live performances and conventions — of more than 5 people are prohibited in the state. Religious, spiritual or worship gatherings of over 50 people are also prohibited.
Restaurants and bars that serve food must provide take-out and delivery services only, limit the entrance of customers to the "minimum extent necessary" to pick up or pay for orders and use touchless payment if possible. Gyms, movie theaters, hair and nail salons remain closed.
Classes were canceled at all public schools in Connecticut starting March 17 and will remain closed until May 20, unless otherwise modified, according to the health department . Anyone coming into Connecticut is "strongly urged to self-quarantine for 14 days."
People who have general questions that they can't find answers to online at ct.gov/coronavirus can also call 2-1-1.
Case count by county:
Sourse: www.livescience.com