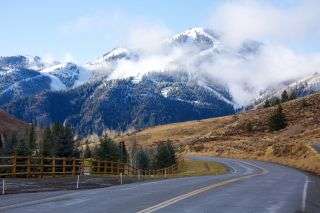 Sun Valley in Idaho.
Last updated on May 2 at 9:05 a.m. E.D.T.
Idaho currently has 2,035 total cases of COVID-19, according to Idaho public health officials.  To date, 1,215 people have recovered, 178 have been hospitalized, 76 have been admitted to an Intensive Care Unit (ICU) and 258 cases are among health care workers. Overall, 29,335 people have been tested for the novel coronavirus.
Idaho public health officials have also disclosed that there has been sixty three coronavirus-related deaths in the state – sixteen fatalities in Ada County, five in Blaine County, seven in Canyon County, eighteen in Nez Perce County, one in Cassia County, eleven in Twins Falls County, one in Payette County, two in Elmore County, and two in Jerome County.
Stage one of Idaho's reopening plan, called "Idaho Rebounds: Our Path to Prosperity,"  went into effect on May 1. Each stage of the plan will be re-evaluated every two weeks. 
The Center for Disease Control has recommended wearing cloth face coverings in public places like pharmacies and groceries stores. The Southeastern Idaho Public Health is giving guidance on how to wear them properly, according to the Idaho State Journal. 
Misinformation is very dangerous during this global health crisis. The Idaho Statesman has reported on how the state of Washington is handling the rumors that are being spread about COVID-19.  
Lab confirmed cases by county:    
Sourse: www.livescience.com