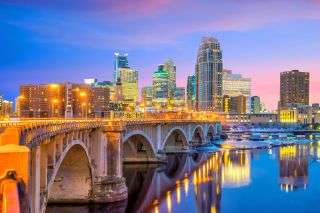 Minneapolis, Minnesota
Last updated May 4 at 5:15 p.m. EDT
Minnesota has reported 428 deaths due to the new coronavirus and 7,234 confirmed cases of the disease, according to the state's Department of Health. As of today (May 4), 1,271 patients have been hospitalized in total. The state has recorded nearly 86,000 tests so far. 
Minnesota is in the middle, at number 27 on the list of U.S. coronavirus cases per state. Hennepin County has the most cases in the state, at 2,298, and 284 deaths from the disease. Case count by county can be found in a table on the state's Department of Health website. 
On April 10, the Minnesota Department of Health released projections of the severity of the disease outbreak in the state based on different mitigation scenarios, KARE reported. In a scenario where people are ordered to stay at home until May 8, health care system demand would peak in mid July and the projected mortalities would be 22,000. 
Another model, created by scientists at the University of Washington's Institute for Health Metrics and Evaluation, predicted peak resource use for battling the coronavirus in Minnesota to occur in April, but that's now changed to May 14. Based on currently available data and regulations in place, the model predicts there will be about 2,183 coronavirus-related deaths in the state, compared to an estimate of 688 made last week. Keep in mind these predictions change often as more data become available. 
Social distancing and school and business closures
On April 30, Gov. Tim Walz announced that the state's stay-at-home order would remain in effect until at least May 18, but with new flexibility that allows retailers to open up for curbside pickup or delivery options, the Star Tribune reported. 
On April 23, Walz announced that school buildings would remain closed for the rest of the year, KTTC reported. They've been closed since March 15. 
Also on April 23, Gov. Walz announced his decision to allow certain non-essential businesses to reopen beginning Monday, April 27. The business must first come up with a COVID-19 Preparedness Plan, engage in health screening and continue to work from home whenever possible, KTTC reported. 
Dozens of protesters have been urging Gov. Tim Walz to end the state's stay-at-home order, WCCO reported. The group of protesters are calling themselves "Liberate Minnesota." Most of the crowd weren't following social distancing guidelines and many didn't have masks on. Walz said he respects the right to protest, "but when you are advocating for really reckless behavior, that's a different thing."
On April 13, the governor signed an executive order that extends the state's peacetime emergency for another 30 days, WCCO reported. This is different from the stay-at-home order. 
"Our actions have saved lives, but the threat of COVID-19 remains," Walz said at the time. "The next stages of this pandemic are going to challenge us — an extension of Minnesota's peacetime emergency will allow us to protect Minnesotans' health and wellbeing and continue to respond effectively to this rapidly-evolving situation."
Gov. Walz issued a "stay at home" order that was initially scheduled to last from March 28 until April 10, but on April 8 he announced that the order would be extended through May 4, MPR News reported. The extended order still calls for all nonessential businesses should remain closed and residents are discouraged from traveling unless they need necessities. Walz said he's told commissioners to come up with guidelines for reopening parts of the economy, but "I will not sacrifice the health of Minnesotans and the gains we've made," he said. 
To curb the spread of COVID-19, the illness caused by the new coronavirus, the state government has temporarily closed schools, restaurants, theaters, museums and other places of public gathering, such as the Mall of America, the Star Tribune reported. Walz also authorized an order classifying grocery clerks as emergency workers, which means these workers can receive free childcare, Mother Jones reported. 
The governor ordered that hospitals postpone elective surgeries, and said he might consider asking retired health care workers to aid health centers in need, the Star Tribune reported. 
Walz ordered that K-12 schools close from March 18, and asked the schools to provide childcare for health care workers, as well as meals for students in need. 
Gov. Walz remained in self-quarantine for two weeks starting March 24, after he interacted with someone who tested positive for the virus. Walz never showed any symptoms of having contracted the virus, nor did anyone in his family, WCCO reported. In addition, Sen. Amy Klobuchar's husband, John Bessler, was in the hospital after testing positive for the virus, but seems to be doing better and is now recovering at home, ABC News reported.
Coronavirus science
—Coronavirus in the US: Map & cases
—What are the symptoms?
—How deadly is the new coronavirus?
—How long does virus last on surfaces?
—Is there a cure for COVID-19?
—How does it compare with seasonal flu?
—How does the coronavirus spread?
—Can people spread the coronavirus after they recover?
Testing and personal protective equipment
On April 22, Gov. Tim Walz announced a partnership between the Mayo Clinic and the University of Minnesota that will vastly expand the state's testing capacity, local news agency KARE 11 reported. Walz said the number of available tests will allow doctors to test every symptomatic person in the state, but priority will be given to the most vulnerable, such as people living in nursing and assisted living homes. 
Researchers from the University of Minnesota asked the legislature for $20 million in funding so they could run 20,000 coronavirus tests per day — half for virus detected and the other half to for antibody detection. 
Minnesota was initially struggling to gather enough personal protective equipment (PPE) for health workers on the frontlines, but as of last week the state is in a better position. Alice Roberts-Davis, the commissioner of the Minnesota Department of Administration said that the state now has enough PPE to last at least one month, with more supplies on the way, KARE 11 reported. 
"We have plenty of inventory on all of the commodities except for gowns," Roberts-Davis said. "Those have been a little bit more difficult for us to source but I think we're on a lead for gowns today and so we're happy about that."
In late March, Gov. Walz signed a bill that allocated $330 million in COVID-19 aid, bringing the state's total response to $550 million. Predictions made at that time indicated the state's epidemic would peak in mid-August, Walz said, although ICU capacity was estimated to be reached by late July. 
Unemployment and financial assistance
Since March 16, more than 380,000 Minnesota residents have filed for unemployment benefits, which is more than all of last year, KARE reported. The Minnesota Department of Employment and Economic Development (DEED) is asking residents to apply on days that match the last digit of their social security number. You can find that schedule here. 
Wait times over the phone can reach over an hour, so DEED suggests people apply for assistance online: www.uimn.org
Minnesotans who have applied for unemployment are entitled to a $600 payment in addition to any other weekly payment they are receiving, Bring Me The News reported. 
Coronavirus in the US: Map, case counts and news
Sourse: www.livescience.com