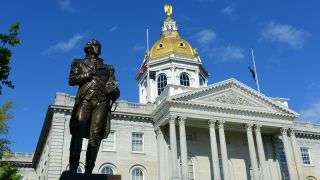 Last updated May 5 at 11:25 a.m. E.D.T.
Today (May 5), New Hampshire reported 2,588 confirmed cases of COVID-19, according to the tracker updated by the Center for Systems Science and Engineering (CSSE) at Johns Hopkins University. This makes New Hampshire 42nd in the list of states for the most US coronavirus cases, after 40 states and the District of Columbia. 
Hillsborough County has the highest number of cases, with 1,157. Rockingham County, the state's previous frontrunner, has 878 cases.
There have been 86 deaths in New Hampshire so far, according to the CSSE tracker. Most of New Hampshire's COVID-19 deaths have been linked to outbreaks in the state's longterm care facilities, local news station WMUR-TV reported on April 23.
New Hampshire faces at least several more months of coronavirus infections, state epidemiologist Dr. Benjamin Chan said at a press briefing yesterday (May 4), according to New Hampshire Public Radio (NHPR). 
On Friday (May 1), Governor Chris Sununu announced that the statewide stay-at-home order, originally set to expire on May 4, would be extended to May 31, but businesses could reopen in several phases over the coming weeks, depending on COVID-19 case levels across New Hampshire, the Concord Monitor reported.
Beginning on May 4, hospitals may resume performing non-emergency procedures. On May 11, retail stores, hair salons, barbershops and drive-in movie theaters may begin reopening, operating at 50% capacity. Restaurants may resume service — outdoor seating only — by May 18, according to the Monitor.
Two new outbreaks in New Hampshire longterm care facilities surfaced on April 29: at Hackett Hill Center in Manchester, with 22 residents and two staff members testing positive for COVID-19, and at Mountain Ridge Center in Franklin, where 13 residents and two staff members tested positive for the coronavirus, WMUR-9 reported.
Four upcoming county fairs — in Stratham, Lancaster, Sandwich and Cheshire counties — were cancelled due to concerns over the coronavirus, the New Hampshire Union Leader reported on April 23.
In spite of the economic hardships imposed by social distancing measures, "a large majority of New Hampshire residents" opt for continuing business closures and restricting public gatherings, according to a new survey by the University of New Hampshire and Dartmouth College. About one-third of the people surveyed reported that they had lost their jobs due to coronavirus shutdowns, but two-thirds of the respondents said that they prioritized social distancing over reopening businesses prematurely and risking a public health crisis, according to New Hampshire Public Radio.
New Hampshire schools will remain closed and students will continue remote learning until the end of the academic year, Governor Sununu announced on April 16. 
PPE shipments
More than 500,000 medical grade face masks arrived in New Hampshire on April 18, in a shipment from China arranged by Boeing and New Hampshire businessman and Segway inventor Dean Kamen, CNN reported.
An earlier shipment of 91,000 lbs. (41,277 kilograms) of protective medical equipment from Shanghai, China, arrived on April 12, bound for New Hampshire health care workers and first responders , the Union Leader reported. Supplies included 6.6 million masks, 50,000 face shields and 24,000 Tyvek coveralls, according to the Union Leader. 
Kamen bought the equipment and arranged for its shipment; the state of New Hampshire will purchase the lot for $5 million and then distribute it to health care professionals free of charge, NBC10 Boston reported.
New Hampshire recently joined the nationwide initiative "Goggles for Docs," which provides donated ski goggles to medical professionals who do not have access to protective eyewear, according to the New Hampshire Business Review (NHBR). At least four drop-off points were opened across the state for skiers to drop off their goggles, NHBR reported on April 14.
New Hampshire's Secretary of State and Attorney General released a memo April 10 stating that any voter who has concerns about voting in person due to COVID-19 may request an absentee ballot for this year's elections, NHPR reported. 
Statewide stay-at-home order
On March 26, Governor Sununu issued a statewide stay-at-home order effective until the beginning of May, the Union Leader reported. Nonessential businesses closed and people were to stay in their homes except for limited outings, beginning at 11:59 p.m. local time. Schools will remain closed until May 4, and may not reopen for the duration of the school year, Governor Sununu said.
However, the governor explained at a news conference on March 26 that "this is not a shelter in place."
"We are not closing down transportation, we are not closing our borders, and we are not preventing our residents from leaving home," the governor said.
Models show that New Hampshire's COVID-19 infection rate could reach as high as 50%, according to the Union Leader.
On March 23 New Hampshire reported its first COVID-19 death: a man in his 60s who was a resident of Hillsborough County, the Union Leader reported. Governor  Sununu said that the number of deaths statewide will likely "dramatically increase" in the coming weeks, according to the Union Leader.
Governor Sununu also mobilized the New Hampshire National Guard. Members helped to prepare a gym at Southern New Hampshire University for use as an overflow facility for local hospitals, the Union Leader reported.
More than 57,000 New Hampshire residents have filed new unemployment claims, according to the Union Leader. "Based on the preliminary numbers, it is very possible that the March unemployment rate will be the highest on record going back to 1976," economist Russ Thibeault said.
Until further notice, the state's Bureau of Family Assistance, the Bureau of Child Support Services, and the Bureau of Employment Supports will conduct all interviews by phone, to limit person-to-person contact and to slow transmission of the illness, according to the New Hampshire Department of Health and Human Services (DHHS). 
One of the COVID-19 patients was at the Manchester branch of the NH Division of Motor Vehicles on March 2 through March 5 and on March 10, between the hours of 8 a.m. and 4:30 p.m., and people who visited that branch during those times may have been exposed to infection, according to the DHHS.
"Individuals who were in the Manchester DMV on any of those days and have developed symptoms of fever, cough or shortness of breath should stay home, limit their contact with others, and immediately contact their healthcare provider," the DHHS says. 
"Individuals who were at the Manchester DMV and are not experiencing symptoms should self-observe for symptoms and, if they experience symptoms, should contact a healthcare provider." 
Coronavirus science and news
—Coronavirus in the US: Map & cases
—What are the symptoms?
—How deadly is the new coronavirus?
—How long does virus last on surfaces?
—Is there a cure for COVID-19?
—How does it compare with seasonal flu?
—How does the coronavirus spread?
—Can people spread the coronavirus after they recover?
In a briefing on March 15, Governor Sununu ordered the closure of all New Hampshire public schools for several weeks, the New Hampshire Union Leader reported. Schools were instructed to prepare lessons for remote learning beginning March 23.
"We are doing everything we can to ensure that kids still receive the education that they deserve across New Hampshire," Governor Sununu said at the briefing. "We are taking unprecedented action today as a state to help manage this evolving public health situation," he added.
Elective surgeries will be delayed at Dartmouth-Hitchcock Medical Center in Lebanon, New Hampshire — the state's largest healthcare provider — to prepare for rising numbers of COVID-19 patients requiring care, New Hampshire Public Radio (NHPR) reported. Lawmaking also temporarily came to a halt, as the New Hampshire Legislature shuttered on March 16, according to NHPR.
On March 13, Governor Sununu declared a state of emergency, issuing an executive order to provide state and local government bodies with access to resources to combat the novel coronavirus and prevent the spread of COVID-19.
The state's first case, announced on March 2, was a patient who had recently returned from Italy, NHPR reported.
Cases by county (15 cases are unassigned):
Sourse: www.livescience.com