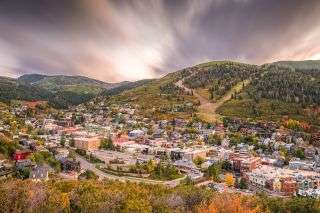 Last updated May 2 at 9:30 a.m. ET.
As of Friday, May 1, Utah has confirmed 4,828 cases of COVID-19, says the state health department, putting the state in the middle of the pack of U.S. coronavirus cases by state. The state has tested at least 112,558 people so far. At least 403 people have been hospitalized with COVID-19 in the state. And at least 1,704 have recovered, defined by being diagnosed more than 3 weeks ago without dying. 
Twenty-four of the cases are in infants less than one year, 175 are in those ages 1 to 14, 746 are in 15- to 24-year-olds and 1,934 are in 25- to 44-year-olds. Another 1,454 are in 45- to 64-year-olds, 437 are in 65- to 84-years olds, and 52 are in people 85 or older. 
Racial disparities in the COVID-19 impact have arisen in Utah. Hispanic or Latino individuals make up only 14% of the state population but comprise 36% of cases, according to state health department data.
Utah has seen 46 reported coronavirus deaths. Utah's state health department is not releasing specific information on the locations and ages of the victims, but county health departments and local media have released some information. The first death occurred on Sunday, March 22. The victim was a man older than sixty, according to ABC4. Names of at least two victims have been released. They were Utah Speaker of the House Bob Garff, 77, and West Jordan resident Silvia Deyanira Melendez, 24, according to The Salt Lake Tribune. Sixteen of the 32 deaths have been residents of long-term care facilities, state epidemiologist Angela Dunn said on April 21. 
As of April 17, a less-restrictive testing criteria has been put into place in Utah. Now, people can qualify for testing if they exhibit just one possible symptom of COVID-19, whether cough, fever or shortness of breath, The Salt Lake Tribune reported.
The state has also launched the "A Mask for Every Utahn" initiative, allowing those who don't have and can't purchase a face mask to order a free fabric mask through the state.
On April 30, the Church of Jesus Christ of Latter-Day Saints announced that it would cancel all youth camps, conferences, treks and pageants for all of 2020.
On April 20, state epidemiologist Angela Dunn told reporters that about 5% of coronavirus tests in the state come back positive, a number that has stayed consistent with increased testing. On April 27, Dunn said in a press conference that the state was working to expand contact tracing as the number of new cases plateaued. 
On April 24, Gov. Gary Herbert said the state was not yet sure what it would do with an $800,000 order of Hydroxychloroquine, the malaria drug touted by President Donald Trump as a coronavirus cure that the U.S. Food and Drug Administration has warned against using due studies showing increased, not decreased, mortality rates in patients given the drug. The state had not yet taken possession of the order, Utah Public Radio reported, and might be able to get a refund.  
The Navajo Nation, which extends into part of Utah, has been hard-hit by the virus, with 44 deaths recorded as of April 10.
Timeline of coronavirus controls in Utah
May 1: Utah's National Parks prepared for limited re-openings, with Bryce Canyon set to be the first to open on May 6. There will be no services at the parks and visitors will be limited to only certain areas, the Salt Lake Tribune reported.
April 28: Utah Gov. Gary Herbert announced that Utah would move from a red "high risk" level to an orange "moderate risk" level starting Friday, April 30. The change allows group gatherings of up to 20 people and and end to some travel restrictions, but citizens are asked to continue social distancing and wearing masks. Some restaurants and businesses may reopen.
April 22: Utah released a beta version of an app called "Healthy Together," which enables people to report symptoms and, if needed, they will be directed to testing. Users can opt in to allow the state department of public health to use their data for contact tracing to track the spread of COVID-19, according to a press release.
April 14: Utah extends its closure of public schools through the end of the academic year.
April 9: Salt Lake County extended its stay-at-home order until at least May 1, Fox 13 reported. In addition, Capitol Reef National Park closed until further notice.
April 8: State Governor Gary Herbert said that all travelers into Utah would be required to sign "travel declarations" stating whether they have been tested for COVID-19 or whether they have experienced symptoms in the past two weeks, KSLTV reported.
April 7: Summit County extended its stay-at-home order until May 1. Other counties in Utah under stay-at-home orders are Davis, Morgan, Salt Lake, Tooele, Wasatch and Weber. 
April 3: Zion National Park is closed, effective immediately. 
April 1: Davis County issued a stay-at-home order for residents to last until May 1. 
March 30: Wasatch County issues a stay-at-home order for residents.
March: 29: Salt Lake County issued stay-at-home orders for residents, closing businesses such as salons and barbershops for the first time and requiring residents to remain home except for essential business, The Salt Lake Tribune reported. 
March 26: Salt Lake City Mayor Erin Mendenhall issued a stay-at-home order for the city on Friday (March 26). On the same day, Utah Governor Gary Herbert issued voluntary guidance asking Utahans to stay at home. Also on Friday, the National Park Service announced that Arches and Canyonlands national parks would be closing to all visitors beginning Saturday (March 28). 
March 25: The Navajo Nation, which spans parts of Arizona, Utah and New Mexico, announced a stay-at-home order, The Salt Lake City Tribune reported. So did Summit County, Utah, which has 20 times the cases per capita of Salt Lake City, according to the county health director. Summit County's order went into effect on March 26. Also on March 25, the Church of Jesus Christ of Latter-Day Saints announced that all of its temples would close beginning Thursday, The Salt Lake Tribune reported. 
March 24: Utah governor Gary Herbert halted elective surgeries in the state to free up hospital resources for COVID-19 patients. 
March 20: All jury trials in Utah are postponed until at least June 1. In addition, the Church announced that many of its missionaries, scattered around the globe, would be returning home and would be asked to isolate for 14 days upon arrival. On Sunday (March 22), though, footage of large groups of people welcoming returning missionaries drew criticism from state officials.
March 18: The Utah System of Higher Education announced that it would cancel or postpone all graduation ceremonies for state colleges and universities, the Salt Lake City Tribune reported. A magnitude 5.7 earthquake hit Salt Lake City, temporarily disrupting testing and the state's coronavirus hotline, according to the health department.
March 17: Utah Governor Gary Herbert issues an in-person dining ban to the entire state for at least two weeks beginning Wednesday, March 18, Deseret News reported.
March 16: Salt Lake County banned in-person dining at bars and restaurants.
March 15: The state's ski areas began shutting down, according to Salt Lake Magazine.
March 13: Utah public schools were closed beginning March 16. 
March 12: Utah colleges and universities began making plans to close and move classes online, according to KSLTV. 
More Utah coronavirus news
Unemployment claims in Utah hit 19,690 the week ending in March 20 and jumped again with 28,560 new claims the week ending in March 27, The Salt Lake Tribune reported. During the week ending April 5, jobless claims set yet another state record, with 33,076 filed. As of April 16, 106,671 state residents had filed unemployment claims, The Salt Lake Tribune reported. On April 30, the Salt Lake Tribune reported that at least 146,303 Utahns had been put out of work since the start of the pandemic.
On April 12, the Salt Lake Tribune reported that Utah-based ARUP Laboratories had started testing people in Utah for SARS-CoV-2 antibodies. Antibody tests help show who has ever been exposed to the virus, even if they have recovered or were never sick.
On Sunday, March 21, Utah Senator Mitt Romney was ordered to self-quarantine due to contact with Senator Rand Paul (R-KY), who has tested positive for coronavirus. He was cleared from quarantine on Wednesday (March 25), after testing negative for the virus, according to The Salt Lake Tribune.
On Wednesday, March 18, Rep. Ben McAdams (D-Utah) reported that he has tested positive for the new coronavirus, making him the second member of Congress to test positive. He was hospitalized on Sunday, March 22, and was released on Saturday, March 28. On April 10, McAdams said he was participating in a clinical trial to see if the antibodies in his blood could help treat other coronavirus patients, the Salt Lake City Tribune reported.
Some of the most famous Utah residents to test positive for the virus are Utah Jazz players Donovan Mitchell and Rudy Gobert. As a result, the National Basketball Association (NBA) canceled the remainder of the season.
Coronavirus cases (and deaths) by district/county
Bear River – 61 (1 death)
Central Utah – 23
Davis County – 293 (2 deaths)
Salt Lake County – 2,526 (29 deaths)
San Juan – 47 (2 deaths)
Southeast Utah – 13
Southwest Utah – 101 (2 deaths)
Summit County – 373
Tooele County – 68
Tri County – 13
Utah County – 993 (7 deaths)
Wasatch County – 155 (1 death)
Weber-Morgan county – 162 (2 deaths)
Coronavirus science and news
Coronavirus in the US: Map & cases 
What are coronavirus symptoms? 
How deadly is the new coronavirus?
How long does coronavirus last on surfaces? 
Is there a cure for COVID-19? 
How does coronavirus compare with seasonal flu? 
How does the coronavirus spread? 
Can people spread the coronavirus after they recover?
Originally published on Live Science. 
Sourse: www.livescience.com