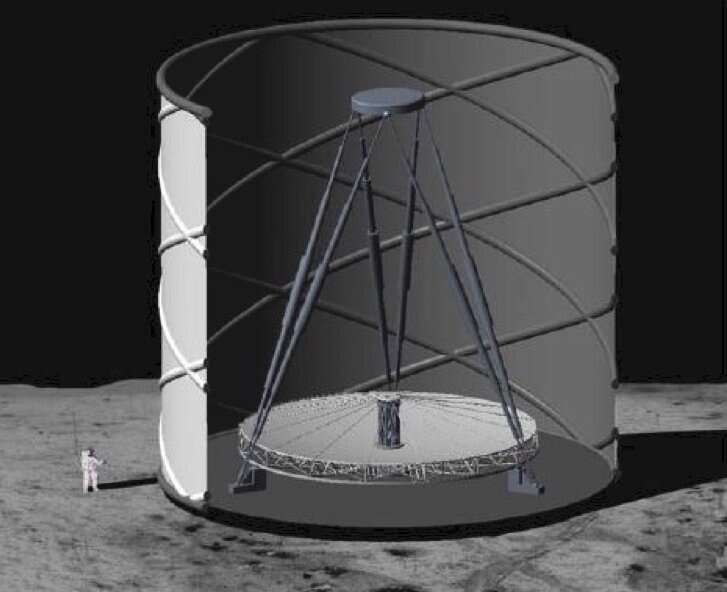 A group of astronomers led by Anna Schauer from the University of Texas at Austin, USA, found that the lunar telescope, the idea of ​which was considered by NASA about 10 years ago, can solve a problem that none of the modern observatories can cope with – it will be able to observe the very first stars in the Universe.
"With the development of astronomy, telescopes have become more and more powerful, allowing us to study sources dating back to the earlier ages of the universe," said Professor Volker Bromm, a theorist who studied the very first stars for decades.
"However, the theory predicts that in an even earlier era, when galaxies did not yet exist, individual stars first formed in the Universe – the mysterious stars of the third population. This moment of the "very first light" will be inaccessible to observations even using the James Webb telescope and will require an even more powerful observatory. "
These first stars were formed about 13 billion years ago. They have a unique composition, since they consist only of hydrogen and helium, and their size probably exceeds the size of the Sun by tens or hundreds of times. New calculations conducted by Schauer and her team demonstrate that the previously proposed project, a telescope with a liquid mirror that was supposed to be placed on the surface of the moon, can observe these stars. Proposed in 2008 by a team led by Roger Angel of the University of Arizona, USA, this telescope is called Lunar Liquid-Mirror Telescope (LLMT).
NASA considered but did not approve this project about 10 years ago, but at that time there were no theoretical calculations justifying the suitability of the lunar telescope for observing the very first stars of the Universe, according to the team.
The mirror of this telescope, which Schauer dubbed Ultimately Large Telescope, will be made of liquid metal and have a diameter of 100 meters. The telescope will operate on solar panels and transmit information to Earth through a lunar satellite. A rotating mirror of liquid metal will save on the delivery of materials to the surface of the moon, compared to conventional mirrors, the authors explained.