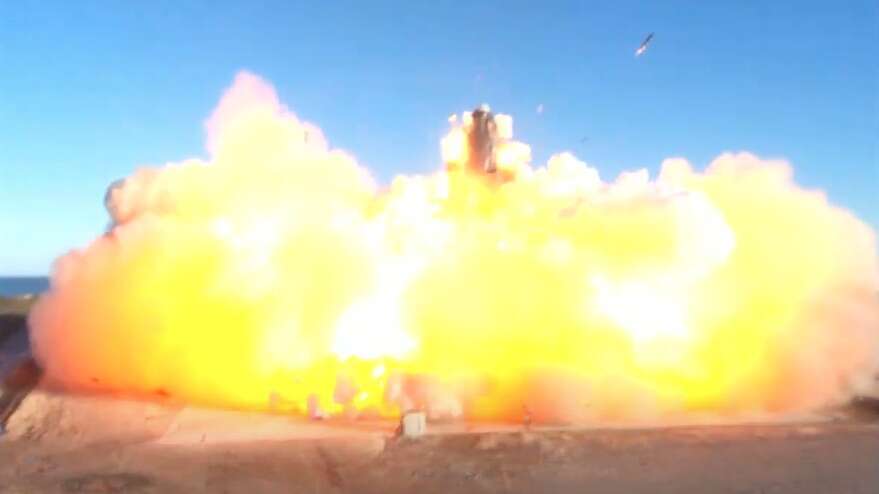 SpaceX completed its first test flight of the prototype of its Starship launch vehicle on December 10, while the device successfully detached from the site, but exploded when trying to land in a few minutes.
The Starship SN8 launched from the SpaceX test site in Boca Chica, Texas, at about 01:45 Moscow time. This flight was the first high-altitude test of the device, which was supposed to rise to a height of 12.5 km before descending and landing vertically back on the launch pad.
The device climbed into the sky of Texas, although the SpaceX did not immediately provide information about the actual altitude at which the device climbed. One of the three Raptor engines at the base of the car turned off 1 minute 40 seconds after the start. The second engine turned off 3 minutes 15 seconds after the start.
The last engine turned off 4 minutes 40 seconds after the start, after which the car began to decline. The device moved to a horizontal position, using the wings for descent. 6 minutes and 32 seconds after the start, Starship re-activated the engines and reoriented to a vertical position to try to land with the engine. However, the car seems to have dropped too quickly and after 10 seconds hit the ground sharply and exploded.
This explosion destroyed the ship, leaving behind most of the bow cone. Nevertheless, SpaceX declared the flight successful in its webcast, showing a graphic: "Amazing test. Congratulations to Starship! "
"The pressure in the fuel tank was low during landing, which caused the landing speed to be high, but we got all the necessary data!" Musk tweeted shortly after the flight. "This is a quick unscheduled landing or explosion. "Congratulations to Team SpaceX, damn it!!"