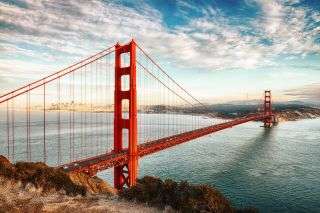 Last updated Monday, May 4 at 4:25 p.m. ET.
California has reported 54,937 confirmed cases of COVID-19 and 2,254 deaths as of Saturday (May 2), according to the California Department of Public Health (CDPH). 
This makes California 5th in the list of states with the most U.S. coronavirus cases. 
So far, labs in the state have conducted more than 715,751 tests for COVID-19 as of Saturday (May 2), according to CDPH. The state has cleared a backlog of tests, and no results are pending. The department will now report all tests conducted for COVID-19 rather than all individuals tested.
Among all cases 5,952 are health care workers. CDPH is now reporting infections in health care workers regardless of where they were exposed. As such, the total number of cases includes both those infected while on the job and those infected through community transmission. 
On Monday (May 4), California Gov. Gavin Newsom announced that some businesses will be allowed to reopen in a limited manner later this week, according to The Mercury News. For example, clothing stores, florists and bookstores can reopen for curbside pickup. However, shopping malls, offices and dine-in restaurants will remain closed, the Mercury News reported.
In addition, residents of counties that have already extended their stay-at-home orders, such as those in the bay area, will be required to follow the more strict local guidelines.
On Wednesday (April 29), officials in seven Bay Area jurisdictions announced that the region's shelter-in-place order will be extended through May 31 (the order was set to expire on May 3), but some restrictions will be lifted. Starting May 4, all construction activities and certain outdoor businesses (such as landscaping) will be allowed to resume with specific safety precautions, according to a statement from Santa Clara County. Outdoor activities that do not involve shared equipment, such as golf and skating in skate parks, may also resume as long as they comply with social distancing.
Some childcare establishments, summer camps, and other educational or recreational institutions will also be allowed to resume with groups of 12 or fewer children, according to ABC 7 News. However, California state rules still limit childcare to only those of essential workers, and so people in the Bay Area must comply with this requirement, ABC 7 News reported.
On Tuesday (April 28), Newsom said that schools may start the next academic year early, in July or August, to make up for lost learning during coronavirus-related closures, according to The Mercury News.
"We recognize there's been a learning loss because of this disruption," Newsom said. "We might want to consider getting that school year moved up a little bit … That learning loss is very real."
No definitive decisions have been make, but reopening schools would likely come with physical changes to the school environment, he said.
On Friday (April 24), Newsom announced a new program called "Restaurants Deliver: Home Meals for Older Californians," which will pay restaurants to prepare and deliver meals for seniors. The program is a partnership with the Federal Emergency Management Agency (FEMA), which will cover 75% of the cost of the meals, according to ABC 7. (The state will cover most of the remaining cost.) Restaurants will be paid up to $16 for each breakfast, $17 for each lunch and $28 for each dinner prepared.
"This partnership will allow for the ability for restaurants to start rehiring people or keep people currently employed and start preparing meals, three meals a day, seven days a week, and have those meals delivered to our seniors all throughout the state of California," Newsom said in a news briefing. 
On Thursday (April 23), Newsom issued an executive order allowing grocery stores and other retailers to provide disposable grocery bags without charge for the next 60 days, according to The New York Times. (Since 2016, stores in California have been required to charge at least 10 cents for each disposable bag used by a customer.) The move is meant to reduce the risk of COVID-19 exposure from reusable bags.
On Wednesday (April 22), Newsom said he has instructed coroners to investigate whether deaths from COVID-19 may have occurred as far back as December 2019, according to The Mercury News. The announcement comes after officials in Santa Clara County reported that coronavirus deaths occurred in the area earlier than thought, on Feb. 6 and Feb. 17.
On Wednesday (April 22), California Gov. Gavin Newsom announced that the state is now in a position to schedule surgeries once again at hospitals and health care facilities throughout the state.
"We are working with our health directors and throughout the healthcare delivery system to reintroduce the capacity to get these scheduled surgeries up and running again," Newsom said in a news briefing.
In regards to diagnostic testing, Newsom said the state is currently conducting about 16,000 tests a day, with a goal of conducting 25,000 tests a day at the end of April. He added that the goal over the next few months is to increase testing to 60,000 to 80,000 tests a day.
On Monday (April 20), Los Angeles County released preliminary results from a study looking at COVID-19 antibodies, which show if a person had an infection in the past but didn't know it. Based on testing of a representative samples of adults in LA County, the researchers estimate that about 4% of adult residents have antibodies to the virus. This suggests that the number of people who've had COVID-19 infection is around 221,000 to 442,000, or 28 to 55 times more than the number of reported cases, according to a press release from The University of Southern California, which conducted the study in collaboration with the LA County Department of Public Health. These results are similar to those of a separate antibody study in Santa Clara County, which also suggested that many more people have had COVID-19 infection than thought. However, the accuracy of the antibody test used in both studies has been questioned, with experts pointing out that just a few false positives on these tests could lead to a serious overestimate of the number of cases, Live Science previously reported.
Residents in several Bay Area counties, including Marin and Contra Costa, will be required to wear cloth face coverings when in public settings, including when they go grocery shopping or work in public, according to SF Chronicle. People will not be required to wear masks when they walk, run, hike or ride a bicycle. The order will take effect April 22. San Mateo County is expected to announce a similar order, according to The Mercury News. Residents of Los Angeles County were also required to wear cloth face coverings in public settings starting this week.
On Tuesday (April 14), California Gov. Gavin Newsom announced six key indicators that will help the state determine when and how to relax the current stay-at-home orders during the COVID-19 pandemic.
These include the ability of the state to identify and isolated patients through expanded testing; the ability to protect high risk groups such as seniors; the ability of hospitals to handle surges in cases, the ability to develop treatments to meet demand; the ability of schools, businesses and child care facilities to adapt to support social distancing; and the  reinstate additional stay-at-home orders, if necessary. 
"While Californians have stepped up in a big way to flatten the curve and buy us time to prepare to fight the virus, at some point in the future we will need to modify our stay-at-home order," Newsom said in a statement. "As we contemplate reopening parts of our state, we must be guided by science and data, and we must understand that things will look different than before."
On Monday (April 13), California Gov. Gavin Newsom announced that the Golden State would work together with Oregon and Washington on a "West Coast" plan for ending the stay-at-home orders issued in the states, according to The Mercury News. Newsom said the order in California had worked better than expected to reduce new infections. 
"The curve is being bent because of you and your willingness to stay at home," Newsom said. "We didn't see the kind of surge people predicted." 
In an appearance on MSNBC on April 7, California Gov. Gavin Newsom said he had secured about 200 million masks a month for the state, according to SF Gate. The masks will come from nonprofits as well as a California company that will be making N95 masks mostly overseas, SF Gate reported.
The state has been making progress in reducing its backlog of pending tests — at it's peak, results from nearly 60,000 tests were pending, according to The Mercury News. 
And April 4, Newsom announced partnerships with both private and public institutions that he hopes will increase testing in the state by five-fold in the next few weeks, The Mercury News reported.
On April 3, Newsom said models the state is using show the outbreak is expected to peak in California in May, according to KCRA.
On April 1, California health officials told the public that wearing cloth face coverings could help reduce the spread of coronavirus from people who don't have symptoms. Still, officials stressed that such coverings "are not a substitute for physical distancing or frequent hand washing," Dr. Sonia Angell, director of the California Department of Public Health, said in a statement. Officials also noted they do not recommend N-95 or surgical masks, because these are needed by health care workers.
Schools in California should expect to stay closed for the rest of the academic year, Newsom said in a news briefing on April 1, according to KRON4 News. 
"It seems self-evident we should not prepare to bring our children back into the school setting," Newsom said. However, Newsom stressed that education would continue through distance learning. "Schools will not reopen, but classes are in."
On March 31 officials in the Bay Area officially extended the area's shelter-in-place order for residents May 3, according to a statement from the Santa Clara County Public Health Department. (The original order was set to expire on April 7.) For example, The order now specifies that use of playgrounds, dog parks and public picnic areas is prohibited, as is the use of golf courses, tennis courts, pools and rock climbing walls. Both residential and commercial construction are also prohibited.
On March 30, Newsom launched the California Health Corps, a new initiative to expand the health care workforce to address the pandemic, according to a statement from Newsom's office. The order waives certain professional licensing and certification requirements for the duration of the COVID-19 emergency. Newsom called on retired doctors, medical and nursing students and EMTs, among other healthcare professionals, to sign up for the Health Corps. Those who register will be paid and given malpractice insurance. 
On March 27, Newsom issued an order that places a moratorium on evictions until May 31, according to a statement from Newsom's office. The order prohibits evictions for tenants who cannot pay rent because they have been affected by the coronavirus outbreak, for example, because they lost their job or fell ill with the virus.
On March 24 California Gov. Gavin Newsom said that half of California's confirmed COVID-19 cases are younger adults ages 18 to 49, according to The Mercury News.
"Young people can and will be impacted by this virus," he said.
On March 23, Newsom said strict social distancing measures may need to last two to three months in California to reduce the spread of COVID-19, according to The Mercury News. Newsom added that the state will need an additional 50,000 hospital beds to serve patients during the outbreak.
California will lease 177 hospital beds at the Seton Medical Center hospital in Daly City to be used for coronavirus patients, according to The Mercury News. Newsom has also requested a Naval hospital ship to be used for non-coronavirus patients to free up hospital beds, The Mercury News reported.
On March 19, Newsom issued a shelter-in-place order for the entire state, requiring 40 million residents to stay at home unless they need to perform essential activities, such as shopping for food or providing essential services, according to The Mercury News. Newsom said that without such measures, projections show that half of all Californians may contract COVID-19 over the next eight weeks.
On March 17 Newsom said he thinks most schools in the state will remain closed for the rest of the academic year.
"I would plan and assume it's unlikely that many of these schools, few if any, will open before the summer break," Newsom said in a news conference. More than 98% of California schools are now closed, meaning some 6 million students are not in school, he said.
On March 16, residents in six Bay Area counties were ordered to "shelter in place" for the next three weeks to reduce the spread of coronavirus, according to the San Francisco Chronicle. The order, which started Tuesday (March 17) at 12:01 am, affects some 6.7 million people in San Francisco, Santa Clara, San Mateo, Marin, Contra Costa and Alameda counties. Shortly afterwards, officials in Santa Cruz County also ordered residents to shelter in place.
People will still be allowed to go shopping for groceries and to travel for medical care or to provide aid to family and friends, the Chronicle reported. Residents will be asked to work from home, or not go to work, unless they provide an "essential" service, such as health care, police, fire or sanitation work. Airports, taxis and public transit will still operate, but should only be used by those traveling for essential reasons. 
People can still take walks or exercise outside, provided they are six feet away from anyone not in their household. Older adults and those with underlying health conditions should stay inside expect to seek health care, the Chronicle reported.
Grocery stores and pharmacies will stay open, and restaurants should provide takeout food only. Gas stations, home supply stories, banks and laundry services will also stay open.
On March 15,  Newsom announced a partnership with Verily Life Sciences, a sister company to Google, to create an online portal where people with mild symptoms or concerns about COVID-19 could fill out a survey and receive a score indicating their likelihood of needing a test. Those who are determined to be candidates for testing will then be directed to drive-through testing sites in Santa Clara County and San Mateo County.
Coronavirus science and news
—Coronavirus in the US: Map & cases
—What are the symptoms?
—How deadly is the new coronavirus?
—How long does virus last on surfaces?
—Is there a cure for COVID-19?
—How does it compare with seasonal flu?
—How does the coronavirus spread?
—Can people spread the coronavirus after they recover?
 The 9 Deadliest Viruses on Earth 
 28 Devastating Infectious Diseases 
 11 Surprising Facts About the Respiratory System 
Originally published on Live Science. 
OFFER: Save at least 53% with our latest magazine deal!
With impressive cutaway illustrations that show how things function, and mindblowing photography of the world's most inspiring spectacles, How It Works represents the pinnacle of engaging, factual fun for a mainstream audience keen to keep up with the latest tech and the most impressive phenomena on the planet and beyond. Written and presented in a style that makes even the most complex subjects interesting and easy to understand, How It Works is enjoyed by readers of all ages.
Sourse: www.livescience.com