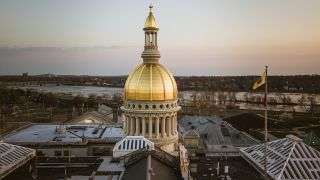 Last updated May 4 at 4:45 p.m. E.D.T.
As of today (May 4), there are 128,269 confirmed cases of COVID-19 in the state of New Jersey, an increase of 7,079 cases since May 1. This makes New Jersey second in the list of states for the most U.S. coronavirus cases, after New York. 
Bergen County had the highest number of cases, with 16,282 positive test results, according to the New Jersey Department of Health (DOH). Hudson County had the next-highest number, with 15,881 confirmed cases. 
An additional 372 deaths were also reported across New Jersey since May 1, raising the state total from 7,538 to 7,910, the DOH said. New Jersey Governor Phil Murphy declared a state of emergency on March 9, after the number of cases rose to 11 statewide.
The governor reopened state parks and golf courses across New Jersey last week, but schools will remain closed for the duration of the academic year, NJ.com reported today (May 4). 
«Guided by safety and science, this is the best course of action,» Governor Murphy said in a tweet.
«We reach this conclusion based on the guidance from our public health experts and with a single goal in mind, the safety and well-being of our children and our educators,» Governor Murphy said during today's press briefing, according to NJ.com. «The reality is that we cannot safely reopen our schools to provide students and families, or faculty and staff, the confidence needed to allow for a return to in-person instruction,» the governor said.
Governor Murphy met with President Donald Trump on April 30 at the White House; shortly after the meeting, the governor announced that the federal government would ship hundreds of thousands of pieces of personal protective equipment (PPE) and other medical gear to the state of New Jersey, Politico reported.  
The shipment, earmarked for use in 358 nursing homes, will include 1 million pairs of gloves, 200,000 gowns, 19,000 goggles and 220,000 masks. New Jersey will also receive 550,000 additional COVID-19 test kits and 750,000 swabs, doubling the number of tests that can be performed daily, according to Politico. 
Hospitalizations for COVID-19 have declined since mid-April by about 15%, the governor said during a press briefing. According to Health Commissioner Judith Persichilli, hospitalizations in New Jersey peaked around April 13 or 14; at that time, approximately 8,200 patients were being treated, Politico reported.
On April 20, state officials released a list identifying 425 nursing homes and health care facilities where residents became ill or died from COVID-19, NorthJersey.com reported. An estimated 10,700 people in long-term care facilities across New Jersey have tested positive for the coronavirus, and residents of long-term care facilities account for 1,779 of the state's deaths, according to NorthJersey.com.
In New Jersey on April 12, 1,644 hospitalized patients were on ventilators; this represents about 56% of the total number of available machines in the state, NJ.com reported. 
On April 11, Governor Murphy issued his 24th executive order since the coronavirus outbreak began, reducing NJ Transit's bus and train service to 50% capacity and requiring all riders to wear face masks to inhibit the spread of COVID-19, according to NJ.com.
State parks closed
Beginning April 7, all New Jersey state parks and county parks were closed, Governor Murphy announced on Twitter. The governor signed an executive order to close these spaces because «we've seen far too many instances in our parks where people are gathering and socializing in groups,» he said in a tweet. «We need to #FlattenTheCurve,» the governor said.
Governor Murphy also signed an executive order that waived graduation assessment requirements for eighth and twelfth grade students for the 2019 to 2020 school year. He did so to ensure «that no student is left behind or unduly penalized due to these extraordinary circumstances,» the governor said.
«As a state, we must continue to adapt to the new reality that COVID-19 has created in our state, a task that our students and educators are navigating every day,» said Governor Murphy. 
Major disaster declaration
The Centers for Disease Control and Prevention (CDC) issued a travel advisory on March 28, urging residents of New Jersey, Connecticut and New York to «refrain from non-essential domestic travel» for the next 14 days, effective immediately. Exempt from the advisory are employees of industries that represent critical infrastructure, such as healthcare, food supply, trucking and financial services, according to the CDC. 
On March 26, Governor Murphy announced that President Donald J. Trump issued a major disaster declaration for the state of New Jersey, providing much-needed federal assistance for relief and recovery from the COVID-19 pandemic.
«With our major disaster declaration approved, New Jersey will now have access to greater essential federal support to help our residents through this emergency,» Governor Murphy said in a statement. «This declaration will allow us to lift remaining bureaucratic barriers to assistance and enhance our statewide response to COVID-19.»
Governor Murphy requested the declaration from President Trump on March 23.
«NOT a polite suggestion»
On March 21, Governor Murphy signed an executive order closing all non-essential retail businesses across the state, effective at 9 p.m. and continuing until further notice. Essential businesses, such as grocery stores, pharmacies, laundromats, hardware stores, pet stores and banks, to name a few, will remain open, the order stated. 
New Jersey residents are to remain in their homes with some exceptions, «such as obtaining essential goods or services, seeking medical attention, visiting family or close friends, reporting to work, or engaging in outdoor activities,» according to the order. 
When outside their homes, people must maintain a distance of at least 6 feet (2 meters) from others, «excluding immediate family members, caretakers, household members, or romantic partners,» Governor Murphy said.
«New Jerseyans can still take a walk outside, go buy groceries, or get take-out from a local restaurant. But, otherwise, STAY AT HOME,» the governor tweeted on March 21.
«This is a time for us all to come together to flatten the curve, slow, and eventually halt the spread of #COVID19,» he said in the tweet.
Another executive order issued by Governor Murphy declared that all elective surgical and dental procedures are to be be suspended on March 27 at 5 p.m., the governor wrote in a tweet. The governor also reminded residents in a tweet that his recently-issued work-from-home order «is NOT a polite suggestion,» and that it will be strictly enforced.
«If you see a business operation in violation of my executive order, or are working at one, please report them at http://covid19.nj.gov/violation,» the governor tweeted.
COVID-19 testing fees waived
Hospitals and federally qualified health centers are required to waive patient testing fees for COVID-19, Governor Murphy announced on March 20.
«Every single New Jerseyan with symptoms must have access to COVID-19 testing if we are going to end this crisis,» Governor Murphy said. «Waiving testing fees for the uninsured is a critical step in allowing us to prevent more New Jerseyans from being infected and to identify those who already have been infected so they can get the care they need.»
On March 19, Governor Murphy signed an executive order approving changes to upcoming elections, though no changes were announced for the June 2 primaries, Governor Murphy said in a briefing. 
On March 19, social clubs and businesses that could not comply with social  distancing guidelines — such as tattoo parlors, spas, hair and nail salons and barber shops — were closed until further notice.
Legislature is also being drafted to provide relief to businesses; to suspend evictions from rental properties; and to prevent the removal of people from their homes due to foreclosures, the governor said in a tweet.
Mall closures
In a briefing held on March 17, Governor Murphy announced the closure of all malls and amusement parks and centers, effective at 8 p.m. Those businesses will remain closed «until the current emergency ends,» he said. However, restaurants located inside malls may remain open for takeout and delivery, provided they are accessible through an entrance other than a general mall entrance.
Governor Murphy summarized the briefing in a Twitter thread, describing legislative actions that are currently underway to provide economic relief for businesses and for people who are unable to work due to business closures or reduced business hours. He urged banks to make loan repayments more flexible, and recommended that businesses owners keep employees on payroll «to every degree possible.» 
The governor also sent a letter to President Donald Trump to request the deployment of the U.S. Army Corps of Engineers «in constructing temporary hospitals to ensure our greater regional preparedness and help alleviate the strain on our hospitals,» Governor Murphy said on Twitter.
«Not time for business as usual»
On March 16, Governor Murphy issued an executive order to limit social contact and thereby slow the spread of COVID-19. 
In the order, which he shared on Twitter, the governor stated that all gatherings statewide should be limited to no more than 50 people, except in limited circumstances. All of New Jersey's preschools, elementary and secondary school programs were closed as of March 18, and will stay closed «as long as the Order remains in effect,» according to the tweet.
All colleges and university also ended in-person classes on March 18, according to the executive order. Recreational facilities including gyms and fitness centers, concert venues, racetracks, nightclubs, performing arts centers, casinos and movie theaters will be closed until further notice; other businesses will close from 8 p.m. until 5 a.m.
Restaurants may remain open for delivery or takeout service only.
This is not time to panic, but it is also not time for business as usual. Every aggressive social distancing measure we implemented today will help stop the spread of #COVID19 and save lives. #JerseyStrong https://t.co/lOwJTBisBJ pic.twitter.com/BTwl1LeaM9March 16, 2020
Governor Murphy recommended that New Jersey residents stay in their homes from 8 p.m. to 5 a.m., though he later clarified that it was «not a curfew,» CNN reported.
«But it is strongly recommended and travel is strongly discouraged,» Governor Murphy told CNN. «If you don't need to be on the roads, you should not be on the roads.» Limiting person-to-person contact can help restrict how far and how quickly the disease will spread, which will prevent hospitals from being overwhelmed by a wave of life-threatening COVID-19 infections, he explained.
«New Jerseyans MUST practice social distancing,» Governor Murphy tweeted yesterday. «I urge everyone to take this seriously. We need everyone to STAY HOME,» the governor said in the tweet.
Governor Murphy also activated the New Jersey National Guard, which could be deployed to help convert nursing homes and university dormitories into temporary hospitals; to coordinate traffic at drive-through testing sites; and to distribute food, according to CNN.
Municipal court sessions were suspended statewide and the state Motor Vehicle Commission is closed for two weeks; the agency announced that any driver's licenses, non-driver IDs, vehicle registrations, and inspection stickers that expire prior to May 31 will receive a two-month extension, according to CBS.
Drive-through testing
Two new drive-through testing centers opened in New Jersey, at Ocean County College in Ocean County and at Quaker Bridge Mall in Mercer County, New Jersey 101.5 reported on March 29. Samples are collected from patients without requiring them to leave their vehicles, reducing the risk to other patients and to healthcare providers.
Both facilities offer tests to eligible county residents by appointment only, according to New Jersey 101.5.
A drive-through testing facility opened at 8 a.m. on March 23 at the PNC Bank Arts Center in Holmdel, New Jersey, but demand for tests was so high that the site quickly reached its daily capacity, closing its doors just 30 minutes after opening, the Asbury Park Press reported. Another testing facility opened on March 25 at William Paterson University in Wayne, New Jersey, and is available to Passaic County residents who have a referral from a doctor, Governor Murphy said.
New Jersey opened the state's first drive-through testing site in Secaucus on March 12, at the Riverside Medical Group's command center, according to NJ.com. 
Patients who wish to be tested at the Secaucus drive-through facility — which administers tests for flu as well as COVID-19 — must first call and undergo a screening procedure by a member of the Riverside Medical Group. An appointment will be made if a patient meets CDC criteria for testing, NJ.com reported. The center is currently capable of testing about 20 patients per day. 
«We're doing everything we can to get ahead of this challenge,» Governor Murphy said during a telephone briefing on March 14. 
«We will get through this. It will not be mistake-free, I'm sure," Governor Murphy said.
BREAKING: I'm declaring a State of Emergency for New Jersey amid an outbreak of #COVID19.We've been ahead of the curve in terms of our preparations, and this declaration will help keep us there.⁰⁰For more information, visit https://t.co/UyohzX5yGkhttps://t.co/ACoJrkLgJm pic.twitter.com/9gINlZKB1fMarch 9, 2020
Self-isolation citywide in Hoboken and Teaneck
On March 17, Hoboken Mayor Ravi Bhalla issued a self-isolation policy in Hoboken «within our mile square,» according to a statement.  
«I've previously advised residents that if you're sick, to stay home, call your doctor, and self-isolate. That is simply not enough,» Mayor Bhalla said in the statement.
«Whether you feel sick or not, all residents should immediately begin self-isolating at home. The policy, similar to the one enacted in San Francisco, requires people to stay home except for essential needs, the purchasing of food, care for a family member or friend, to get health care, or employment where remote work is not possible,» Mayor Bhalla said. Outdoor exercise is permitted, with the caveat that people should maintain social distancing of at least 6 feet (2 meters).
As of 9 a.m. March 18, all non-essential Hoboken businesses were closed. Houses of worship were urged to suspend in-person services and public gatherings were limited to no more than 5 people, according to the statement.
On March 14, the mayor of Teaneck, New Jersey asked the town's 40,000 residents to voluntarily self-quarantine as a protective measure against the rapidly spreading coronavirus, NorthJersey.com reported. Teaneck has 18 COVID-19 cases, the most in Bergen County.
«They should stay home,» said Teaneck Mayor Mohammed Hameeduddin, according to NBC New York. «When I say stay home that doesn't mean go out to lunch with your friends across the street. That means no play dates, that means your nuclear family stays with your nuclear family. I'm not visiting my sister, I'm not visiting my parents. That is the best way to stop the spread of this,» Mayor Hameeduddin said.
Coronavirus science and news
—Coronavirus in the US: Map & cases
—What are the symptoms?
—How deadly is the new coronavirus?
—How long does virus last on surfaces?
—Is there a cure for COVID-19?
—How does it compare with seasonal flu?
—How does the coronavirus spread?
—Can people spread the coronavirus after they recover?
Curfews, restrictions and business closings in Hoboken,  Jersey City and Union City
On March 12, Jersey City Mayor Stephen Fulop issued an executive order enacting a 10 p.m. curfew for any establishment with a liquor license, to reduce large crowds and to limit the spread of the novel coronavirus and COVID-19, CNBC reported.
Public city meetings have also been cancelled, and all houses of worship, event venues and restaurants with a capacity of 25 people and higher will now have sign-in sheets, to assist health officials with tracking COVID-19 exposure within the community.
On March 15, Union City officials announced a 10 p.m. business curfew effective immediately, and all public recreation events and senior activities are suspended until March 20, according to Hudson County View. Residents were also advised to stay in their homes from 10 p.m. until 5 a.m., until further notice.
The city of Hoboken also enacted restrictions on bars and restaurants, Mayor Bhalla announced on March 14. Food service on the premises is prohibited — limited to takeout and delivery service only — and all bars were closed as of March 15. All gyms, health clubs, day cares and movie theaters in Hoboken were also shuttered until further notice, beginning on March 14. 
School closures
As per Governor Murphy's executive order of March 16, all preschools and primary and secondary school programs are closed statewide, until further notice.
Colleges and universities in New Jersey are also suspending face-to-face instruction, with some moving learning online, according to NJ.com (see their list for details).
Cases by county (647 cases are unassigned):
Sourse: www.livescience.com