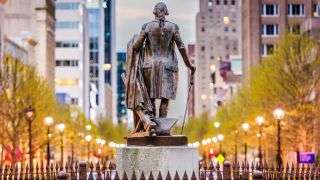 Raleigh, North Carolina, as viewed from the Capitol Building grounds.
Updated May 1 at 4:00 p.m. EDT
North Carolina has reported 442 deaths related to COVID-19 and 11,972 confirmed cases of the disease, according to the The News & Observer. At least 498 people are currently hospitalized for the disease. 
The first case was identified on March 3 and the state has run over 146,000 tests so far. The state sits at number 20 on the list of U.S. coronavirus cases per state. Cases by county can be found in an interactive map on the state's Department of Health and Human Services website. 
Between March 25 and April 15, the number of coronavirus cases in North Carolina increased by triple digits every day, often topping 300, The News & Observer reported. For a few days after April 15, state health officials suspected the rate of spread had started slowing, thanks in part to stay-at-home orders that have been in place across the state for more than a week. 
But an increase of over 400 cases on April 17, and subsequent increases of over 100 cases per day, has made it clear that the virus is still rapidly spreading through the state. Between yesterday (May 3) and today (May 4), the state reported more than 220 new cases. 
Where cases are popping up
Only one county in North Carolina has yet to report any coronavirus cases. Mecklenburg County has the most cases, with 1,734 and 50 deaths. The Triangle region (Wake, Durham, Orange and Johnston counties) has reported over 1,900 cases and 75 deaths. 
Multiple correctional institutions in North Carolina have reported positive cases of the coronavirus. The DHHS is currently reporting 1,023 cases at state correctional facilities and 9 deaths. 
There are more than 2,200 confirmed cases of COVID-19 at nursing homes and residential care facilities in the state, and more than 240 deaths. 
On April 9, the governor signed an order that added new restrictions for senior care communities, including limiting group meals and increasing the monitoring of employees' and residents' temperatures. 
Out of the cases where race is known, about 53% of are in white people, 39% in black or African Americans and 8% in other races. 
Most cases are in people ages 25-49, followed by people ages 50-64. Deaths from the coronavirus are occurring primarily in people ages 65 and over in the state. 
School closures, social distancing and store closures
On May 3, Gov. Roy Cooper announced that he'd like to start Phase One of his plan to reopen the state by this weekend. He said details about the plan would be released later this week, The News & Observer reported. Beginning the plan depends on the state reaching certain milestones in terms of testing numbers, tracing abilities, and decreases in daily hospitalization and death counts. 
North Carolina has been under a statewide stay-at-home order since March 30 at 5 p.m. The order bans gatherings of more than 10 people and allows only essential businesses to remain in operation. On April 23, Cooper extended the stay-at-home order through May 8 and announced plans to gradually reopen the state, The News & Observer reported. 
Beginning April 10, Gov. Cooper ordered that retail stores must limit the number of people in the store to 20 or less at one time, The News & Observer reported. Stores must also mark 6-foot distances where people gather, such as in checkout lines. 
Schools have been closed since March 23, and on April 24, Gov. Cooper announced that school buildings would remain closed for the rest of the school year, The News & Observer reported.    
Experts think the stay-at-home order might be effective as researchers at the University of Washington's Institute for Health Metrics and Evaluation now think the virus will cause around 394 deaths in the state, down from an earlier estimate of 2,400, The News & Observer reported. 
Tests & obtaining the right equipment
On April 17, Gov. Cooper announced a partnership with state's three medical universities to increase testing and tracing, The News & Observer reported. "This research is part of a coordinated statewide effort to learn more about what percentage of people have no symptoms and to better understand the true number of COVID-19 infections in our state," Cooper said. More tests and contact tracing is needed before the state can begin to ease the stay-at-home orders, he said. 
The governor also said the state still needs help from the federal government with obtaining testing supplies and protective equipment. On May 4, Cooper signed two new coronavirus bills into law that will allocate $1.57 billion in federal aid money, The News & Observer reported. 
On April 8, Cooper announced that he would be signing an executive order that authorizes more equipment and resources for fighting the pandemic and increases the number of available hospital beds. 
In a daily media briefing on April 2, state Emergency Management Director Mike Sprayberry said North Carolina received a third shipment of medical supplies from the national stockpile. The state's orders have exceeded $100 million and they still haven't received everything they've asked for, The News & Observer reported. 
Cooper has also activated additional National Guard personnel to help transport supplies and help with additional medical facilities should they become necessary. 
The state's Department of Health and Human Services has been actively recruiting volunteer health care workers to assist with clinic operations and provide medical supplies if they're available.
Unemployment and easing financial burden
More than 1 million North Carolina residents have filed for unemployment in the weeks since the shelter in place orders went into effect, The News & Observer reported. That's about 20% of the state's workforce. 
The state's unemployment offices have had to triple their staff and extend their calling hours, in an effort to keep up with the calls coming in. But numerous people are still reporting long wait times and frustrating website glitches. 
Gov. Cooper signed an order on April 21 that allows furloughed workers to claim unemployment benefits, The News & Observer reported. 
On March 31, Gov. Cooper signed an order that prohibits utility companies from shutting off service to customers who can't pay their bills over the next 60 days, WXII reported. The governor urged internet and phone providers to do the same, and encouraged mortgage companies and landlords to work with residents who are unable to make payments because of job loss due to COVID-19. 
What to do if you think you have COVID-19
If you think you have the coronavirus or have been confirmed to have COVID-19, the DHHS recommends the person stay at home until the symptoms resolve, unless you need medical attention, in which case you should alert the hospital or other medical facility of your condition before arriving.
Individuals in a high risk group, which includes people 65 and older or those with underlying health conditions or a weakened immune system, should try to stay at home as much as possible.
To get updates about the coronavirus in North Carolina, text "COVIDNC" to 898211. The North Carolina COVID-19 hotline number is 888-892-1162. 
Coronavirus science and news:
Coronavirus in the US: Map & cases 
What are the symptoms? 
How deadly is the new coronavirus?
How long does virus last on surfaces? 
Is there a cure for COVID-19? 
How does it compare with seasonal flu? 
How does the coronavirus spread? 
Can people spread the coronavirus after they recover?
Originally published on Live Science. 
Sourse: www.livescience.com