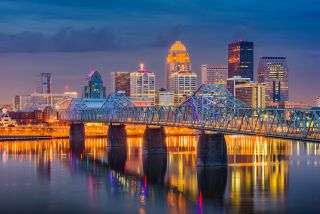 Skyline of Louisville, Kentucky.
Coronavirus science
—Coronavirus in the US: Map & cases 
—What are the symptoms? 
—How deadly is the new coronavirus? 
—How long does virus last on surfaces? 
—Is there a cure for COVID-19? 
—How does it compare with seasonal flu? 
—How does the coronavirus spread? 
—Can people spread the coronavirus after they recover?
Last updated on May 6 at 4:00 p.m. E.D.T. This page is updated twice a week.   
Latest updates
— As of May 5 at 5 p.m., Kentucky is reporting 5,822 confirmed cases of COVID-19 and  275 deaths associated with the virus, according to the Kentucky Department for Public Health (KDPH). 61,013 people have received diagnostic testing, according to KDPH.
— On May 5, Gov. Andy Beshear reported 309 newly diagnosed cases of COVID-19 at the Green River Correctional Complex, a state prison in Muhlenberg County, according to the Lexington Herald Leader. Every staff member and inmate at the facility received a test, Beshear said.
Beshear also reported 13 newly confirmed deaths due to COVID-19 in Kentucky nursing homes. Statewide, 828 nursing home residents and 331 staff members have tested positive for the virus. 
"What we find in these confined populations, the positivity rate is much higher," Dr. Steven Stack, Kentucky's public health commissioner, said at a press briefing. 
— As Kentucky enters the earliest phase of its reopening plan, Gov. Beshear said that the state's diagnostic testing capacity will soon be up to 30,000 tests a week, The Lexington Herald Leader reported. At most, the state has only performed 14,333 in a single week so far. A partnership with Gravity Diagnostics should help boost the testing rate and ensure the state can track new cases and reopen safely, Beshear said.
— Interim Kentucky Education Commissioner Kevin Brown told Kentucky school district leaders to prepare multiple backup plans for the 2020-2021 school year, WSAZ reported. At minimum, the districts should have plans prepared for starting school on the planned date; delaying the first day until after Labor Day; or starting classes as early as July, provided that the rate of newly reported cases dips significantly. 
"We need every district to be nimble and to be able to adjust to what could be a changing public health landscape in the fall," Brown said. Whenever schools do reopen, public health guidelines such as social distancing may need to be instituted to keep infections at a minimum, he added. 
— On April 29, Gov. Andy Beshear laid out a timeline of how Kentucky businesses may begin to reopen over the coming month. Listen to the governor's statement here.
Phased reopening schedule for the month of May: 
Restaurants will not be included in this initial phase of reopening, nor will day care services. Gyms, movie theaters, organized sports, campgrounds and public pools will not be allowed to open in Phase 1 or Phase 2 of reopening. Summer camps are also unlikely to resume until after Phase 2 of reopening. 
— Businesses that provide non-emergency health care services opened their doors on April 27 as Kentucky initiated the phased reopening of its economy, WCPO reported. Clinics and facilities that provide outpatient hospital care, optometry, physical therapy or chiropractic services may all reopen under the new order, provided that they take measures to protect patients and workers from COVID-19 transmission. 
At baseline, a business cannot reopen if it cannot secure a steady supply of personal protective equipment or enforce social distancing, state public health commissioner Steven Stack said at a news briefing held April 26.
"From a public health standpoint, from a medical standpoint, we would probably prefer to wait even longer before lifting any restrictions. But we're trying to balance competing societal needs … with the need to keep people safe," Stack added. 
— Over the past few weeks, the Kentucky Chinese American Association donated more than $1,000 worth of personal protective equipment (PPE) to UK HealthCare, the health care system that is based on the campus of the University of Kentucky, according to WKYT.
Through fundraising and contributions from local businesses, as well as Aetna Better Health of Kentucky, the organization raised $20,000 for further PPE purchases, equivalent to 3,000 N95 face masks, 500 surgical masks, 200 face shields, and 30 protective gowns. 
The donated PPE will be distributed to the Kentucky Department of Public Health, Baptist Healthcare, the Lexington Clinic, Modern Dentistry, and the Red Cross in Lexington, according to the report. 
"It's not easy but fortunately we have a good network of contacts around the country, in the United States, and also in China," Changzheng Wang of the Kentucky Chinese American Association told WKYT. "So, we have really been drawing on some of those resources to try and get this together."
— On April 19, Governor Andy Beshear announced 273 newly confirmed cases of COVID-19 in Kentucky, marking the largest number of new cases reported in a single day within the state, according to The Lexington Herald Leader.
At least 13% of the state's total cases can be attributed to nursing home residents, who, as a demographic, account for about one-third of the COVID-19 deaths within Kentucky, according to the report. Gov. Beshear said that the state will work to increase diagnostic testing within nursing homes, but he also suggested that the facilities open a so-called COVID wing in which to isolate residents showing signs of the illness.
— Despite public protests and economic pressure to "reopen" Kentucky, Public Health Commissioner Dr. Steven Stack said that its unlikely restrictions will be lifted by May 1, The Lexington Herald Leader reported. Even if Kentucky sees a steady decline in new cases, the state still needs to expand its testing capacity and procure more personal protective equipment for healthcare workers before loosening the stay-at-home order, he said. 
— About 100 Kentuckians assembled outside the Capitol building in Frankfort to protest the "healthy-at-home" order put in place by Governor Andy Beshear, which also shuttered non-essential businesses in the state. "It sucks that people die, but they do, we can't stop that," Allison Atkinson of Clark County told The Lexington Herald Leader. "At this point we're putting every Kentuckian in a place of vulnerability because they can't feed their families."
Erika Calihan, who previously made claims that voter fraud enabled Beshear to take office, organized the protest. Rep. Savannah Maddox (R-Dry Ridge) spoke to those assembled, and at least five members of the House of Representatives stood near the outskirts of the protesters. 
"Hopefully [the protesters] are distanced from each other … no one should be engaged in a mass gathering," Beshear said of the protesters. "If they're not social distancing, they're spreading the coronavirus, and that's really concerning." 
— Mayor Greg Fischer of Louisville placed a ban on drive-in church services for Easter Sunday, despite Governor Andy Beshear issuing a set of rules for people to follow if they planned to hold such events, according to the Courier Journal. "It's not really practical or safe to accommodate drive-up services taking place in our community," Fischer said.
Following the ban, U.S. District Judge Justin Walker granted a temporary restraining order to On Fire Christian Church, which prevented the city from "enforcing; attempting to enforce; threatening to enforce; or otherwise requiring compliance with any prohibition on drive-in church services at On Fire," WBRD reported.
Representatives of the church told WBRD that the cars at drive-in services are parked at least 6 feet apart, and that church members stay in their vehicles during the service. On April 10, Fischer said that the Louisville Metro Police Department would monitor other churches and take the license plate information of any who assembled for a service.
— Kroger will partner with the state government to offer 20,000 drive-through COVID-19 tests over the next five weeks, Governor Andy Beshear announced on April 12, according to The Hill. Kroger will supply both medical staff and personal protective equipment, and UPS will transport the tests for processing at Gravity Diagnostics. The turnaround time for each test should be 48 hours, Beshear said. 
The tests are being allocated to health care workers, first responders, and people who have chronic health conditions or are above the age of 65. The tests are free, but patients must register at krogerhealth.com/covidtesting to receive one. 
— At a press briefing held April 9, Governor Andy Beshear expressed concern that health care workers who have been furloughed or laid off within the state may accept offers to work elsewhere rather than applying for unemployment in Kentucky, the Lexington Herald Leader reported. Thousands of health care workers lost their jobs after the state instituted a ban on elective medical procedures in an effort to conserve medical supplies and slow the spread of COVID-19.   
"We know there might be other opportunity out there but if you go to another state and come back you will have to self-quarantine for 14 days," Beshear said. "But let me say right now, we need you. We don't have excess. We want to help all of those around us."
— On April 9, Governor Andy Beshear issued an executive order stating that only one member of a given household may enter a grocery store or other essential retailer at a time, with limited some exceptions, The Lexington Herald Leader reported. 
— On April 7, Public Health Commissioner Dr. Steven Stack outlined the updated criteria for seeking a COVID-19 diagnostic test in Kentucky, according to WLKY. Priority will be given to health care workers and first responders, as well as people above the age of 59 who live in "congregate settings," such as a nursing home or jail. The remaining tests will be allocated to those who are showing symptoms of COVID-19 and have chronic medical conditions, such as asthma, liver failure or a compromised immune system. 
"If a hospital tells you you don't qualify, they know what they're talking about. We are working in partnership with them to try to use these resources to the greatest good for the most people," Stack said. In the coming weeks, 32 Kentucky hospitals will work to increase the state's testing capacity to 2,000 tests per day, WLKY reported.
— Mayor David Thompson of Barbourville and half of the city's police officers have been ordered to quarantine themselves after interacting with a police employee who later tested positive for COVID-19, The Lexington Herald Leader reported on April 7. Neither Thompson nor the quarantined police officers have shown symptoms, while the infected employee is recovering at home. 
— The biopharmaceutical company Kentucky BioProcessing, a subsidiary of British American Tobacco, announced that it's attempting to develop a plant-based COVID-19 vaccine, according to The Lexington Herald Leader. The company's candidate vaccine is now undergoing preclinical tests. 
— A collection of cases confirmed on March 23 included someone who had recently attended a "coronavirus party," rather than following social distancing practices as ordered by the governor, according to The Lexington Herald Leader. Six additional cases have been connected to a single St. Patrick's Day party, according to NBC News.
Coronavirus response in Kentucky
Kentuckians have been directed to stay "healthy at home" after Governor Andy Beshear issued an executive order on March 24. 
Beshear announced that all businesses that aren't "life-sustaining" must close to in-person traffic by end-of-business March 26, the Herald Leader reported. On March 29, following reports of people gathering downtown in Louisville, church services in Graves County, and at golf courses in the state, Beshear said, "We are facing an adversary that can take the lives of people that we love. The way to combat it is to stay away from each other." 
Kentucky's COVID-19 hotline: (800) 722-5725
Businesses that are exempt from the executive order include: grocery stores, drug stores and pharmacies, banks, hardware stores, agricultural operations, gas stations, media, businesses needed for transportation, logistics, shipping, delivery and pick-up, housing, building and construction, laundry, financial services, home-based care and services, professional services, manufacturing and other businesses key to national interests or life-sustaining goods or services, and those covered under the federal critical infrastructure sector," according to KPDH. 
Restaurants may remain open for delivery, curbside pickup and carry out if they follow guidelines on social distancing. 
On March 17, Governor Andy Beshear signed an executive order to close all entertainment and recreational facilities, community and recreation centers, gyms and exercise facilities, hair salons, nail salons, spas, concert venues, theaters, sporting event facilities, and any other venues that "encourage public congregation." Restaurants that have an active liquor license and offer food delivery or carry out may also deliver sealed alcoholic beverages in their original containers. On March 19, Beshear issued a letter formally banning all mass gatherings.  
All adult day care centers closed by March 20. Acute, psychiatric, senior care facilities and intermediate care facilities are being asked to restrict visitations. 
Some businesses, specified here, remain exempt from the order provided they follow the CDC guidelines for social distancing. These include construction, manufacturing, agriculture, trash collection, grocery, retail, auto repair, pharmacy, biomedical, post offices, banks, gas stations, veterinarians, pet stores, storage, hotels and commercial lodging, according to WLWT5.   
On March 16, Beshear announced the state's first death related to COVID-19. The patient was a male who had multiple medical conditions. The first case of the novel coronavirus in Kentucky was detected on March 6.
All public schools in Kentucky, including the Kentucky School for the Blind and Kentucky School for the Deaf are closed, as of March 16. Hospitals have been asked to postpone elective procedures, and the governor has also recommended that senior centers be closed "to help halt the spread of the virus for those most vulnerable." 
The Kentucky Derby, initially scheduled for May 2, will be moved to Saturday, Sept. 5 in response to COVID-19 and the Kentucky Oaks will be on Sept. 4, according to WLKY. 
Cases by county:
Coronavirus in the US: Map, case counts and news
Sourse: www.livescience.com