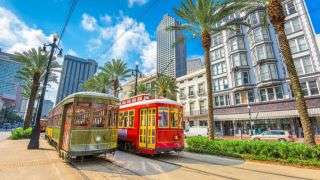 Streetcars in New Orleans, Louisiana
Last updated on May 6 at 4:15 p.m. E.D.T. This page is updated twice a week.
Latest updates
 — As of May 6, Louisiana is reporting 29,996 confirmed cases of COVID-19 and 2,042 deaths associated with the virus, according to the Louisiana Department of Health. 1,512 patients are currently hospitalized, and 194 of those are on ventilators, according to the health department. Confirmed cases have been reported in all 64 parishes in the state.
— Gov. Edwards extended the statewide stay-at-home order until at least May 15, «with a few minor changes,» according to a statement from the health department. 
The changes went into effect May 1 and include the following:
In general, the Louisiana Department of Health recommends that all residents wear masks or face coverings when in indoor public spaces and any other public space with people outside of their immediate households.
Edwards will announce whether the state can move into Phase 1 of reopening on or by May 11. 
— On April 30, Gov. Edwards expressed hope that Louisiana could shift into Phase 1 of reopening, per federal guidelines, starting on May 15, according to KNOE8 News. That said, state officials have formally announced a specific date for businesses to begin to reopen. 
If the state enters Phase 1 of reopening, religious centers may expand in-person services from 10 people to 25% of their total capacity. Edwards may also issue guidance for holding larger services outdoors, provided attendees adhere to social distancing measures, he said. 
La Salle and several other parishes have announced early plans to reopen starting May 1, before the statewide order expires. In response, Edwards said that «as a general matter, parishes are free to be more restrictive. They are not free to be less restrictive. Any such order would not be valid.» If necessary Department of Health officials and representatives from the state fire marshal's office may step in to enforce the statewide order, he said.  
— Gov. John Bel Edwards and 50 local and state business groups have rejected proposed ideas to «reopen» Louisiana parish-by-parish, WDSU reported. «Variation in local measures related to public health and safety poses significant challenges, particularly for multi-jurisdictional employers that are already in the midst of navigating a difficult and evolving crisis situation,» the Baton Rouge Area Chamber wrote in a report issued on behalf of the business groups.
Louisiana's statewide stay-at-home order is set to expire on April 30, though the Orleans Parish will continue to observe its own order until at least mid-May. Gov. Edwards is expected to propose a framework for reopening the state early this week. 
— Gloria Williams, Louisiana's longest-serving incarcerated woman, now has COVID-19, Vox reported on April 23. Williams filed an application for clemency last year and received approval in July, but her approved application has yet to be signed by Gov. Edwards. So Williams picked up her COVID-19 infection while still in prison. She is now hospitalized and in critical condition, according to Vox. 
— Police arrested Pastor Tony Spell of the Life Tabernacle Church in East Baton Rouge on April 21 after Spell allegedly committed aggravated assault against a protestor picketing outside his church, CNN reported. Spell previously received a court summons after repeatedly holding large church services in defiance of the Louisiana stay-at-home order.  
Police issued an arrest warrant for Spell after he backed a bus toward a group of protestors on April 19, coming within five feet of one. No one was injured in the incident. Records from the sheriff's office indicate that Spell was released on bond of $5,000. 
«The only thing I am guilty of is practicing my faith, which was given to me by Jesus Christ himself,» Spell reportedly told a group of his parishioners after being released. «I will see you in church tonight at 7:30.»
— Gov. John Bel Edwards and other state officials are using a social distancing scoreboard curated by Unacast, which tracks cell phone location data, to monitor Louisiana's adherence to the stay-at-home order, according to KLFY. As of April 17, the state earned a D-, down from a B earlier in the month. 
«Around Easter weekend, the date shows that people kinda lost their discipline, lost their focus a little bit. Trying to get that back so that we can be in the best possible position to move forward, reopen the economy and do so safely,» Gov. Edwards said.
— On April 15, Governor John Bel Edwards announced that public schools will remain closed for the rest of the semester, but distance learning will continue through the end of the term, according to WAFB9. The Louisiana Department of Education plans to issue guidance on April 16 for how school systems should close out the 2019-2020 term and plan for the 2020-2021 school year. 
— On April 13, Louisiana reported its largest death count «in a single day since this COVID-19 outbreak started, and it brings the number of Louisianans we have lost to more than 1,000,» Governor John Bel Edwards said in a press briefing, according to WVUE.
«Our analysis shows that most deaths come 11.2 days after the onset of symptoms, which is why we must look at long-term data and trends,» Edwards added.
— On April 12, Louisiana Lt. Gov. Billy Nungesser appeared on CNN and apologized to New Orleans Mayor LaToya Cantrell for critiquing her decision to cancel public events in early March, The Hill reported. «So the mayor did the right thing. In hindsight, I was wrong and she was right,» Nungesser said. He also said that, «if we had knowledge of what was to come,» the state should have also canceled its Mardi Gras celebrations in late February. 
— In response to a recent report that more than 70% of COVID-19 deaths in Louisiana have been among black residents, Governor John Bel Edwards said that he will assemble a task force to address the «disturbing» disparity head-on, The Advocate reported. The task force will be composed of state health officials and representatives from Southern University, Xavier University, LSU, Tulane University, Pennington Biomedical Research center and various schools of nursing.
The task force will aim to educate residents about the stay-at-home order, social distancing and conditions that render one more susceptible to severe illness. Additionally, the group will work to address underlying inequities in the Louisiana health care system and investigate whether black residents have adequate access to diagnostic testing and care. 
«The end goal is health equity,» Edwards said. «We want to make sure we have better health outcomes on the other side of this thing.»
— 61 patients and at least 12 members of staff in the Eastern Louisiana Mental Health System, an organization that provides psychiatric services via facilities throughout Jackson, have tested positive for COVID-19, according to WBRZ. Phillip Newton, interim president of Local 1695 at AFSCME Council 17, told WBRZ that the outbreak began early last week and that, during that time, many Eastern staffers were working long hours in the facilities and being called in for additional shifts. The infected patients will remain isolated from others until they recover, said Kelly Zimmerman, a spokeswoman for the health department.
— St John the Baptist parish, where 43,000 people reside, now has the highest COVID-19 death rate of any county in the U.S. with a population of over 5,000 people, The Guardian reported on April 7. 34 deaths have been reported in the parish since the start of the outbreak. «We were getting calls almost every hour. The body count was just … amazing. …They all died in the same way. They got to a hospital, were on a ventilator, but the body just couldn't keep going,» Christy Montegut, the coroner in St John the Baptist parish, told The Guardian.
— Last week, Mayor LaToya Cantrell of the Orleans parish requested refrigerated units for body storage from the federal government as the Coroner's Office cannot handle the mounting death toll, according to WBRZ News. «I've been a funeral director since 1962, and I've never seen this,» Stephen Sontheimer, the senior consultant and funeral director at Lake Lawn Metairie Funeral Home and Cemetery, told WBRZ. «We have a very large staff, and we're used to having a lot of families call upon us, but obviously this is an exceptional time.»
— As of April 6, the neighboring state of Texas will set up police checkpoints along the border to cut off travelers from the Bayou State, the Houston Chronicle reported.
— Gov. Edwards has been questioned on his decision not to cancel last month's Mardi Gras festivities, held on February 25, according to Newsweek. «There was not one person at the federal level, not at the CDC or otherwise, who recommended canceling anything. Not just Mardi Gras, but I don't think anywhere across the country … But right now that's not our focus. We can't do anything about what happened yesterday,» Edwards said on CBS News' Face the Nation. 
Coronavirus response in Louisiana 
Louisiana instituted a statewide stay-at-home order starting March 23 at midnight, according to WDSU News. 
Governor John Bel Edwards noted an anticipated jump in cases the week of March 30, stating that «tests were just backed up. The log jam is breaking and so we're getting many more tests informing our daily reports,» according to WDSU News. 
On March 20, two new drive-thru testing centers were opened in the parking lots of a local theater and a university arena in New Orleans, according to WDSU News. At first, the centers were only available to health care workers and first responders showing symptoms consistent with COVID-19, but now state officials have said that anyone with a fever and other COVID-19 symptoms may be tested, according to WDSU.  
Governor John Bel Edwards announced on March 16 that, starting at midnight, all casinos, bars and movie theaters in the state will be closed to the public and restaurants will be limited to delivery, take out and drive-through orders only, according to KATC3. The situation will be reevaluated on April 6 and, if deemed appropriate, operations will resume as normal on April 13. Schools in Louisiana have been closed until mid-April, according to WDSU.
Cases by parish:
Sourse: www.livescience.com