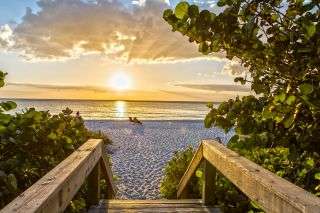 A sunset at Naples Beach Florida.
Last updated May 6 at 12:18 pm ET
There are 37,020 people who have tested positive for COVID-19 in Florida, according to the Florida Department of Health. This makes Florida 8th in the list of states with the most US coronavirus cases. 
Of those people, 1,825 have traveled, 14,460 have had contact with a confirmed case, 1,659 have traveled and had contact with a confirmed case and 16,361 are under investigation. There are now 1,539 people in Florida that have died from COVID-19, according to the  COVID-19 Case Dashboard.
Governor Ron DeSantis allowed some restaurants and stores to reopen at 25% capacity starting on May 4. But this reopening doesn't include Miami-Dade, Broward and Palm Beach counties, which have had the majority of COVID-19 cases, according to The New York Times.
DeSantis had issued a stay-at-home order for the entire state starting on April 2. He later gave permission for some beaches to reopen. Jacksonville Mayor Lenny Curry reopened beaches with restricted hours and people flocked to them. Photos of groups of people on the beach drew criticism on social media. 
DeSantis had declared a State of Emergency for COVID-19 in Florida on March 9. 
Florida has set up a hotline for coronavirus information: 1-866-779-6121. People can also email COVID-19@flhealth.gov with questions. 
Case counts by county:
Sourse: www.livescience.com