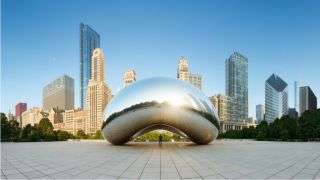 The Cloud Gate in Chicago, Illinois, nicknamed "the Bean."
Last updated on May 5 at 1:55 p.m. E.D.T. This page is updated twice a week. 
Latest updates 
— As of May 5, Illinois is reporting 63,840 confirmed cases of COVID-19 and 2,662 deaths associated with the virus, according to the Illinois Department of Public Health (IDPH). 
— So far, 333,147 people have been tested for COVID-19 at IDPH, commercial or hospital laboratories within the state, according to the department's electronic records. 
— Today (May 5), Illinois charities  and non-profits are promoting the hashtag #GivingTuesdayNow to encourage people to donate to relief funds opened in response to the ongoing crisis, The Chicago Tribune reported. 
A list of charities seeking donations can be found here. In the Chicago area, the Chicago Community COVID-19 Response Fund stands as the most wide-ranging relief fund established so far, according to the Tribune. 
— On May 4, Illinois reported the lowest number of newly confirmed deaths from COVID-19 than it had any day in the previous two weeks, The Chicago Tribune reported. "Snapshots in time alone are not enough to offer a full understanding of where we are, but together they can offer some indication of how things are trending," Gov. J.B. Pritzker said, cautioning residents against reading too deeply into the fluctuating numbers.  
More than 1,000 deaths have taken place in Chicago, where less than 25% of Illinois's residents live. The city's death toll accounts for more than a third of the state's coronavirus deaths so far. 
— A modified stay-at-home order took effect in Illinois on May 1 and will extend to May 30, as the Illinois constitution only enables the governor to issue disaster proclamations for 30 days. Gov. J.B. Pritzker announced the updated guidelines on April 24, according to WGN9. Read the full order here.
The new order requires that anyone over the age of two must wear a "face-covering or mask" when in indoor public spaces and in outdoor public spaces where they cannot maintain six feet of distance from others. 
The new order allows "free exercise of religion" as an essential activity, as long as gatherings remain limited to no more than 10 people and worshippers follow social distancing guidelines, according to NBC Chicago. "Religious organizations and houses of worship are encouraged to use online or drive-in services to protect the health and safety of their congregants," the order states.
The order also allows some state parks to reopen, provided visitors follow social distancing guidelines, and groups of no more than two people may go fishing and boating. People may also golf as long as they follow "strict safety guidelines." 
Greenhouses, garden centers, plant nurseries and animal grooming services may reopen as essential services provided that employees and consumers practice social distancing and all staff wear face coverings. Essential businesses and manufacturers, in general, must provide face coverings to all employees and set other protocols to maintain social distancing, such as occupancy limits for their facilities and staggering shifts.
Surgery centers and hospitals were allowed to resume certain elective surgeries starting May 1. Patients coming in for such surgeries must test negative for COVID-19.
— A projection from the University of Washington's Institute for Health Metrics and Evaluation (IHME) suggests that officials could begin easing social distancing measures in Illinois around May 19, provided that the state can achieve widespread diagnostic testing and contact tracing, isolate positive cases and limit large public gatherings, NBC reported.
IHME Director Dr. Christopher Murray said that the projected "opening dates," calculated for all 50 states, will likely change as more data becomes available, The Chicago Tribune reported. Gov. J.B. Pritzker has noted that he hopes the state can begin to gradually reopen by June, perhaps sooner if the data looks promising, according to NBC.
"It's something that we're going to have to figure out as we go because the researchers honestly are still figuring it out, too," Pritzker said. "So, believe me, I'm just as committed as everyone else is to getting out of a stay-at-home order and getting things back to normal."
— Since the start of the outbreak, COVID-19 infections have been reported in 104 Illinois nursing homes and long-term care facilities, according to data published April 19. The state is working to supply long-term care facilities with adequate testing supplies to diagnose both residents and staff, WGN9 reported. Some facilities face staffing shortages as many employees are calling in sick, according to WGN9.
— Gov. J.B. Pritzker reportedly plans to charter flights from China to deliver masks, gloves and other personal protective equipment (PPE) to Illinois, The Chicago Sun-Times reported. Pritzker's press secretary Jordan Abudayyeh would not provide details about the flights, only stating that "they're scheduled to land in Illinois in the coming weeks and the state is working to ensure these much needed supplies are protected and ready for distribution around the state." 
An unnamed source told the Sun-Times that the governor didn't want to release flight details "because we've heard reports of Trump trying to take PPE in China and when it gets to the United States."
— "The state of Illinois has expanded those eligible to get a test to include anyone who has COVID-like symptoms, even if you have not been given a doctor's order," Gov. Pritzker announced during a press briefing on Thursday, according to NBC News. 
Residents will be able to receive testing at a site in south suburban Markham starting April 21; additional testing sites in the state are listed here. The University of Chicago will also be expanding its testing capacity to 1,000 tests per day, NBC reported. 
— The Chicago police will set up checkpoints throughout the city to both remind residents of the stay-at-home order and maintain a "presence" in areas affected by violent crime, The Chicago Tribune reported. The American Civil Liberties Union has issued a statement expressing concern that the measure both risks exposing police and the public to the virus, and could otherwise be used to cover up "race-based" or "heavy-handed" police tactics. The union will continue to monitor the situation. 
— Mayor Lori Lightfoot of Chicago said that she predicts Gov. Pritzker's stay-at-home order will extend through May, according to The Chicago Tribune. Pritzker did not confirm this but did indicate that, should the order lift at the end of April as planned, not all restrictions would be lifted at once. "It's likely adjustments will be made," he said.  
— Rush University Medical Center in Chicago calculated that the number of new confirmed COVID-19 cases in Illinois took about 7.9 days to double between March 22 and April 9, Crain's Chicago Business reported on April 11. Prior to March 22, the case count doubled every 2.1 days. 
The doubling rate helps officials anticipate the rate at which COVID-19 patients will be hospitalized and require precious medical resources, from ventilators to the care of health care workers. Generally, Illinois' doubling rate appears to be trending slower than those in New York, California or Washington state. 
"We've seen that doubling time is longer and longer," Bala Hota, a doctor specializing in infectious diseases and Rush's chief analytics officer, told Crain's Chicago Business. "It's a positive. This whole conversation is about mitigation. It's about controlling what's already here."
— "Our rate of rise is looking less and less exponential, that indicates to us that we are in fact bending the curve, there is even some evidence that we may be moving towards a flatter curve," Gov. Pritzker said at a press briefing on April 9, according to ABC7 News. "But we need to keep watching the data on a daily basis."
Pritzker said that Illinois' stay-at-home order will remain in place until at least April 30, as previously stated, but that residents should not expect all restrictions on their movement to lift when the order eventually expires. "If you do that, you're going to see a big spike upward and once again, hospitalizations, ICU beds filled, vents filled and more death," he said. 
— At a press briefing on April 9, Gov. Pritzker said that Illinois is now able to conduct about 6,000 COVID-19 diagnostic tests a day, Crain's Chicago Business reported. In late March, the governor set a goal to expand the state's testing capacity to at least 10,000 tests a day, but he projects that that bar won't be met until next week. 
The delay stems from a lag in analyzing completed tests and the decision of "unnamed federal officials" to divert equipment and test kits intended for Illinois to private facilities instead, Pritzker said.  
— Following complaints that Hiram's Tavern in Alton had remained open despite the statewide stay-at-home order, Alton Mayor Brant Walker enabled the police to issue citations to anyone refusing to comply with the directive, The Washington Post reported. On April 5, police busted the tavern and cited those inside for reckless conduct, which constitutes a misdemeanor. Among those cited was Mayor Walker's wife, Shannon. "My wife is an adult capable of making her own decisions, and in this instance she exhibited a stunning lack of judgement," the mayor said in a public statement. 
— Black residents of Cook County are dying from COVID-19 at disproportionately high rates, according to a preliminary analysis by WBEZ News. While black residents make up only 23% of the county's population, they account for 58% of the COVID-19 deaths reported so far. In Chicago, where black residents make up 29% of the population, 70% of recorded deaths have been among black residents, according to the analysis. 
The report noted that many black patients who died from COVID-19 had underlying health conditions, such as respiratory problems, diabetes and hypertension. Historically, the black community in Chicago has been "disproportionately affected" by poverty, environmental pollution, segregation and limited access to medical care, the report added. Mayor Lori Lightfoot acknowledged the study at a press briefing on April 6, according to The Chicago Tribune.
"This is something that is a public health red alarm that we have to make sure that we are stepping up as a community to address it and we are going to be activating every part of the black and brown communities, for the faith community to elected officials to neighborhood organizations and of course the network of health providers, not just the hospitals but also the doctors, the insurance companies," Lightfoot said. "This is something we have to tackle as a community."
Coronavirus response in Illinois
Gov. Pritzker issued a "stay-at-home" order for Illinois on March 20, prohibiting gatherings of more than 10 people and barring residents from socializing in-person with anyone outside their household, according to the Chicago Tribune. Originally, the measure was set to remain in place until at least April 7, but on March 31, Pritzker announced he would extend the order through at least April 30, the Tribune reported.
Playgrounds and state parks have been closed, although individual communities will be allowed to decide which green spaces remain open. People may go outside as long as they maintain a distance of six feet between themselves. 
All bars and restaurants in Illinois were closed to the public following close of business on March 16 and will remain closed until March 30, according to the Chicago Tribune. The venues will remain open for delivery, drive-through and curbside pick-up orders, Pritzker said. After some 3,000 people got stuck in the overcrowded O'Hare International Airport on March 14, Pritzker announced that the U.S. Customs and Border Protection staff will be doubled to help alleviate the problem and allow for adequate social distancing.
A Chicago resident contracted the first confirmed case of COVID-19 in Illinois. The Chicago case was announced Jan. 24, and the first cases outside of Chicago and Cook County were reported March 11, in Kane and McHenry counties. Governor Pritzker issued a disaster proclamation on March 9, which provides the state access to federal and state resources to mitigate the spread of COVID-19. 
A map on the IDPH website displays the current number of confirmed cases by county.
Cases by county: 
Sourse: www.livescience.com