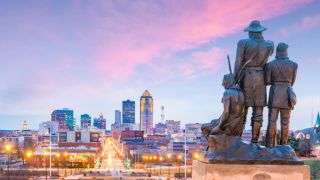 Last updated on May 5 at 3:35 p.m. E.D.T. This page is updated twice a week.
Latest updates
— As of May 5, Iowa is reporting 10,111 confirmed cases of COVID-19 and 207 deaths associated with the disease, according to the Iowa Department of Public Health. 60,569 residents have received a diagnostic test, according to the health department's records.
— On May 5, officials from the Iowa Department of Public Health (IDPH) said that they would begin announcing the names of employers who have experienced COVID-19 outbreaks, according to KCCI Des Moines.
An "outbreak" will be defined as having at least 10% of the workforce test positive for COVID-19, or having at least 10% employees home sick from work. The rule will apply to businesses where social distancing is impossible or impractical, including but not limited to meatpacking plants and beverage processing factories, according to Sarah Reisetter, an IDPH representative.
The following facilities have had COVID-19 outbreaks, KCCI reported:
— Many businesses underwent deep cleaning in preparation to reopen on May 1, as allowed by a new executive order by Gov. Kim Reynolds, The Des Moines Register reported. Per the order, 77 counties in Iowa were allowed to resume operations at certain businesses in a limited capacity. Details of the order can be read here.
The included counties either have no noted COVID-19 activity or have seen a steady decline in the number of newly confirmed cases over the past two weeks, Gov. Reynolds said in a press briefing on April 27. While only 77 counties may begin to reopen businesses, however, all 99 Iowa counties may resume religious gatherings as long as attendees maintain social distancing and enhance sanitation protocols for the facilities themselves.
Businesses that may reopen in the 77 counties include:
Other businesses within the 77 counties will remain closed through May 15.
Counties that cannot begin to reopen business include: Allamakee, Benton, Black Hawk, Bremer, Dallas, Des Moines, Dubuque, Fayette, Henry, Iowa, Jasper, Johnson, Linn, Louisa, Marshall, Muscatine, Polk, Poweshiek, Scott, Tama, Washington and Woodbury.
— Gov. Reynolds recently awarded a private company a $26 million, no-bid contract to head an initiative called "Test Iowa," aimed at ramping up COVID-19 diagnostic testing in the state, The Des Moines Register reported. However, a similar program in Utah has raised concerns among health care professionals who question the accuracy of the tests themselves, which have been provided by a group of technology companies led by the firm Nomi.
According to a statement from Nomi, the Utah program may be spotting fewer positive cases than expected because people without COVID-19 symptoms are receiving tests, which is not true of other testing initiatives in the state, The Salt Lake Tribune reported. Regardless, in Iowa, the testing materials are currently being validated by the Department of Public Health to ensure their accuracy, according to the Register.
Some health care workers have already received the tests but are still waiting to hear their results. These individuals were originally told their results would be available "within three business days," but five business days have now passed without explanation for the delay.
— On April 24, Gov. Kim Reynolds issued a new "proclamation of disaster emergency" that modifies some measures set in place by her previous proclamation, The Des Moines Register reported. The new order will take effect on April 27.
The new order lifts the ban on nonessential surgical procedures, but not on nonessential dental procedures. Hospitals and medical facilities may only resume these nonessential services if they have adequate reserves of personal protective equipment (PPE), access to new PPE that does not rely on government stockpiles, and the ability to reserve at least 30% of intensive care unit beds and 30% of medical/surgical beds for COVID-19 patients.
Farmers' markets may also reopen starting April 27, as long as vendors and customers follow social distancing guidelines, according to the new order. On that day, Reynolds will also announce further measures to reopen businesses "targeted to certain areas of the state," the Register reported.
— After more than 180 COVID-19 infections were linked to a pork processing plant in Waterloo, Tyson Foods suspended operations at the facility on April 22, the Associated Press reported. The plant represents 3.9% of U.S. pork processing capacity, according to the National Pork Board, and initially, Tyson said that closing the plant would risk disrupting the nation's meat supply and hurting pork farmers reliant on the facility.
Earlier in the month, Waterloo Mayor Quentin Hart, the Black Hawk County Board of Health and other local officials had pushed for either Tyson or Gov. Reynolds to temporarily close the plant. At the time, Reynolds said that the economic burden of the plant closing would outweigh the health risks of keeping it open, the Associated Press reported.
As the Waterloo plant now closes, Tyson is resuming operations at a plant in Columbus Junction, Iowa, which was closed for two weeks after an outbreak sickened hundreds of workers and killed two.
— 261 newly confirmed cases reported on April 19 can be attributed to surveillance testing of meat processing facilities in Iowa, according to the health department. The number includes 84 Tyson employees and 177 National Beef employees.
— Schools will remain closed for the remainder of the term and all spring sporting events will be canceled, Gov. Kim Reynolds announced in a press briefing on April 17, The Des Moines Register reported. Earlier in the month, Reynolds suspended statewide graduation requirements for seniors, such as curriculum standards, credit hours, and CPR certifications.
— Gov. Kim Reynolds has placed additional restrictions on residents of northeastern Iowa in response as a number of long-term care facilities in the region became hotspots of COVID-19 infection, according to The Des Moines Register. The region hit a 10 on Reynolds' 12-point scale intended to gauge the severity of the coronavirus outbreak within Iowa.
The new restrictions will stay in place until at least April 30 and apply to Allamakee, Benton, Black Hawk, Bremer, Buchanan, Clayton, Delaware, Dubuque, Fayette, Grundy, Howard, Jones, Linn and Winneshiek counties. The restrictions ban gatherings of people who do not belong to the same household, with "narrow" exceptions for some religious services and funerals. These exceptional gatherings will still be limited to 10 individuals, max. Residents who violate the orders can be cited with a simple misdemeanor, which can carry a fine of up to $625 and up to 30 days in jail if enforced.
— Iowa has reportedly received 119,062 N95 respirators; 283,134 surgical masks; 57,794 face shields; 47,365 surgical gowns; 1,876 coveralls; 261,442 gloves; and zero respirators from the Strategic National Stockpile, according to an analysis by USA TODAY. The provided number of N95 respirators allots fewer than two masks to the 224,015 health care and social assistance workers in Iowa, the Des Moines Register reported.
As Iowa faces a shortage of personal protective equipment, Governor Kim Reynolds has issued an order aimed at preserving the scarce resource, according to the Register. The order included measures such as issuing patients barriers other than surgical masks in clinic, using the same PPE with multiple patients, decontaminating N95 respirators as possible, and wearing homemade face masks and gowns.
"We understand the issuance of this order may be unsettling, but due to the global shortage of PPE supply, we have determined that now is the time to take this action," Iowa Department of Public Health Deputy Director Sarah Reisetter said at a press briefing on April 10.
— Iowa currently has 2,530 tests available through the state hygienic lab and expanded capacity for mobile testing at hot spots around the state, Governor Kim Reynolds said in a press briefing on April 9, according to the Quad-City Times.
— Governor Kim Reynolds has not yet issued a statewide order to shelter-in-place and has not detailed what restrictions might be implemented if and when the order comes down, according to the Des Moines Register. "We are working on what that looks like, and we will be ready to go if and when we need to do that," Reynolds said at a press briefing on April 7.
— As of April 8, Iowa small business owners have filed 14,000 applications for coronavirus relief funds, totaling $148 million in all, according to the Des Moines Register. Reynolds announced a small business relief program two weeks prior, and the first round of grants were approved on April 7. The initial grants will be given to 500 restaurants, bars and breweries and each range between $5,000 and $25,000.
Coronavirus response in Iowa
On April 2, Governor Kim Reynolds ordered that schools, non-essential businesses and medical procedures remain closed through April 30, according to KWWL News. On April 6, she extended these orders to include malls, bowling alleys, zoos, campgrounds, playgrounds and libraries, according to The Des Moines Register. Those who do not follow these guidelines, or assemble in groups larger than 10 people, will be cited with a simple misdemeanor.
Several Iowa mayors have pushed Gov. Reynolds to call a statewide shelter-in-place order, according to the Des Moines Register. On April 1, internal documents obtained by the Iowa City Press-Citizen revealed a 12-point scale that the governor and health department are using to determine when a shelter-in-place order should be issued, the Register reported.
The scale, detailed here, considers the percentage of population greater than 65 years of age; percent of identified cases requiring hospitalization; infection rate per 100,000 people in the past 14 days; and the number of outbreaks in long term care facilities. To trigger a shelter-in-place order, Iowa must hit 10 points on the 12 point scale. "When I look at it, we'd be almost to Armageddon before [Reynolds] would issue [a shelter-in-place order]," Johnson County Board of Supervisor Chair Rod Sullivan told the Register.
Reynolds has said that calling such an order is the "last thing she wants to do," according to KCCI Des Moines. "I can't lock the state down," Reynolds said at a press briefing on March 31, the Register reported. "I can't lock everybody at home."
The governors of bordering states Minnesota, Wisconsin and Illinois have all issued shelter-in-place orders for their constituents, and in Missouri, Kansas City, St. Louis and St. Louis County are under equivalent directives, according to the Des Moines Register. Mayor Frank Cownie of Des Moines and Mayor Bruce Teague of Iowa City are among those calling for a stay-at-home order from the state. Mayors of Johnson County have advised residents to "only leave their homes for essential items," the Register previously reported.
Reynolds declared a state of public health disaster on March 17, an action that closed all restaurants and bars to the public, excluding food served by carry-out, drive-through and delivery. These venues will be closed until April 7, along with fitness centers, theaters, casinos, senior citizen centers and adult day care facilities. Salons, barbershops, medical spas, massage therapists, tattoo shops, tanning facilities and swimming pools are also closed.
Gatherings of more than 10 people must be canceled or postponed, per the governor's declaration, and those returning from out-of-state travel should self-isolate for 14 days.
Reynolds announced Sunday (March 15) that she suggests schools close for at least four weeks, according to KCCI Des Moines. A list of school closings can be found here. In accordance with this recommendation, the Iowa House and Senate waived the requirement for state schools to have to reschedule any canceled days from March 16, 2020 to April 12, 2020, according to Local 5.
The legislature has also allocated money to the State Hygienic Lab for additional COVID-19 testing and enabled the Governor to access the Emergency Economic Fund during the next 30 days for needs related to the COVID-19 outbreak.
A public hotline has been established for Iowans with questions about COVID-19. The line is available 24/7 by calling 2-1-1 or 1-800-244-7431.
Cases by county:
Sourse: www.livescience.com