NOSTRADAMUS is believed to have predicted many world events, including the deadly coronavirus pandemic – but did the French mystic predict COVID-19 in his "Twin year" prophecy?
Nostradamus' followers credit the 16th-century writer with accurately predicting the outbreak of World War 2 and the Great Fire of London in 1666. Many conspiracy theorists have now bizarrely claimed Nostradamus knew of the coronavirus pandemic nearly 500 years ago.
Trending
The coronavirus, which infected its first victim in China last November, attacked more than 2.7 million people as of April 24.
The virus has never been seen in humans before and many have taken it as a sign of its supposed supernatural origin.
In particular, conspiracy theorists have been sharing online in recent weeks a coronavirus prediction they have attributed to Nostradamus.
The so-called "Twin year" prophecy speaks of a plague rising in the East "to destroy and ruin" the world.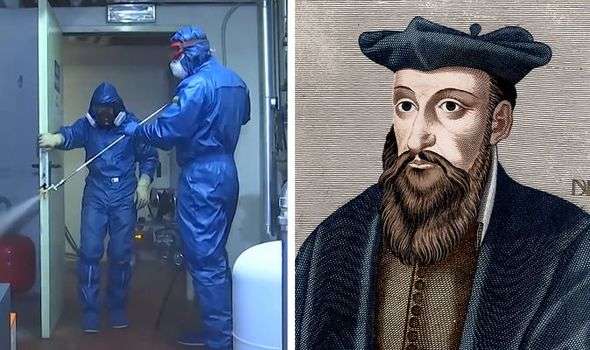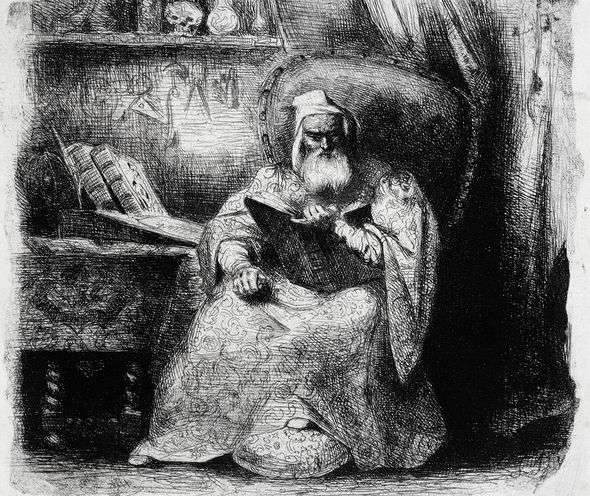 READ MORE
END OF THE WORLD: Why coronavirus is only the tip of the iceberg
Nostradamus penned the majority of his predictions in the form of four-lined poems or quatrains.
BACK BRITAIN'S BRAVE NHS HEROES – CLICK HERE NOW
The bulk of his work was published in the 1555 book Les Propheties, for which he is best known.
One person said on Twitter: "Nostradamus predicted the coronavirus in 1551? 'It will be the end of the world economy as you know it'"
Another person said: "Y'all read #Nostradamus? I don't normally read old literature but yeah I guess maybe #coronavirus is something that was predicted."
A third Twitter user said: "Nostradamus, French astrologer predicted about coronavirus in early 16th century."
What is the Nostradamus "Twin year prophecy"?
We also found no mention of this supposed prophecy
Nostradamus supposedly wrote in 1551: "There will be a twin year (2020) from which will arise a queen (corona) who will come from the east (China) and who will spread a plague (virus) in the darkness of night, on a country with 7 hills (Italy) and will transform the twilight of men into dust (death), to destroy and ruin the world. It will be the end of the world economy as you know it."
The passage has been widely circulated on the internet in the form of a meme, with a photo of Nostradamus attached to it.
But there is no evidence whatsoever to suggest Nostradamus ever penned the words.
The first clue of many lies in the prediction's structure.
DON'T MISS
Coronavirus: Virus did NOT originate in Wuhan seafood market [ANALYSIS]
Coronavirus symptoms: UK man details his warning symptoms [INSIGHT]
Coronavirus tracker: Check YOUR area for COVID-19 infections [MAP]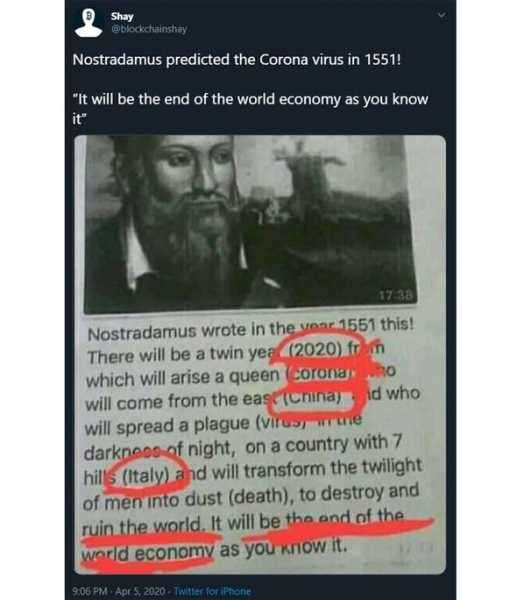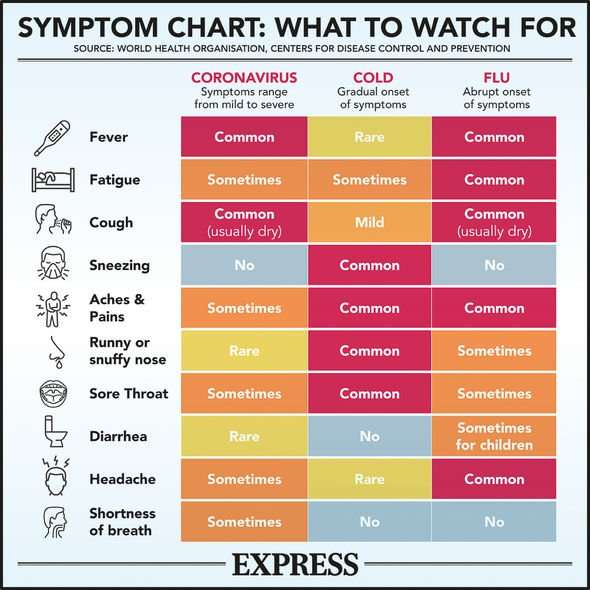 READ MORE
Coronavirus patients' eyes could be infectious for WEEKS
Nostradamus' prophecies were written in short, four-lined passages and not long and detailed paragraphs.
Nostradamus also wrote in very vague and cryptic words, leaving his prophecies open to interpretation.
There is no mention of the above passage anywhere in Les Propheties and the supposed prophecy has not appeared anywhere before the coronavirus pandemic.
According to online sleuths at the hoax debunking website Snopes, the prophecy is not real.
Snopes said: "Nostradamus wrote a lot of stuff so general – and obscure – that with the help of a little imagination – and some liberal interpretations from the original French – people have claimed he has 'predicted' nearly every event of significance since the mid-16th century.
"But this particular viral prediction was not expressed in quatrain form, nor could we find anything like it published in 'Les Prophéties'.
"We also found no mention of this supposed prophecy prior to the events of early 2020, which generally indicates it is a modern hoax."
There is also no evidence to support the claim Nostradamus was a clairvoyant.
All of Nostradamus writings have only been connected to real-world events after they happened.
Sourse: www.express.co.uk