SPACEX'S launch of the Crew Dragon spacecraft on the weekend was bizarrely branded a hoax by conspiracy theorists and Flat Earth believers.
SpaceX's Saturday, May 30, launch of the Crew Dragon marked the first time astronauts flew into orbit aboard a private-built spacecraft. But of the 10 million or so people who watched the launch unfold live online, many have accused SpaceX and NASA of deceiving the world. Scores of conspiracy theorists have flooded social media since the launch with claims the Earth is flat, space is not real and NASA never went to the Moon.
Trending
One person said on Twitter: "It's 100 percent a hoax, sorry if you haven't woken up to this blatant lie, they aren't on the ISS, my pinned tweet goes thru and debunks it."
Another person said: "Why they continue with this space hoax is anybodies guess it can't be easy to pull this off for this long."
Many people have also shared supposed sightings of a mouse crawling across SpaceX's Falcon 9 rocket.
Although the tiny grey object was most likely explained by leaking gases freezing outside of Earth's atmosphere, conspiracy theorists have claimed it is proof the Dragon launch was filmed in a studio.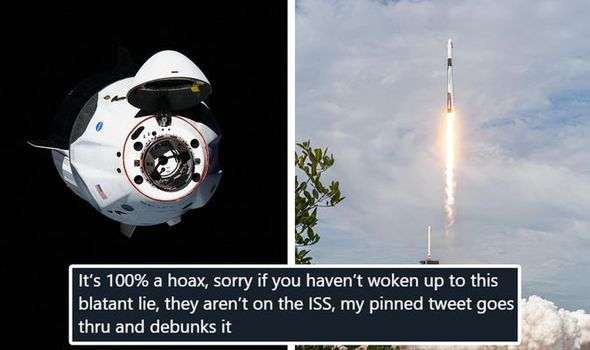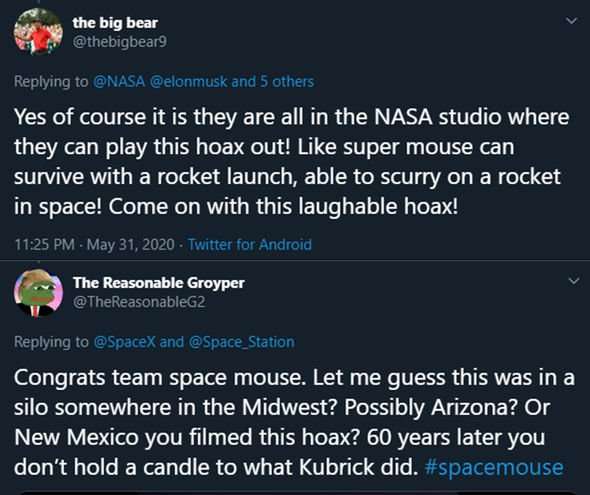 READ MORE
SpaceX launch: Flat Earthers rally as Crew Dragon dock with the ISS
One Twitter user said: "Yes of course it is they are all in the NASA studio where they can play this hoax out!
"Like super mouse can survive with a rocket launch, able to scurry on a rocket in space! Come on with this laughable hoax!"
Another person said: Mouse, Booger, Toilet paper what difference does it make?
"Loose objects no matter what they are can't move on the outside of a rocket travelling 14k mph while exiting the atmosphere. #SpaceXHoax"
A third person said: "Congrats team space mouse. Let me guess this was in a silo somewhere in the Midwest? Possibly Arizona?
"Or New Mexico you filmed this hoax? 60 years later you don't hold a candle to what Kubrick did. #spacemouse"
However, more people came to the defence of NASA and SpaceX, cheering on the partnership for Saturday's achievement.
Since the retirement of the Space Shuttle programme in 2011, NASA has relied on Russian launch capabilities to put humans into orbit.
The US space agency is now confident crewed spaceflight has returned to America.
SpaceX chief Elon Musk, 48, said he was overcome with emotion when he saw the Dragon fly off into space.
DON'T MISS…
God EXISTS and human consciousness is the proof [INSIGHT]
UFO sighting: Alien spaceship seen in NASA photos [PICTURES]
What happens when you die? Man's shock account of afterlife [INSIGHT]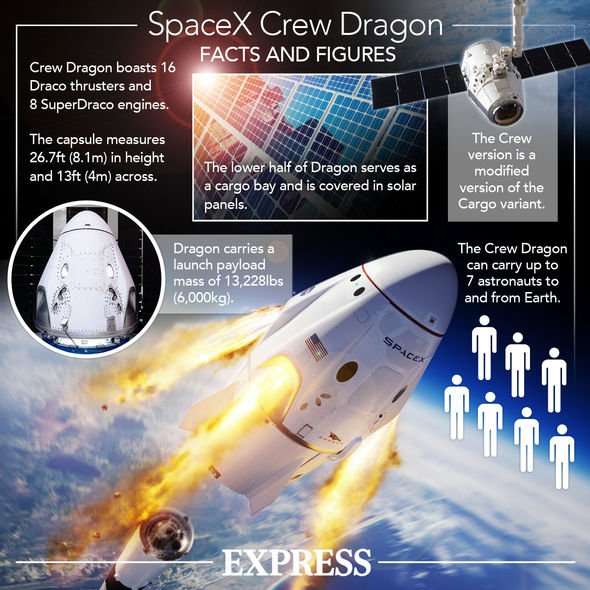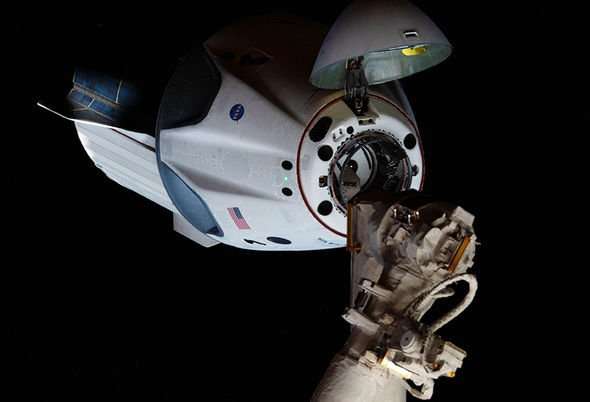 READ MORE
Alien religion on Mars: Conspiracy theorists claim to find SIGN OF GOD
He said during a post-launch conference: "It's been 18 years working towards this goal, so it's hard to believe that it's happened."
SpaceX fans have now come to his defence, calling out people on social media who think the launch was a carefully orchestrated hoax.
One Twitter user said: "@elonmusk @SpaceX @Tesla thank you for not being deterred by ridicule, condemnation, combativeness and suppression by those standing in the way of progress and positive change toward a brighter and more exciting future!"
Another person said: "Despite seeing live video of @SpaceX launch, the ship flying through space against the backdrop of the curvature of the Earth…
"Future generations will say it's a hoax and the Earth is still flat…"
SpaceX's Crew Dragon docked to the ISS on Sunday afternoon with NASA astronauts Bob Behnken and Doug Hurley aboard.
The astronauts joined NASA's Chris Cassidy and Russia's Russia's Anatoly Ivanishin and Ivan Vagner as ISS Expedition 63.
The International Space Station orbits the planet at about 250 miles, circling the planet at more than 17,000mph.
Sourse: www.express.co.uk