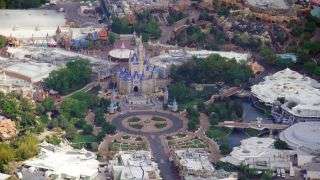 From the comfort and safety of your own home, you can now explore Walt Disney World all by yourself. 
Although all Disney parks worldwide are currently closed due to the coronavirus pandemic, aerial images of the empty parks at Walt Disney World in Florida offer a unique opportunity to explore their world-famous attractions like never before. 
Have you ever wanted to stroll solo down Main Street? Be the only citizen of tomorrow in Tomorrowland? Take a private, adrenaline-fueled tour of Space Mountain? 
Updates: The coronavirus pandemic impacts on space explorationAn aerial view of Galaxy's Edge. 
This closer look at Batuu, as photographer @bioreconstruct pointed out on Twitter, really looks like the set of a «Star Wars» movie rather than an empty theme park. From the molded rock structures to the uniquely-shaped shops and stops, Galaxy's Edge looks rather inviting here. 
Looking down at Disney.
Another look at Galaxy's Edge clearly shows Docking Bay 7 (to the left) and Black Spire Outpost in the center. In this close-up, you can see some of the finer details of the land. 
An early look at Disney's «Star Wars Galactic Starcruiser» hotel, which is still under construction. 
In addition to Galaxy's Edge, which has already soared in popularity for its immersive nature and realism to the films, Disney has been building the «Star Wars Galactic Starcruiser» hotel. This resort has yet to open, but promises guests an immersive experience aboard a «real» starship. 
While the hotel isn't open yet, this aerial view provides a very early look at what the resort will one day look like. 
PandoraAn aerial view of Disney's Pandora land.
Pandora, a land in Walt Disney World's Animal Kingdom inspired by the movie «Avatar,» might not have the word «space» or «star» in it, but it is a playground full of fantastical creatures and alien plants, certainly reminiscent of an otherworldly way of life. 
In this image, you can see the careful curves of Pandora's floating mountains, which seem to defy the laws of physics and reality. A densely forested image, this aerial photograph shows just how deeply immersed into this alien world you get when you are in this land. 
Pandora's floating mountains. Today's best Disney+ dealsDisneyDisney+ Yearly$69.99/yearViewat Disney+Disney+ Monthly$6.99/mthViewat Disney+
Getting sick in space: How would NASA handle an astronaut outbreak? 
 Dramatic effect of coronavirus lockdowns seen from space 
 NASA center in California issues mandatory work-from-home order
OFFER: Save at least 56% with our latest magazine deal!
All About Space magazine takes you on an awe-inspiring journey through our solar system and beyond, from the amazing technology and spacecraft that enables humanity to venture into orbit, to the complexities of space science.View Deal
Sourse: www.livescience.com