Last updated May 3 at 10 a.m. ET.
The U.S. has now confirmed nearly 1.13 million COVID-19 cases. To date, at least 66,385 individuals in the U.S. have died from the coronavirus causing COVID-19.
At least 24,198 of those COVID-19 deaths occurred in New York, 7,742 in New Jersey, 4,021 in Michigan, 3,846 in Massachusetts, 2,559 in Illinois and 2,194 related deaths reported in California. Worldwide, 3.45 million cases have been reported and 244,239 related deaths, according to the Johns Hopkins virus dashboard.
[Live Science is tracking case counts and relevant news from each U.S. state. Click on your state in the list below.]
—Deaths and hospitalizations seem to be going down in New York, Gov. Andrew Cuomo said Thursday (April 30). On Wednesday (April 29), 330 people died of the virus in the state, which was the lowest daily-death number since March 30; that number went down to 289 on Thursday and 299 on Friday, Cuomo said during his daily briefing. And there are now fewer than 12,000 COVID-19 patients hospitalized in the state, down nearly 40% from mid-April when 19,000 patients were in hospitals.
—As governors of several states announce plans for at least partial reopening of their economies, the head of the White House coronavirus task force, Dr. Deborah Birx said Sunday (April 26) that some social-distancing measures will likely last through the summer.
—Some 15 states have stay-at-home orders that expired April 30, The New York Times reported. These include: Alabama, Arizona, Colorado, Florida, Hawaii, Idaho, Louisiana, Maine, Minnesota, Mississippi, Montana, Nevada, New Mexico, Tennessee and Texas. Four states have already partially reopened: Alaska, Georgia, Oklahoma and South Carolina. The rest of the states are still under some kind of stay-at-home orders, the Times said.
—Gov. Andrew Cuomo described preliminary results from the antibody tests taking place in various counties in grocery stores. Overall, after a survey of 7,500 individuals completed by April 27, 14.9% of individuals had tested positive for antibodies specific to this novel coronavirus. Then, on May 1, once more than 15,000 individuals were tested, that number went down to 12.3% testing positive for antibodies to SARS-CoV-2.
Coronavirus antibody testing
About 7,500 individuals in New York state have received serological tests to see if their bodies have made SARS-CoV-2-specific antibodies. The body makes these antibodies in response to an infection and so those who test positive are thought to have been infected with the virus recently. The hope is that people with such antibodies will be immune to the coronavirus. However, scientists don't have enough data to be able to say whether that's the case. In addition, the serological tests have been plagued by unreliable results.
In New York, the preliminary results suggest that overall 14.9% of people statewide tested positive for coronavirus antibodies. When broken out by region: 24.7% of people in New York City tested positive; 15.1% in Westchester/Rockland counties; 14.4% in Long Island 14.4%; and about 3.2% tested positive in the rest of the state.
Live Science put together a guide of everything you need to know about the coronavirus antibody tests.
US deaths from coronavirus
More than 64,000 Americans have died to date from the novel coronavirus. A model that infectious disease experts like Dr. Anthony Fauci, director of the National Institute of Allergy and Infectious Diseases, were using to forecast the total number of deaths from COVID-19 has been revised with better data. At the end of March, a COVID-1 model by the Institute for Health Metrics and Evaluation (IHME) at the University of Washington and other models had forecast that even with stay-at-home and other social-distancing measures, 200,000 individuals in the U.S. could ultimately die from this virus.
Updates to one of those models have yielded lower numbers. As of April 7, the IHME model predicts 60,415 people in the United States will have died as a result of COVID-19. The daily death toll from the virus is forecast to peak on April 12 with 2,212 related deaths on that day, according to the IHME model. April 12 saw 1,528 virus-related deaths, according to Worldometers.
Coronavirus memo
Two memorandums sent to President Donald Trump and the National Security Council by trade advisor Peter Navarro lay out alarming forecasts for how hard the spreading coronavirus could hit Americans, according to news sites that obtained the memos. In a memo dated Jan. 29 that was sent to the National Security Council, Navarro writes: "The lack of immune protection or an existing cure or vaccine would leave Americans defenseless in the case of a full-blown coronavirus outbreak on U.S. soil. … This lack of protection elevates the risk of the coronavirus evolving into a full-blown pandemic, imperiling the lives of millions of Americans," The New York Times reported. In one of the worst-case scenarios that Navarro described, more than half a million Americans could die from the disease, the Times reported.
The other memo, dated Feb. 23 and addressed to President Trump, is also attributed to Navarro. In the memo, according to Axios and the Times, Navarro indicates the need for resources from Congress.
"This is NOT a time for penny-pinching or horse trading on the Hill," Navarro wrote, as reported by Axios. The memo also warned that an "increasing probability of a full-blown COVID-19 pandemic that could infect as many as 100 million Americans, with a loss of life of as many as 1.2 million souls."
At the time of both memos, the president was downplaying the severity of the not-yet-pandemic situation. In a tweet dated to Feb. 24, Trump wrote: "The Coronavirus is very much under control in the USA," Axios reported.
| | | |
| --- | --- | --- |
| State | Confirmed | Deaths |
| Alabama: | 7,615 | 289 |
| Alaska: | 365 | 9 |
| Arizona: | 8,364 | 348 |
| Arkansas: | 3,372 | 72 |
| California: | 53,670 | 2,192 |
| Colorado: | 16,225 | 832 |
| Connecticut: | 29,287 | 2,436 |
| Delaware: | 5,038 | 168 |
| District of Columbia: | 4,797 | 240 |
| Florida: | 35,463 | 1,364 |
| Georgia: | 28,600 | 1,176 |
| Hawaii: | 620 | 16 |
| Idaho: | 2,061 | 64 |
| Illinois: | 58,505 | 2,559 |
| Indiana: | 19,295 | 1,229 |
| Iowa: | 8,641 | 175 |
| Kansas: | 4,746 | 140 |
| Kentucky: | 4,879 | 248 |
| Louisiana: | 29,140 | 1,993 |
| Maine: | 1,152 | 56 |
| Maryland: | 24,473 | 1,251 |
| Massachusetts: | 66,263 | 3,846 |
| Michigan: | 43,207 | 4,020 |
| Minnesota: | 6,228 | 395 |
| Mississippi: | 7,441 | 291 |
| Missouri: | 8,328 | 377 |
| Montana: | 455 | 16 |
| Nebraska: | 5,326 | 76 |
| Nevada: | 5,311 | 257 |
| New Hampshire: | 2,429 | 84 |
| New Jersey: | 123,717 | 7,742 |
| New Mexico: | 3,732 | 139 |
| New York: | 319,213 | 24,368 |
| North Carolina: | 11,579 | 430 |
| North Dakota: | 1,153 | 24 |
| Ohio: | 19,335 | 1,021 |
| Oklahoma: | 3,851 | 238 |
| Oregon: | 2,635 | 109 |
| Pennsylvania: | 50,915 | 2,776 |
| Rhode Island: | 9,289 | 296 |
| South Carolina: | 6,489 | 267 |
| South Dakota: | 2,588 | 21 |
| Tennessee: | 12,661 | 209 |
| Texas: | 31,142 | 874 |
| Utah: | 4,981 | 49 |
| Vermont: | 886 | 51 |
| Virginia: | 18,671 | 660 |
| Washington: | 15,512 | 836 |
| West Virginia: | 1,184 | 50 |
| Wisconsin: | 7,660 | 334 |
| Wyoming: | 579 | 7 |
USNS ComfortImage 1 of 3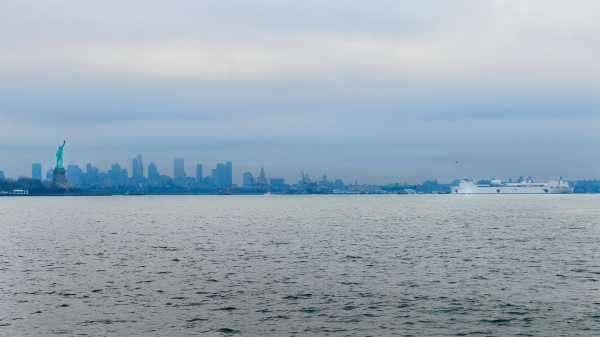 The USNS Comfort hospital ship enters New York Harbor toward its destination at a pier in Manhattan. Image 2 of 3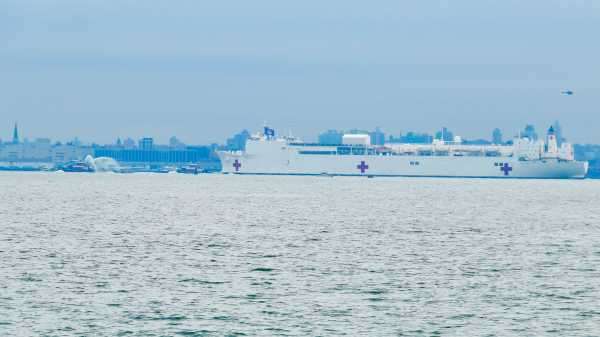 The USNS Comfort hospital ship enters New York Harbor toward its destination at a pier in Manhattan. Image 3 of 3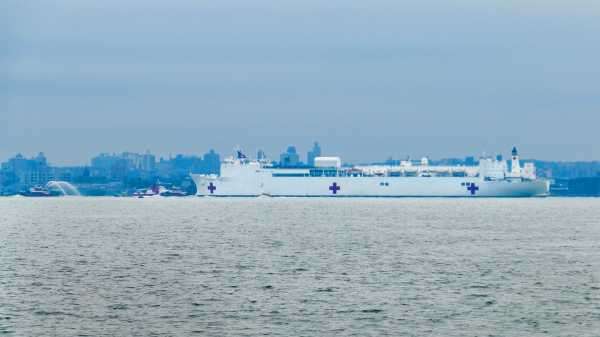 The USNS Comfort hospital ship enters New York Harbor toward its destination at a pier in Manhattan.
The hospital ship USNS Comfort entered New York Harbor on March 30; it passed the Statue of Liberty on its way to a Manhattan Cruise Terminal pier. The ship, which will be used to treat non-COVID-19 patients, is equipped with 12 operating rooms, with "hospital beds, a medical laboratory, a pharmacy, an optometry lab, digital radiology, a CAT scan, two oxygen-producing plants and a helicopter deck," the U.S. Department of Defense reported. A 1,200-strong medical staff from the U.S. Navy will operate the hospital.
Hospitals across the U.S. are desperate for medical supplies, including personal protection equipment (PPE), such as proper face masks, and ventilators, according to several news reports. In a recent Tweet, an internal medicine resident in New York City, said: "I feel I must tweet because the press does not reflect our reality. The deluge is here. Our ICU is completely full with intubated COVID patients. We are rapidly moving to expand capacity. We are nearly out of PPE. I anticipate we will begin rationing today."
However, on Thursday (April 2), just 20 patients were onboard because of the harsh criteria for who could and could not be treated there. That should change with updated guidelines: "screening for care on the USNS Comfort will be modified and will now occur pier-side in an effort to reduce the backlog at some of the nearby New York hospitals. The screening effort for the USNS Comfort will no longer require a negative test, but each patient will still be screened by temperature and a short questionnaire," the U.S. Department of Defense said in a statement.
Coronavirus rescue plan
President Donald Trump signed into law a $2 trillion rescue bill on Friday (March 27) in the Oval Office, after the House of Representatives passed it through a voice vote the same day; the U.S. Senate had passed the bill unanimously on Wednesday (March 25), The New York Times reported. There was concern that a representative in the House would demand a so-called "roll call" or recorded vote, in which each member's vote gets recorded through an electronic voting machine. But that takes time, and it means enough representatives voting yes must be present for the vote to pass.
Instead, the representatives used a "voice vote," in which the "presiding officer" states the question and those in favor say "Yea" and those against, "Nay." The presiding officer then announces the result according to their judgment, and the names of the representatives are not recorded.
Here's what the bill looks like, according to a breakdown of the bill by Bloomberg.com: About $532 billion would go to "big business, local government loans and financial assistance," including $61 billion that would go directly to airlines. About $377 billion would go to small business loans and grants. About $290 billion would provide direct payments to families in certain tax brackets; $260 billion in unemployment insurance; $290 billion in tax cuts; and $150 billion for state and local stimulus finds. The following "miscellaneous" funds are also part of the rescue bill: $126 billion to hospitals and other health care facilities; $45 billion for FEMA; $31 billion for education stabilization; $27 billion for vaccines and stockpiles; $25 billion for infrastructure; and $131 billion for "other."
The direct payments to families would go to low- and middle-income families/individuals and would include: $1,200 for each adult and $500 for each child in those households, Bloomberg.com reported.
Coronavirus reshaping American life
At least 42 U.S. states, several counties, nine cities, Washington, D.C. and Puerto Rico have now ordered residents to shelter in place, affecting at least 316 million people, according to The New York Times. For weeks, the Texas governor left stay-at-home decisions to local governments, but as of April 2, the entire state is ordered to stay at home except for essential activities, the Times reported.
Every U.S. state has implemented some type of school closures, whether across the entire state or varying by school district, some for weeks and some not opening this academic year; the closures have impacted 124,000 public and private schools and at least 55.1 million students. according to Education Week. On Friday (March 13), the CDC issued new guidance on school closure; schools may need to be closed for 8 to 20 weeks to have any impact on the course of the disease. Shorter closures may have no impact, the CDC said, and locales that have closed schools, such as Hong Kong, have not had better containment success than places that have kept them open, such as Singapore.
Though on Sunday (March 29), President Trump extended the stay-at-home recommendation through April 30, the surgeon general Jerome Adams said on April 1 that the federal guidance on social distancing will likely go beyond that date, according to Politico.
Late Friday (March 13), Congress passed a bill meant to help those who have been affected by coronavirus. The bill expands access to free testing, expands sick leave for those who are most vulnerable, and provides food aid. President Donald Trump also declared a national emergency. On Wednesday (March 25), the Trump administration and U.S. senators passed an historic $2 trillion rescue plan to help boost the faltering economy and help hard-hit Americans and industries, NPR reported.
More coronavirus news on Live Science
Coronavirus: Global live updates
What are coronavirus symptoms?
How deadly is the new coronavirus?
How long does coronavirus last on surfaces?
Is there a cure for COVID-19?
How does COVID-19 compare with seasonal flu?
How does the coronavirus spread?
Can people spread the coronavirus after they recover?
Limited testing
As of April 27, 97 state and local public health laboratories in 50 states and the District of Columbia have working COVID-19 diagnostic tests, the Centers for Disease Control and Prevention (CDC) announced. As of April 27, the CDC and public labs in the U.S. had tested 491,815 specimens; that doesn't equate to that many individuals tested, as labs may run two tests per person to confirm an infection. When commercial labs are added in, a total of nearly 5.6 million COVID-19 tests have been run in the U.S. as of April 28, according to the COVID Tracking Project.
States differ in their rates of testing: California has completed 553,409 tests (about 139 per 10,000 individuals); New York has run 826,095 tests (about 425 per 10,000); 13,033 tests in Montana (120 per 10K individuals); and 53,171 in Oklahoma (134 per 10K)as of April 28.
To date, the FDA has granted at least 50 "emergency use authorizations" for COVID diagnostic tests as of April 27, the FDA reported. Most notably is an EUA for a new serological test, which looks for antibodies in a person's blood that are specific to the novel coronavirus SARS-CoV-2; such tests will help to identify who has been infected already by the virus and is potentially immune. On April 1, the FDA issued that EUA to Cellex Inc.'s qSARS-CoV-2 IgG/IgM Rapid Test, the FDA reported.
Other tests that received EUA's include: the San Diego-based Mesa Biotech's rapid diagnostic test for COVID-19 (called Accula SARS-CoV-2 Test), which delivers results in 30 minutes, Forbes reported. The firm's CEO said the device fits in the palm of your hand and can easily be sent out to point-of-care locations for testing.
Another EUA was granted to California-based company Cepheid for a rapid COVID-19 test whose results take 45 minutes, Live Science reported. There are 5,000 systems in the U.S. capable of running this rapid test, which Cepheid said it would start shipping out March 30.
LabCorp, which processes samples collected by state health departments and hospitals, said in an April 2 statement that the lab "has performed approximately 350,000 tests since first making our COVID-19 test available on March 5th. That number is increasing rapidly now that our lab capacity has reached more than 30,000 tests per day, with even more capacity expected over the coming weeks assuming adequate supplies."
In addition, Deborah Birx, a member of the president's coronavirus task force, said that the U.S. had granted emergency authorization for Roche holdings to release its automated test, which should rapidly scale up the ability to conduct testing. In a March 30 statement from Roche, the company said it began shipping the tests, called the cobas® SARS-CoV-2 Test, to U.S. labs on March 13 and expected to be able to ship about 400,000 tests per week.
The 9 Deadliest Viruses on Earth
27 Devastating Infectious Diseases
11 Surprising Facts About the Respiratory System
Originally published on Live Science.
Today's best ExpressVPN dealsExpress VPN30 Days money Back guaranteeHonest & reliable VPN for a fair priceEXCLUSIVE – SAVE 49%12 months$6.67/mthViewat Express VPN6 months$9.99/mthViewat Express VPN1 month$12.95/mthViewat Express VPN
Sourse: www.livescience.com