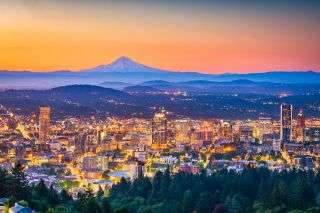 Last updated May 2 at 9:45 a.m. ET.
Oregon has confirmed 2,579 cases of COVID-19 as of Friday, May 1. A total of 58,176 people have been tested, according to the state's health department. On the list of states with the most U.S. coronavirus cases, Oregon's confirmed numbers put them in the lower half of states impacted by the disease. At least 208 people are currently hospitalized with the virus in the state and 23 patients are currently on ventilators.
The state reported on April 22 that at least 595 people with coronavirus in Oregon have recovered, OregonLive reported.
Twelve cases are in people under the age of nine, 60 are in those age 10 to 19, 328 are in 20- to 29-year-olds, 418 are in 30- to 39-year-olds, 444 are in 40- to 49-year-olds, 471 are in 50- to 59-year-olds, 415 are in 60- to 69-year-olds, 256 are in 70- to 70-year-olds, and 169 are in people older than 80.
The state has seen 104 deaths from the coronavirus. According to the Oregon Health Authority, the first individual was a 70-year-old man who died on Saturday (March 14) in Multnomah county. On April 5, OregonLive reported that the individual was Southeast Portland resident Lynn Bryan, a veteran and country-western dance instructor.
COVID-19 has disproportionately affected Oregon's Hispanic population, according to Oregon Public Broadcasting. About 22% of Oregonians who have tested positive for the coronavirus are Hispanic, compared to 13% for the overall state population.
Several cases have been linked to medical facilities. A Kaiser Westside pharmacy in Hillsboro closed on Monday (April 6) after seven staffers tested positive, Oregon Live reported. An Oregon State Hospital employee has also tested positive.
There have been at least 34 outbreaks of the disease at senior care facilities as of April 9. At least 15 cases are linked to the Edward C. Allworth Veterans' Home in Lebanon, in Linn County, where half of those infected are over the age of 90, according to Oregon Live. On March 31, the news organization reported that cases have been found in 29 nursing homes and other long-term care facilities in the state. The worst outbreak as of April 3 was at Laurelhurst Village in Southeast Portland, where 14 residents and 15 employees were confirmed to have COVID-19, according to OregonLive. The news organization reported on April 11 that at least 24 of the state's coronavirus deaths were linked to senior care facilities. At least 10 homes for adults with developmental disabilities have also experienced outbreaks.
On May 1, there were 250 available adult ICU beds and 797 available ventilators in Oregon, according to the Oregon Health Authority.
Details on Oregon's draft plan for a potential reopening were released April 30, with suggested adaptations to the coronavirus including mask-wearing and providing contact information when frequenting businesses, for the purposes of contact tracing. On May 1, the state released information on its plan to expand testing and contact tracing by hiring 600 people to perform contact tracing and expanding testing capacity to 15,000 per week. Under the plan, some rural areas could start to reopen in mid-May, according to the state epidemiologist.
Timeline of coronavirus controls in Oregon
April 29: Portland announced plans to close some city streets to vehicles to allow more space for pedestrians to social distance after the state lifts its stay-at-home order, Oregon Public Broadcasting reported.
April 28: Washington State Parks announced that most state parks would reopen May 5 for day use only.
April 21: A draft of Oregon's reopening plan became public, with the document available on OregonLive.
April 8: Oregon school closures were extended to last the rest of the academic year, OregonLive reported.
March 29: The Trump administration approved a Major Disaster declaration for Oregon, releasing new options for federal aid to the state, OregonLive reported.
March 28: The state announced that customers would be allowed to pump their own gas until at least April 11, a controversial decision in a state where self-service is typically limited, OregonLive reported.
March 23: Oregon Governor Kate Brown issued a statewide stay-at-home order on Monday (March 23), prohibiting citizens from congregating in public or at businesses unless for essential activities such as grocery shopping. Some playgrounds and other outdoor recreation facilities, including campgrounds, will be closed, the Lebanon Express reported.
March 18: Oregon school closures are extended until at least April 28.
March 17: Oregon restricted visitors to nursing homes and long-term care facilities, according to Oregon Public Broadcasting (OPB).
March 16: The governor banned public gatherings of more than 25 people for at least a month and ordered restaurants and bars to end dine-in services.
March 14: State ski areas begin closing, according to OPB.
March 11: Brown orders all K-12 schools to close through at least the end of March. Oregon universities begin moving to online classes.
March 8: Gov. Brown declared a state of emergency in Oregon.
More Oregon coronavirus news
Following business closures, Oregon has seen a surge in unemployment claims. The state saw 23,000 new claims last week, OregonLive reported. On April 1, Gov. Brown ordered a 90-day moratorium on commercial evictions to help small-business owners who may not make rent. This followed a March 22 order preventing law enforcement from evicting tenants who could not pay rent. On April 9, OregonLive reported that 1 out of 8 Oregon workers had lost their jobs in the past three weeks.
On Tuesday, April 14, Oregon Governor Kate Brown released a framework for reopening businesses and lifting Oregon's stay-at-home order, saying the lift could come after the growth rate of active COVID-19 cases declined, and after hospitals had sufficient personal protective equipment and surge capacity, as well as increased testing capacity and ways to protect vulnerable populations.
Coronavirus cases (and deaths) by Oregon county
Benton: 32 (5 deaths)
Clackamas: 222 (7 deaths)
Clatsop: 7
Columbia: 14
Coos: 21
Crook: 1
Curry: 4
Deschutes: 76
Douglas: 24
Grant: 1
Harney: 1
Hood River: 6
Jackson: 49
Jefferson: 10
Josephine: 21 (1 death)
Klamath: 39
Lane: 50 (2 deaths)
Lincoln: 5
Linn: 87 (7 deaths)
Malheur: 10
Marion: 508 (18 deaths)
Morrow: 8
Multnomah: 720 (44 deaths)
Polk: 42 (1 death)
Sherman: 1
Tillamook: 6
Umatilla: 57
Union: 4
Wallowa: 1
Wasco: 13 (1 death)
Washington: 500 (11 deaths)
Yamhill: 39 (7 deaths)
Coronavirus science and news
Coronavirus in the US: Map & cases
What are coronavirus symptoms?
How deadly is the new coronavirus?
How long does coronavirus last on surfaces?
Is there a cure for COVID-19?
How does coronavirus compare with seasonal flu?
How does the coronavirus spread?
Can people spread the coronavirus after they recover?
Originally published on Live Science.
Sourse: www.livescience.com