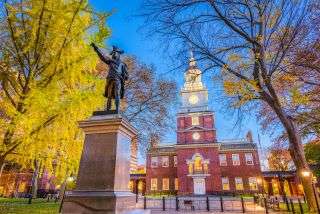 Last updated on May 1 at 6:20 p.m. E.T.
The state is currently reporting 46,971 confirmed positive cases of COVID-19 and 2,354 deaths, according to the Pennsylvania Department of Health. An additional 180,477 individuals have tested negative for the virus. Pennsylvania is currently 6th in the list of states with the most US coronavirus cases.
Nursing and personal care homes now account for 65% of the total deaths attributed to COVID-19 in the state, WFMZ.com reported on Thursday (April 30).
Latest updates:
— On Friday (May 1) Governor Tom Wolf announced that 24 counties in the northwest and north-central regions of the state may begin to reopen on May 8.
The 24 counties include: Bradford, Cameron, Centre, Clarion, Clearfield, Clinton, Crawford, Elk, Erie, Forest, Jefferson, Lawrence, Lycoming, McKean, Mercer, Montour, Northumberland, Potter, Snyder, Sullivan, Tioga, Union, Venango, and Warren.
"These counties were deemed ready to move to a reopening – or yellow phase – because of low per-capita case counts, the ability to conduct contact tracing and testing, and appropriate population density to contain community spread," according to a statement on the governor's website.
The stay-at-home order will be lifted in these regions and many business with in-person operations will be allowed to reopen — however, bars, restaurants, gyms and entertainment venues will remain closed, and gatherings of more than 25 people will remain prohibited. Read the governor's statement for more information.
— Construction work will resume in Philadelphia on Friday (May 1) with some limitations, Mayor Jim Kenney announced Wednesday. Per a new executive order, no work can be done in occupied units and all work must be done from 7 am to 5pm, Monday to Friday, The Inquirer reported. The number of workers allowed at a site will also be limited by square footage.
Governor Wolf previously announced that construction may resume statewide on May 1, as long as workers follow new safety guidelines.
— Montgomery County officials tested 948 prison inmates for COVID-19, and found 177 (or roughly 18% of the region's incarcerated population) tested positive, The Inquirer reported. Of those, 171 individuals exhibited no symptoms at the time of testing. This infection rate is roughly 30 times greater than what Montgomery County had identified before ramping up testing last weekend.
— With new cases trending slowly downward, Philadelphia may have passed its peak of the epidemic, state Health Commissioner Dr. Thomas Farley said on Monday.
"When we look back over the last couple of weeks, when we look at the cases occurring in the region, it's looking like we are past the peak of this epidemic, that we're now on the downslope," Farley said. "We're not going down quickly, but the number of daily cases that we're getting seems to be going down on average."
— On Monday (April 27) governor Wolf announced that businesses providing access to outdoor activities, including marinas, golf courses and privately owned campgrounds, may reopen on May 1. Businesses and customers are required to follow best hygiene and social distancing practices (i.e., individuals must stand 6 feet apart). More info here.
— On Wednesday (April 22) governor Wolf announced a three-phase plan to begin reopening Pennsylvania businesses, with a tentative start date of May 8. Read the plan details here.
Starting May 8, the state's north-central and northwest regions may see some social restrictions lifted and many businesses with in-person operations may reopen, the plan states. Bars, restaurants, gyms and entertainment venues will remain closed, and gatherings of more than 25 people will remain prohibited.
— On Monday (April 20) governor Wolf extended the statewide stay-at-home order until May 8. The order was previously set to expire April 30.
"It is clear that our early and aggressive efforts to mitigate this spread of this highly contagious and deadly virus are working. While we begin to seek ways to move forward, it's imperative that we continue to take strong precautions to protect Pennsylvanians and ensure that our health care system is not overwhelmed," Wolf said in a statement.
— On Friday (April 17) governor Wolf said state officials are working on a plan to relax social distancing restrictions region-by-region. "Moving to reopen large swaths of our economy now is only going to prolong this crisis," the governor said.
— As hospitalizations continue to increase, Pennsylvania Health Secretary Rachel Levine said on Thursday (April 16) that the state's testing capabilities are insufficient, and that the number of tests conducted has declined in recent days, the Philadelphia Inquirer reported. State officials have had "great difficulty" accessing the reagents and chemicals needed to conduct the tests, Levine said.
— On Wednesday (April 15) the Pennsylvania state legislature, which has a Republican majority, passed a bill that seeks to broaden governor Wolf's definition of what constitutes an essential business. If signed by the governor, the bill will allow construction workers, among others, to return to work in the state. Health officials have warned the bill puts more lives at risk, and governor Wolf has said he does not support it.
— On Monday (April 13) governor Wolf addressed Pennsylvanians to say that the epidemic curve is beginning to flatten in the state, but that the state is still in "stage one" of dealing with the crisis, which entails social distancing to buy the health care system time to meet the demands of the pandemic.
Beginning stage two — the slow transition to reopening the state economy — is contingent upon "better testing" that can tell the entire population when they are sick, and new antibody tests to reveal if someone is immune to the virus, the governor said. (Read his full address here).
— On Monday (April 13) a 67-year-old Philadelphia man became the first state penitentiary inmate to die of complications related to COVID-19, the Philadelphia Inquirer reported. At least 11 inmates and 6 employees at SCI Phoenix — the Eagleville facility where the man was serving a life sentence — have tested positive for the virus.
— On Friday (April 10) Governor Tom Wolf announced a temporary program to reprieve jail sentences for non-violent inmates and incarcerated individuals most vulnerable to COVID-19.
According to a statement from the governor's office, "the Temporary Program to Reprieve Sentences of Incarceration Program only applies to state prison inmates who have been identified as being non-violent and who otherwise would be eligible for release within the next 9 months or who are considered at high risk for complications of coronavirus and are within 12 months of their release."
As many as 1,800 inmates could be eligible for release under the program, though the actual number released will likely be much lower for logistical reasons, the statement said.
— On Friday, the governor also announced a $450 million loan package to help struggling hospitals stay solvent through the pandemic.
— The Southeastern Pennsylvania Transit Authority (SEPTA) will no longer enforce a short-lived policy requiring all passengers to wear masks after a video showing a group of police officers dragging an unarmed man forcibly off a bus went viral on Friday.
All SEPTA trains, buses, subways and trolleys are now running on a "lifeline service schedule," closing many stations and several routes in an effort to reduce nonessential travel. Detailed information here.
— On Thursday (April 9) governor Wolf announced that all schools will remain closed for the duration of the academic year. Read the governor's full statement here.
— On Tuesday (April 7) governor Wolf called on Pennsylvanians to denounce and report any hate crimes seen in the state during the COVID-19 crisis. The announcement follows an FBI report warning of an uptick in hate crimes, particularly against the Asian American community, during the pandemic.
"I am advocating for all Pennsylvanians to take a stand against anti-Asian racism and report any discrimination they see," Wolf said in a statement. "Hate is just one more symptom of this terrible disease."
— On Monday (April 6) governor Wolf urged Pennsylvania manufacturers that currently are producing or can pivot to producing COVID-19-related supplies to submit their information to the newly developed Pennsylvania Manufacturing Call to Action Portal.
"We cannot rely on the federal government alone to provide us with necessary equipment. We must tap our own valuable resources, including our manufacturing sector, to help our health care workers save Pennsylvanians' lives," Wolf said in a statement.
— On Monday (March 30) Governor Tom Wolf announced that all schools and non-essential businesses will remain closed indefinitely. Governor Wolf has also extended his "Stay at Home" order to include all 67 Pennsylvania counties, effective 8pm ET on April 1.
"This statewide stay-at-home order is not just to protect ourselves from exposure to COVID-19, but it protects those on the front lines," state Secretary of Health Dr. Rachel Levine said in a statement. "Our doctors, nurses, police, fire, EMTs need us to do this. And the CNAs who are taking care of our family in nursing or long-term care facilities need us to do this."
A list of allowed out-of-home activities is available here. The orders will remain in place until at least April 30.
— Earlier, on Thursday (March 19) governor Wolf ordered all business that aren't "life-sustaining" to close by 8 p.m. Businesses considered to be life-sustaining include gas station, farms, health care facilities and transit systems, the Philadelphia Inquirer reported. A list of businesses allowed to remain open can be found here.
"We strongly urge non-essential businesses across the commonwealth to do their part by temporarily closing as we work to flatten the curve and protect the health and safety of all Pennsylvanians," Department of Community and Economic Development secretary Dennis Davin said in a statement.
— Penn State University also canceled in-person classes for the remainder of the spring semester, impacting about 76,000 students. Day care centers across the state have also been closed.
Originally published on Live Science.
OFFER: Save at least 53% with our latest magazine deal!
With impressive cutaway illustrations that show how things function, and mindblowing photography of the world's most inspiring spectacles, How It Works represents the pinnacle of engaging, factual fun for a mainstream audience keen to keep up with the latest tech and the most impressive phenomena on the planet and beyond. Written and presented in a style that makes even the most complex subjects interesting and easy to understand, How It Works is enjoyed by readers of all ages.
Sourse: www.livescience.com