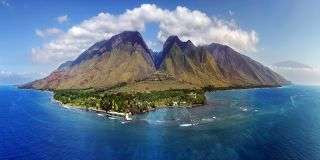 The island of Maui in Hawaii.
Last updated May 4 at 8:29 a.m. ET.
There have been 620 "confirmed or presumptive" cases of COVID-19 in Hawaii, according to a statement from the Hawaii State Department of Health. Epidemiologists have confirmed local spread of COVID-19 and the state saw its first death of a diagnosed patient, who had traveled to Las Vegas, at the end of March. As of May 3, 17 patients with COVID-19 have died.
"Your hard work, sacrifices, and diligence are paying off," Governor David Ige said in a statement released on April 29, citing ten consecutive days with six or fewer new cases of the disease. "The curve has flattened … until there is a vaccine or cure we are not out of the woods, and we still need to remain extremely vigilant."
The economic impacts of the pandemic are also beginning to affect Hawaii. In mid-April, Ige also announced that state-government employees should expect stark budget cuts and said that he was working with unions representing those employees to determine next steps. More than 235,000 people in the state have filed for unemployment as of April 15; as of April 27, the state has paid out more than $68 million in claims.
Nevertheless, as of April 20, the state was beginning to explore what it might look like to reopen. "I know people are getting anxious to get back to 'normal,' Lieutenant Governor Josh Green said in a statement. "We did a great job of flattening this curve, but there is a risk of additional spikes in cases if we're not careful. We are diligently working to ensure we reopen Hawaii in a careful, thoughtful way that keeps people healthy and safe while jumpstarting our economy as much as possible."
The first presumptive positive case was identified on March 6, and was a visitor to Hawaii who was likely exposed to the coronavirus while on the Grand Princess cruise ship, which journeyed to Hawaii before coronavirus cases on board turned the trip into a quarantine nightmare. (In addition, two Hawaii residents on the cruise were later diagnosed with COVID-19 before returning to the state.) The second case was a resident who was hospitalized with COVID-19 after returning to Hawaii from Washington State.
So far, the majority of cases are in people 20-59 years old, although patients over 60 are being hospitalized at the highest rate. Overall, about 10% of cases in Hawaii have required hospitalization. The state has seen 27 cases in people under 20 years old.
As of April 27, the entire state is under a stay-at-home, work-from-home directive from the governor until at least May 31, which extended the period by a month. "I know this has been difficult for everyone. Businesses need to reopen. People want to end this self-imposed isolation. And we all want our lives to return to normal," Gov. Ige said in a statement. "However, my greatest fear is that if we move to reopen too quickly, we will see a sudden surge in new cases that would result in over-running our healthcare system and more deaths." That statement promised that some of the regulations associated with the shutdown would be relaxed.
The same extension requires everyone arriving in Hawaii through May 31 to immediately self-quarantine in a private space for 14 days. The state has arrested several visitors for violating the rule. As of April 1, the same procedure is also required of anyone who travels between islands. The Department of Health is also encouraging residents to wear cloth masks and extending its influenza surveillance program to include testing for COVID-19.
"We need to continue practicing social distancing because it is a way to lower the curve of COVID-19 in Hawaii," state health director Bruce Anderson said in a statement. "Everyone needs to take the measures implemented seriously and abide by those requirements."
In addition to social distancing measures, the Department of Health is asking residents to make only measured purchases in order to ensure that everyone can acquire needed supplies. (The department has also transitioned to vital records only online and requiring an appointment to acquire a marriage license.)
The Hawaii State Department of Education has closed schools through at least April 30, although some sites are open for meal distribution. The State Foundation on Arts and Culture has gathered online activities for all ages stuck at home.
Wilcox Medical Center along with O'ahu's Kapiolani Medical Center for Women & Children, Pali Momi Medical Center and Straub Medical Center are offering drive-through COVID-19 testing from Monday to Friday between 8 a.m. to 5 p.m. But if people want to be tested they first need to contact a physician to order the test, according to the statement.
The Queen's Medical Center- Punchbowl in Honolulu, Hawaii has set up a tent to screen patients for COVID-19 but only patients with mild to moderate flu-like symptoms and those with a doctor's note will be tested, according to the statement. Patients with more severe symptoms will be sent to the emergency room.
The state of Hawaii has set up an interagency website for more information about COVID-19, which is accessible at https://hawaiicovid19.com/.
Aloha United Way has set up a call center that runs from 7 a.m. to 10 p.m., 7 days a week if the public wants more information on COVID-19.
-You can call 2-1-1 from any location in the state
-Text 877-275-6569
-Email info211@auw.org
-Visit hawaii.gov/covid19 or coronavirus.gov
COVID-19 cases by island:
Sourse: www.livescience.com