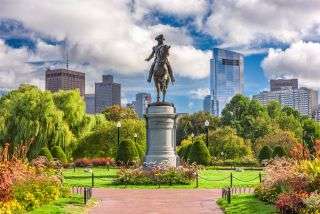 The George Washington statue at the Public Garden in Boston, Massachusetts.
Last updated May 1 at 6:46 pm E.D.T.
As of April 28, Massachusetts is reporting 64,311 confirmed cases of COVID-19 and 3,716 deaths associated with the virus, according to the state government. This makes it 3rd in the list of states for the most US coronavirus cases. Confirmed cases have been reported in 14 out of 14 counties in the state. A total of 289,636 people have taken diagnostic tests in the state.
To sign up for text alerts from the state government about COVID-19, text COVIDMA to 888777.
Updates
-Starting on May 5, everyone over the age of 2 in Massachusetts will need to wear a face covering in public areas where social distancing is not possible, Republican Gov. Charlie Barker said May 1, according to Boston.com. Violators could have to pay a $300 fine.
-The state may have to continue the stay-at-home advisory for another 12 weeks, or until July 20, if it wants to keep COVID-19 deaths to under 5,000 through the end of August, a new simulator study by Massachusetts General Hospital found, according to Boston.com.
-Baker explained why he isn't loosening COVID-19 restrictions in Massachusetts just yet. "You really can't make a decision to reopen until you get past the surge, OK?" Baker said in an interview on WGBH on April 24. That's pretty much the guidance that has come from all the experts."
-The older brother of former presidential contender and Massachusetts Democratic Sen. Elizabeth Warren died of coronavirus on April 21, the senator tweeted. Her brother, Donald Reed Herring, was 86 years old, according to the Boston Globe. 
-The number of COVID-19 deaths in Massachusetts are likely undercounted, a new report finds, according to the Boston Globe.
-Baker has ordered that Massachusetts public schools stay closed through the end of the school year, and that daycares remain closed until June 29, according to the Boston Globe. 
-Advocates are calling for the release of inmates after 98 prisoners tested positive for COVID-19 and 5 died from the illness in state prisons and jails, according to Boston.com.
-Starting April 17, face coverings will be  mandatory for people going into public areas in the town of Brookline. Those who don't comply will get hit with a $50 fine.
-A Boston Police Department officer died from complications due to COVID-19, according to an April 14 news statement. The department has already had 64 officers and nine civilians in its workforce test positive for the disease.  
-Upwards of 6,000 health care workers in Massachusetts will receive hazard pay — that is, up to $10 an hour more than usual — during the coronavirus pandemic, under a new agreement struck between their union and state officials on April 12, according to Boston.com.
-Five residents have died at a senior living facility in Newton — the Benchmark Senior Living's Falls at Cordingly Dam, Boston.com reported. Additional testing on April 7 revealed that 36 residents and 10 associates had the disease.
-A Market Basket employee named Vitalina Williams, who worked in Salem, has died from COVID-19, Boston.com reported Tuesday (April 7). Another two associates at the Salem store have tested positive for the disease. These associates, as well as those who were in close contact with them, are being quarantined. The store is following the guidance of public health officials, the store said in a statement. 
-Shoppers are now barred from bringing reusable bags due to a temporary repeal of local plastic bag bans, according to Boston.com. During this time, grocery stores and pharmacies are not allowed to charge for plastic bags. This policy change came about because of concerns that reusable bags could carry COVID-19, as well as ramped up lobbying efforts from the plastics industry, Politico reported. 
-Baker announced on March 25 that schools and daycares will stay closed until Monday, May 4, according to Boston.com. 
-Baker has also ordered all nonessential businesses to close their walk-in stores by March 24 and has asked that all public gatherings involve no more than 10 people, according to Boston.com. The governor asked that the state's Department of Public Health issue a "stay at home advisory," which would still allow people to go outdoors for their mental and physical wellbeing, as long as they followed social distancing.
"I do not believe I can — or should — order U.S. citizens to be confined to their homes for days on end," Baker said, according to Boston.com. "It doesn't make sense from a public health point of view, and it's not realistic."
-Baker declared a state of emergency on March 10, giving his administration more flexibility to respond to the outbreak. On March 15, the governor issued an emergency order prohibiting on-premises consumption of food and beverages at bars and restaurants from March 17 to April 6. 
-In addition, the Department of Public Health issued visitor restrictions for hospitals and assisted living facilities, and mandated that hospitals cancel nonessential elective procedures. 
Coronavirus
—Coronavirus in the US: Map & cases
—What are the symptoms of COVID-19?
—How deadly is the new coronavirus?
—How long does coronavirus last on surfaces?
—Is there a cure for COVID-19?
—How does coronavirus compare with seasonal flu?
—How does the coronavirus spread?
—Can people spread the coronavirus after they recover?
Here is a breakdown of infections per county, from most to least:
The 9 deadliest viruses on Earth 
28 devastating infectious diseases 
11 surprising facts about the respiratory system 
Originally published on Live Science. 
OFFER: Save at least 53% with our latest magazine deal!
With impressive cutaway illustrations that show how things function, and mindblowing photography of the world's most inspiring spectacles, How It Works represents the pinnacle of engaging, factual fun for a mainstream audience keen to keep up with the latest tech and the most impressive phenomena on the planet and beyond. Written and presented in a style that makes even the most complex subjects interesting and easy to understand, How It Works is enjoyed by readers of all ages.
Sourse: www.livescience.com