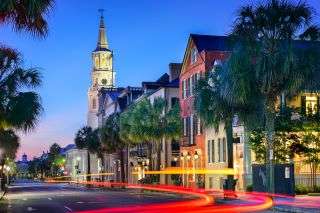 Historic downtown Charleston.
Last updated on May 1 at 6:35 p.m. E.T.
South Carolina is reporting 6,258 confirmed cases of COVID-19 and 256 deaths associated with the virus, according to the state's  Department of Health and Environmental Control (DHEC). 
As US coronavirus cases continue to climb,  South Carolina is expected to see more than 8,000 confirmed cases by early may, according to projections posted on the health department's website on March 26.
Latest updates:
— On Friday (May 1) Governor Henry McMaster announced that his «home or work» order prohibiting nonessential trips outside the house would become voluntary starting Monday, May 4, The State reported. McMaster also said that restaurants with outdoor seating may resume outdoor service on May 4. He also lifted previous orders requiring out-of-state visitors from coronavirus hotspots (like New York) to self-quarantine for 14 days upon arriving in South Carolina, effective immediately.
The governor's orders came on Friday, when 160 new COVID-19 cases and 12 new coronavirus-related deaths were reported around the state.
— South Carolina was one of 9 states to earn an «F» grade for social distancing in a new ranking released by Unacast, a company that analyzes cell phone data. The company saw a low reduction in the distance cell phone users travel each day, and a low reduction in the density of encounters between cell phone users compared to the national average. Read about their methods here.
— Several local elections scheduled for May 5 and May 12 have been rescheduled to an unspecified later date, The State reported on Tuesday (April 28).
— On Monday (April 27) governor McMaster extended the statewide state of emergency declaration by 15 days, thereby extending all existing executive orders related to the COVID-19 pandemic. 
— On Monday (April 20) Governor Henry McMaster rolled back the social distancing order he signed two weeks ago, now allowing many non-essential businesses to reopen. Department stores, sporting good stores, book stores, music stores, and many other retailers may reopen, The State reported, so long as they limit occupancy to five customers per 1,000 square feet, or 20% of posted occupancy limits (whichever number is lower). 
Businesses requiring close contact, such as salons, barbershops and gyms, must remain closed.
On Thursday (April 23), Dr. Linda Bell, South Carolina's state epidemiologist, stressed the importance of social distancing as businesses begin to reopen.
— On Friday (April 17) governor McMaster said that all docks and boat landings will reopen, though social distancing rules remain in effect.
— On Wednesday (April 15), officials with the Medical University of South Carolina in Charleston said that social distancing appears to be working in flattening the curve, but that a surge of COVID-19 patients is still expected in the next few weeks. Now is not the time to relax social distancing restrictions, MUSC spokesperson Heather Woolwine said in a news release. 
«If social distancing is reduced now, new cases could grow quickly,» Woolwine said.
— Democratic legislators are calling on governor McMaster to create a task force to investigate why a disproportionate number of African Americans are dying from COVID-19 in South Carolina, local news site The State reported. According to DHEC statistics released Tuesday (April 14) African Americans make up 27% of the state's population and account for 41% of positive COVID-19 cases and 56% of cases that have resulted in death.
— On Monday (April 6) Governor Henry McMaster issued a statewide stay-at-home order, effective 5 p.m. on Tuesday (April 7). The order does not prohibit citizens from going to work, the grocery store, or other essential locations. Three of South Carolina's four largest cities — Charleston, Columbia and Mount Pleasant — have previously issued stay-at-home orders. Violators face a $100 fine or 30 days in jail.
The governor also passed an order limiting the number of customers allowed in stores to either 20 percent of capacity or five people per 1,000 square feet, according to the Post and Courier. 
— On Tuesday, the U.S. Department of Defense announced that all American military bases will stop publicly reporting confirmed COVID-19 cases, according to the Post and Courier. The order came just as two bases in South Carolina, including Fort Jackson — the Army's largest training base in the nation — reported double-digit increases in the number of positive cases. The fort, located in Columbia, SC, sees more than 45,000 recruits every year.
— On Sunday (March 29), governor McMaster announced that all public schools, colleges and technical colleges in the state would remain closed through April, extending previously planned closures by a month.
— On Tuesday (March 17) governor McMaster announced that all bars and restaurants state-wide must cease offering dine-in service, effective Wednesday (March 18). Gatherings of more than 50 people are also banned across the state, the South Carolina Post and Courier reported.
Coronavirus
—Coronavirus in the US: Map & cases
—What are coronavirus symptoms?
—How deadly is the new coronavirus?
—How long does coronavirus last on surfaces?
—Is there a cure for COVID-19?
—How does COVID-19 compare with seasonal flu?
—How does the coronavirus spread?
—Can people spread the coronavirus after they recover?
The 9 Deadliest Viruses on Earth 
 28 Devastating Infectious Diseases 
 11 Surprising Facts About the Respiratory System 
Originally published on Live Science.
OFFER: Save at least 53% with our latest magazine deal!
With impressive cutaway illustrations that show how things function, and mindblowing photography of the world's most inspiring spectacles, How It Works represents the pinnacle of engaging, factual fun for a mainstream audience keen to keep up with the latest tech and the most impressive phenomena on the planet and beyond. Written and presented in a style that makes even the most complex subjects interesting and easy to understand, How It Works is enjoyed by readers of all ages.
Sourse: www.livescience.com