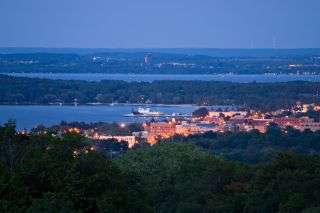 View of Traverse City, Michigan.
Coronavirus science
—Coronavirus in the US: Map & cases 
—What are COVID-19 symptoms? 
—How deadly is the new coronavirus? 
—How long does coronavirus last on surfaces? 
—Is there a cure for COVID-19? 
—How does COVID-19 compare with seasonal flu? 
—How does the coronavirus spread? 
—Can people spread the coronavirus after they recover?
Last updated May 1 at 6:37 pm E.D.T.
As of May 1, Michigan is reporting 42,356 confirmed cases of COVID-19 and 3,866 deaths associated with the virus, according to the Michigan Department of Health and Human Services. This makes it 7th in the list of states for the most US coronavirus cases. Confirmed cases have been reported in 80 out of 83 counties in the state. 
While people ages 5 to 107 have tested positive for the virus, the average age of death is 76 years old. The overall fatality rate in the state is 9%. As of April 24, a total of 8,342 people have recovered.
Latest updates
-Democratic Gov. Gretchen Whitmer has extended Michigan's state of emergency to May 28. State Republicans, who the state to open up, said they would sue, according to Detroit News. "If she does not recognize the end of the emergency declaration, we have no other choice, but to act for our constituents," Republican Senate Majority Leader Mike Shirkey told Detroit News. 
Whitmer said the extension was merited. "We remain in a state of emergency. That is a fact," she said during a virtual town hall on April 30. "For anyone to declare mission accomplished means they're turning a blind eye to the fact that over 600 people have died in the last 72 hours."
-The state may see a spike in suicides among people whose mental health has been affected by the coronavirus pandemic, according to an April 27 report from Pine Rest Christian Mental Health Services, which is based in Grand Rapids. This spike could be as high as a 32% increase, with people feeling depressed because of job loss, stress related to a loss of a loved one, or isolation and loneliness due to required social distancing practices, Detroit News reported. If you are feeling suicidal, call the National Suicide Prevention Lifeline at 1-800-273-8255.
-Whitmer extended the "Stay Home, Stay Safe" to last until at least May 15, according to an executive order she signed on April 24. The order also requires people to wear homemade face coverings when they enter enclosed public spaces. In addition, this new order lifts some restrictions previously placed on outdoor activities. 
-People with mild symptoms of COVID-19 should get tested for the virus, said Michigan health officials who are working to reach the goal of testing 15,000 people every day, Click On Detroit reported. All they need is a note from a health care provider. In most cases the test is free, as many insurance providers are waiving copays for the test. People on Medicaid or Healthy Michigan also won't be charged.
-Democratic Gov. Gretchen Whitmer signed an executive order on April 20 to create the Michigan Coronavirus Task Force on Racial Disparities. The task force will "recommend actions to immediately address such disparities and the historical and systemic inequities that underlie them," given that an unusually high percentage of COVID-19 cases and deaths are in the Black community, according to a government statement.
-Whitmer plans to release more information next week about her plan to reopen Michigan, including details specific to the state's regions, economic sectors and the safety of employees and customers, she told Detroit News on April 17.
-Whitmer has received blowback for the new "Stay Home, Stay Safe" executive order. Protesters gathered at the state capital April 15, according to ABC News. 
-There are 13 new or expanded COVID-19 drive-thru sites, including in Detroit and Flint, according to an April 11 government announcement. In addition, a new lab will help speed up results for these tests. 
-Sinai-Grace Hospital in Detroit is so overwhelmed with COVID-19 patients, that two people died in its emergency room hallway before they could be treated, CNN reported April 9. Health care workers there said they didn't feel supported with enough supplies or staff to address the situation.  
-On April 9, Whitmer extended the "Stay Home, Stay Safe" executive order until April 30, according to a government statement. 
-A disproportionally high number of COVID-19 diagnoses and deaths are people who are Black or African American. As of April 8, this group accounted for 33% of cases and 40% of deaths, according to the Michigan state government. But Black and African American people account for just 14.1% of the state's population, according to the U.S. Census Bureau. You can read more about this disparity in The Oakland Press.
-The TFC Center downtown is being converted into a temporary hospital that can house 1,000 patients with COVID-19. It's expected to be up and running by April 10, Whitmer said April 6, as reported by Detroit News.  
-Whitmer has suspended face-to-face learning at K-12 schools across the state for the remainder of the year, according to a news statement. Students will complete the rest of the year through online learning.
-Whitmer strengthened the state's stay-at-home order on Friday (April 3), saying that anybody with a COVID-19 diagnosis or symptoms must stay at home regardless of whether they're considered an essential employee, according to The Detroit News.  This is to stop the spread of the virus and to protect individuals from retaliation from employers.
-Whitmer's "Stay Home, Stay Safe" executive order directs all nonessential Michigan businesses and operations to temporarily suspend in-person operations through at least April 13. The order also directs Michiganders to stay in their homes unless they're essential workers, doing an outdoor activity (while practicing safe social distancing), or aiding in the health and safety of themselves or their family, such as going to the hospital or grocery store, according to a government statement.  
-Whitmer is increasing and expanding unemployment benefits for workers affected by the COVID-19 pandemic, including those who are self-employed and low-wage workers, according to a news statement from the government. 
-State park campgrounds, overnight lodging facilities and shelters are now closed through at least April 13, the government reported. State parks and recreation areas, however, will remain open for people practicing social distancing. 
-Michiganders who have become unemployed because of the COVID-19 outbreak can go here to see if they're available for collections assistance.  
-Whitmer signed an executive order imposing temporary restrictions on nonessential medical and dental procedures, according to a news statement. 
-Action is being taken against price gougers. Call 877-765-8388 if you want to register a complaint, the state government reported.
-On March 16,  Whitmer issued an executive order that temporary closed all dine-in options for restaurants, theaters, bars, casinos and fitness centers. Delivery and walk-up services are still available. 
-On March 10, Michigan's governor declared a state of emergency in response to cases of COVID-19. Large assemblages have been cancelled and all public K-12 schools will be closed until at least May 4. 
Michigan coronavirus hotline (7 days a week, 8 a.m. – 5 p.m.): 1-888-535-6136
Cases by county:
 The 9 deadliest viruses on Earth 
 27 devastating infectious diseases 
 11 surprising facts about the respiratory system 
Originally published on Live Science. 
OFFER: Save 45% on 'How It Works' 'All About Space' and 'All About History'!
For a limited time, you can take out a digital subscription to any of our best-selling science magazines for just $2.38 per month, or 45% off the standard price for the first three months.
Sourse: www.livescience.com