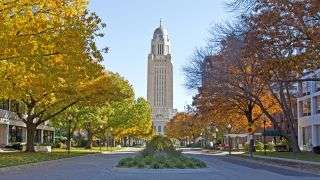 Last updated May 4 at 5:13 p.m. E.D.T.
Today (May 4), the Nebraska Department of Health and Human Services (DHHS) reported 5,910 cases of COVID-19, an increase of 1,629 cases since May 1. This places it 30th on the of the list of states and provinces in order of most US coronavirus cases. There have been 78 deaths statewide, according to the Center for Systems Science and Engineering at Johns Hopkins University (CSSE).
Hall County has the most cases: 1,281, up from 1,025 on May 1. 
Nebraska Governor Pete Ricketts announced two statewide changes that would go into effect today (May 4): Elective medical and dental procedures would be allowed to resume, and houses of worship could resume services, provided they maintain 6 feet (2 meters) of distance between people belonging to different households, KETV-Omaha reported.
In some parts of the state — Douglas County, Sarpy Cass, East Central, Four Corners, Loup Basin, North Central, Northeast Nebraska, Panhandle Public, Southeast District and Southwest Nebraska — businesses such as salons, massage and tattoo parlors, restaurants and day care facilities could resume service under some restrictions, such as mask-wearing, limiting occupancy and maintaining distance between patrons, according to KETV-Omaha.
On April 29, Tyson Fresh Meats announced that it would temporarily cease production at its Sioux City, Nebraska beef plant — the company's largest — in order to deep-clean the facility. Tyson also began testing workers at its Dakota City, Nebraska plant on April 29; 669 workers (about 15% of the plant's workforce) have since tested positive for COVID-19, an unnamed source told the Sioux City Journal.
There have been two fatalities from COVID-19 in the metro Dakota City area; both patients worked at the Tyson plant, the Journal reported.
The coronavirus is spreading far more rapidly than expected in rural communities statewide, with infection rates in Hall, Dawson and Dakota Counties that are 16 times higher than in the rest of the site and 6 times higher than the national average, the Omaha World-Herald reported on April 24.
"People think individuals out there in rural America are always living socially distant, and it's simply not true," said Dr. Angela Hewlett, an infectious disease expert at the University of Nebraska Medical Center and the medical director for the Nebraska Biocontainment Unit. 
"It's a completely different picture that emerges, and it's alarming, actually, what we're seeing," she told the World-Herald.
Nevertheless, Governor Ricketts declined to issue a statewide stay-at-home order, the Lincoln Journal-Star reported on April 22.
During April, medical experts advised Governor Ricketts that such restrictions not be necessary, arguing that better compliance with social distancing and hand-washing would be enough to keep people safe, the Omaha World-Herald reported on April 3. The governor did issue a proclamation entitled "21 Days to Stay Home and Stay Healthy" on April 9th that "urged" Nebraskans to follow these six rules:
1. Stay home.  No non-essential errands and no social gatherings.  Respect the ten-person limit.
2. Socially distance your work.  Work from home or use the six-foot rule as much as possible in the workplace.
3. Socially distance your work.  Work from home or use the six-foot rule as much as possible in the workplace.
4. Help kids follow social distancing.  Play at home.  No group sports.  And no playgrounds.
5. Help seniors stay at home by shopping for them.  Do not visit long-term care facilities.
6. Exercise daily at home or with an appropriately socially-distanced activity.
"More bang for our buck"
"I think we'll get much more bang for our buck than we would from going to a much more draconian posture," said Dr. James Lawler, co-director of the Global Center for Health Security at the University of Nebraska Medical Center.
On April 6, Dr. Anthony Fauci, director of the National Institute of Allergy and Infectious Diseases and White House coronavirus task force member, said that Governor Ricketts' actions were "functionally equivalent" to stay-at-home directives, which to date had been enacted in 47 states and in Washington, D.C., the Lincoln Journal Star reported.
As of April 6, all Nebraska counties are following Directed Health Measures until May 11, the DHHS reported. These guidelines restrict public gatherings; prohibit elective surgeries and dental procedures; suspend in-person classes at all schools; and order  self-quarantining for individuals with COVID-19 symptoms and those who have had contact with infected people, according to the Department of Health and Human Services (DHHS). 
On March 18, the Douglas County Board of Health prohibited public gatherings of more than 10 people, the Omaha World-Herald reported. The next day, Governor Ricketts enacted similar restrictions in three more counties: Cass, Sarpy and Washington, according to the World-Herald. Restaurants may remain open for takeout, delivery and curbside service only, Ricketts said in the directive.
People who violate the order may be subject to a misdemeanor offense, said Adi Pour, the Douglas County health department director. Exemptions to the order include "courts, medical providers, public utilities, critical county and city operations, continuity of business operations, logistics/distribution centers, congregate living settings, shelters, public transportation, airport travel, shopping at fuel stations, stores or malls," according to the World-Herald.
For gatherings of fewer than 10 people, social distancing of at least 6 feet (2 meters) must be maintained at all times, Pour added.
Peak infection rate in late April
Cases across Nebraska are expected in increase until the end of April, Dr. James Lawler, head of the Global Center for Health Security at the University of Nebraska Medical Center, told the Omaha World-Herald on March 30.
Governor Ricketts declared a state of emergency on March. 13, allowing the state to mobilize across agencies to fight the spread of the virus.
In March, health officials identified several events and locations near Omaha and in Sarpy County that may have exposed large numbers of people to COVID-19 infection, from March 2 through March 12. This could potentially affect Nebraskans across the state, the DHHS reported.
People at those locations, which include several Walmarts, multiple bars, and two college basketball games, are advised to self-monitor for the onset of symptoms, such as fever, cough, shortness of breath and sore throat, according to the DHHS.
The first confirmed case found through community surveillance was a 36-year-old Omaha woman who went on a trip to London in mid-February with her father and began feeling ill on Feb. 24. Two of her family members tested positive as well, according to the DHSS. Hundreds of people may have had contact with the woman at a Special Olympics basketball event and a veterans supper, according to the Lincoln Journal Star. 
A man who shared a connecting flight with the woman between Minneapolis to Omaha tested positive, according to KOLN.
Cases by county:
Sourse: www.livescience.com