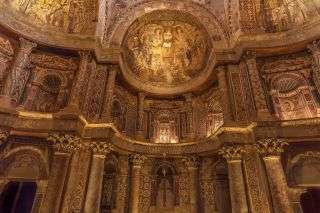 The richly decorated sanctuary in the Red Monastery at Sohag in Egypt.
Virtual tours of a handful of Egypt's archaeological marvels — including the ancient Tomb of Queen Meresankh III and the fourth century Red Monastery — are now available. So if you're looking for a great way to "explore" while stuck at home during the COVID-19 pandemic, this might be the perfect option. 
The 3D tours show the ancient Egyptian sites in stunning detail, allowing viewers to "walk through" different parts of the ruins, much like how the navigation on Google Street View works.
Egypt's Ministry of Tourism and Antiquities began posting the tours online last week, as a way to share these wonders with people who are staying at home to help "flatten the curve" during the coronavirus pandemic, the Ministry announced in a statement on Facebook. 
Here are links to the tours posted so far:
OFFER: Save 45% on 'How It Works' 'All About Space' and 'All About History'!
For a limited time, you can take out a digital subscription to any of our best-selling science magazines for just $2.38 per month, or 45% off the standard price for the first three months.View Deal
Sourse: www.livescience.com