CORONAVIRUS and the COVID-19 pandemic were predicted by the 16th-century mystic Nostradamus, conspiracy theorists have claimed online.
The coronavirus disease (COVID-19) has claimed more than 10,000 lives since it first appeared in China last November. The virus, which has never been seen in humans before, took the world by surprise when it rapidly spread to virtually every continent.
Trending
As of 1.54pm GMT on March 20, doctors have confirmed more than 246,000 infections worldwide.
The dire situation has led the World Health Organization (WHO) to declare a global emergency and pandemic.
Although the pandemic was triggered by an unknown strain of coronavirus (SARS-CoV-2) there are many who believe the world was warned nearly 500 years ago.
Scores of conspiracy theorists have flooded social media in recent weeks with claims Nostradamus knew of the COVID-19 chaos in 1555.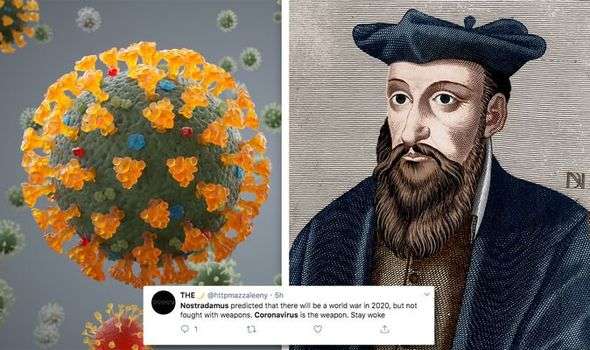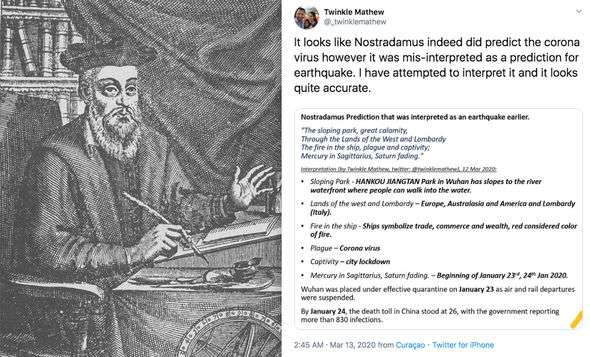 READ MORE
Coronavirus UK panic buying: NHS worker shares video of empty shelves
Michele de Nostredame, or Nostradamus, was a 16th-century physician and writer who is believed by many to have predicted future events.
Nostradamus's followers are convinced the mystic predicted the rise of Adolf Hitler and the Great Fire of London in 1666.
The majority of these predictions were published in Nostradamus' 1555 book Les Propheties.
The predictions took the form of cryptic, four-lined poems known as quatrains.
Although the quatrains are incredibly vague and rarely specify exact locations or people, many believe future events can be divined from the poems.
One person said on Twitter: "Nostradamus predicted the #coronavirus and also Trump getting a 'virus'."
Nobody has ever used Nostradamus' writings to predict a future event
The person then shared one of Nostradamus' quatrains, which supposedly forewarned of coronavirus.
The passage, Century 2, Quatrain 53, reads: "The great plague of the maritime city
"Will not cease until there be avenged the death
"Of the just blood, condemned for a price without crime,
"Of the great lady outraged by pretence."
DON'T MISS
Coronavirus UK: Will schools close as infections surge? [INSIGHT]
Coronavirus prediction: Did Nostradamus warn of COVID-19? [ANALYSIS]
Coronavirus tracker: See the spread of COVID-19 HERE [LIVE]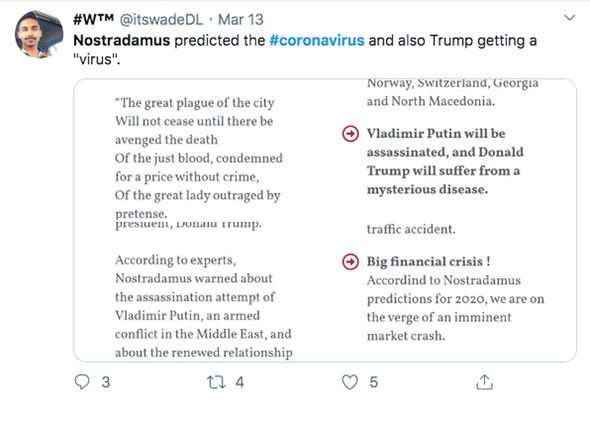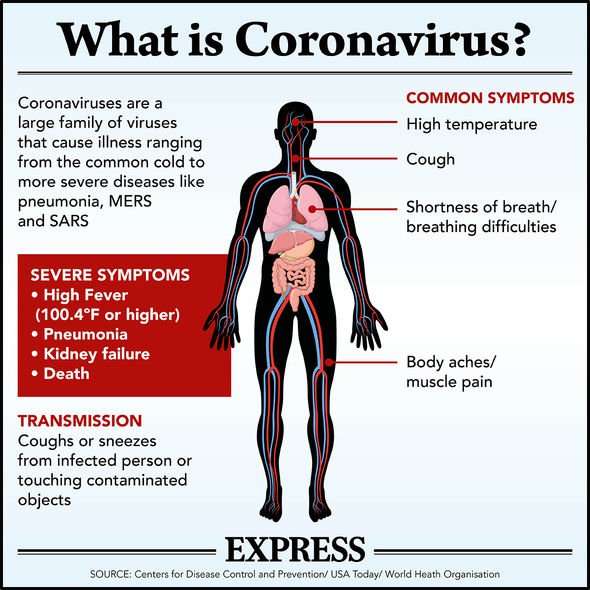 READ MORE
Coronavirus: Why COVID-19 is NOT the end of the world
Another person said: "Nostradamus predicted that there will be a world war in 2020, but not fought with weapons. Coronavirus is the weapon. Stay woke."
A Twitter user also said: "Wuhan virus sounds great rather than naming covid 19 or coronavirus. Even Nostradamus have also mentioned this name also 'vuhwan' in his prophecy."
But is there any credibility to the outrageous claims made online?
No, according to popular sceptic and host of the Skeptoid podcast, Brian Dunning.
According to Mr Dunning, anyone who interprets Nostradamus' writings as prophecies of the future does so with a great deal of hindsight.
He said on his podcast: "How accurate are his predictions? You could fill a library with books claiming to match quatrains with major events in world history – all, of course, deciphered and published after those events occurred.
"The straight fact is that nobody has ever used Nostradamus' writings to predict a future event in specific terms which later came true."
He added: "Michel de Nostredame was truly one of the brilliant lights of his day, but to subscribe to false stories and urban legends is to disrespect who the man actually was.
"Appreciate his contributions to medicine and Renaissance literature, and don't trivialise his good works in favour of a pretended history of paranormal magical powers."
Sourse: www.express.co.uk