A NEWBORN puppy has been hailed a "real-life cyclops" after being born with only one eye, placed in the centre of his head.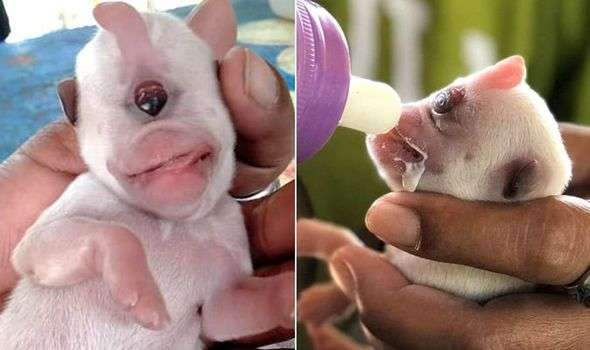 The pup, who has been named Kevin after the Minions character of the same name, was born in Central Thailand and was one of two pups. Owners, Somjai Phummaman, 45, and his wife Amphan, 49, posted footage of the rare pooch online. The footage showed the unique puppy spending time with his mother and brother.
He is currently being bottle-fed by his owners, and is said to be fit and healthy.
The unique pup may only have one eye, but that is not his only abnormal feature.
He also has extremely large lips, and an unusual piece of skin on his forehead.
Owner, Somjai, said residents have been visiting them to take a peek at the fascinating mutation.
He said: "We are hoping that the puppy survives, even though he has a deformity. We want to keep him as a pet until he grows up.
"Everybody has been amazed by him and says that it is a lucky sign.
"People said that he looks like the yellow cartoon character with one eye, so we named him after that."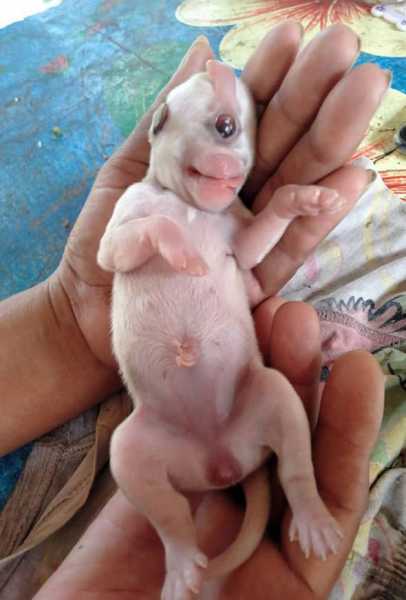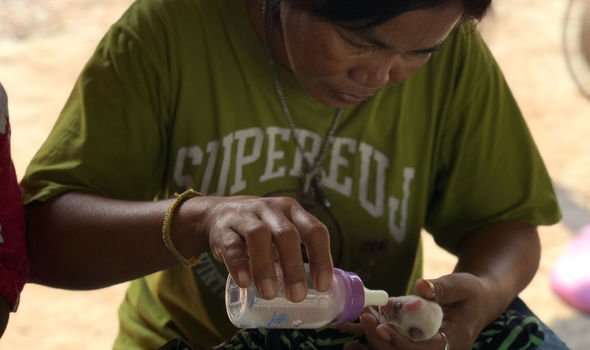 Somjai is a government worker, and was getting dressed for work when he noticed the pup's mother sitting on his bed with two puppies.
He put them in a basket to keep warm and then noticed the extraordinary deformity.
It is still not clear if the puppy's eye will function properly, as it normally takes around two months for a dogs sight to develop fully.
Somaji's daughter, Parn, said they family were delighted to have a newborn puppy with the physical abnormality.
She said: "We have taken good care of him so far. He cannot be breastfed the proper way, so we have to hand feed him with the milk bottle."
Some local neighbours that have gone to visit the pooch have hailed him a miracle.
DON'T MISS:
This pig thinks it's a dog after forming friendships with two large canines
Meet Graham: The man whose super-human deformities let him SURVIVE a deadly car crash
This little piggy has TWO heads: Deformed animal baffles farmer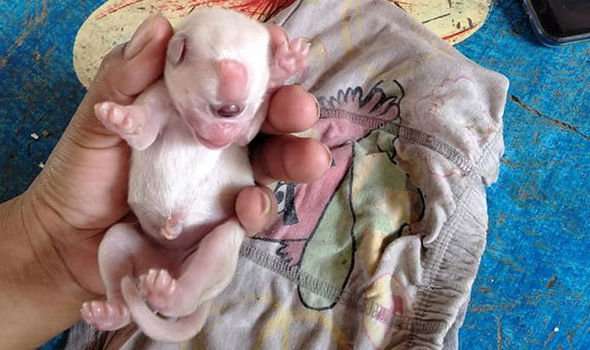 Others have even used the day he was born as numbers for their lottery tickets.
Somaji has had "many friends" asking to have the puppy for themselves, but he wants to keep Kevin himself.
He said: "Kevin and his mother are both healthy, so our family will raise them by ourselves."
It is unknown if the pup will survive into adulthood, however, a "cyclops" goat born in 2017 is still alive, and has been worshipped as an "avatar of god" by local residents in India.
The animal had a single eye, which can happen during fetal development when the brain fails to divide into two parts.
He only has one complete ear, a lack of a true nose, eyelids and eyelashes, and unusually small and missing teeth.
Sourse: www.express.co.uk