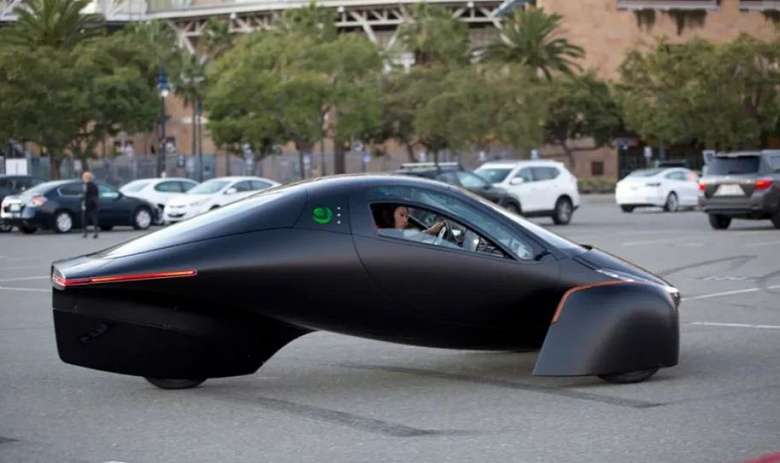 Range on a fully charged battery – up to 1600 km
In the United States, an event took place that cannot be ignored: Aptera introduced an electric car that does not require charging, and began to accept pre-orders for it. In their work, Paradigm and Paradigm Plus models rely on a solar battery with an area of ​ ​ about 3 m2 and a capacity of 700 watts. It is made of several sections installed on the hood, roof and even on the front panel. This solar battery charges the traction, and she, in turn, powers the electric motor (in the top version there are two). According to the developers, such a solar array generates energy during the day, which is enough for 60 km of mileage. And if you "extend" the solar battery on the trunk cover, then daily mileage on free energy will increase by another 38.5 km. Of course, these are limit values ​ ​ in sunny conditions, in reality, most likely, you can count on free 50 km of mileage. But this is not bad: for users who get to work from the nearest suburbs, it should be enough.
Of course, an electric car can be charged in the traditional way: from a home outlet with a voltage of 110 volts (we do not forget that we are talking about the United States) or a high-speed charging station. In the first case, the hour of connection to the electric grid will provide a mileage of 21 km, in the second case – up to 800 km per hour
For electric vehicles, there are four options for a traction battery: a capacity of 25, 40, 60 and 100 kWh. The maximum mileage is 400, 640, 965 and 1600 km, respectively. Seemingly fantastic indicators? But it must be borne in mind that the car, firstly, is small, it is designed for only two adult passengers and one animal (this is how the capacity of the car in the official document is characterized). Secondly, the aerodynamic drag coefficient is only 0.13 versus 0.23 for the same Tesla Model 3.
In the base version, front-wheel drive cars, electric motor power – 136 hp. In the top version, the power of the power plant reaches 204 hp, and the drive is full. Acceleration time to 96 km/h – 5.5 and 3.5 s, respectively.
The length of the electric car is 4.36 m, width – 2.2 m, height – 1.45 m. The novelty has not yet passed safety tests, but the developers promise to conduct tests in accordance with the FMVSS and NHTSA methods. Since nothing is said about Euro NCAP, the developers obviously do not even think to bring Paradigm and Paradigm Plus to the roads of Europe.