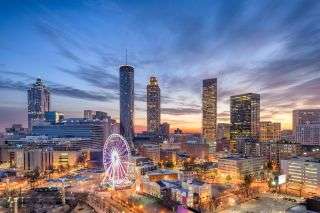 Downtown Atlanta, Georgia skyline.
Last updated May 6 at 12:09 pm ET
There are 30,562 confirmed cases of COVID-19 in Georgia and 1,305 deaths, according to the Georgia Department of Public Health. This makes Georgia 12th in the list of states with the most US coronavirus cases.
Georgia governor Brian Kemp announced on April 20 that he will be lifting some of the stay-at-home measures he put in place on April 1. "Gyms, fitness centers, bowling alleys, body art studios, barbers, cosmetologists, hair designers, nail care artists, estheticians, their respective schools, and massage therapists," will be allowed to reopen on Friday, April 24, he said. "This measure will apply statewide and will be the operational standard in all jurisdictions. This means local action cannot be taken that is more or less restrictive," he added.
"Subject to specific social distancing and sanitation mandates," theaters, private social clubs and dine-in restaurants will be allowed to reopen on Monday, April 27, he said.
President Donald Trump and Vice President Mike Pence are both supporting Kemp's decision to reopen the state, while public health officials are voicing their concerns over reopening too soon, according to CNN. Atlanta Mayor Keisha Lance Bottoms told CNN, "I have searched my head and my heart on this and I am at a loss as to what the governor is basing this decision on."
Georgia's first two cases of COVID-19 were residents of Fulton County who lived in the same household and one had just returned from Italy, according to a statement from the department on March 2. Both of them had mild symptoms and were isolated at home with other relatives. Since then, the state has had dozens more confirmed and presumptive positive cases (some of them had travel history and some of them had infections from unknown sources). 
On March 12, a 67-year-old man with underlying medical conditions died from the coronavirus, marking Georgia's first death, according to the Associated Press. The man was hospitalized at WellStar Kennestone, a hospital serving Cobb county.
Georgia set up a hotline for questions about the coronavirus: (844) 442-2681
Cases by county:
Sourse: www.livescience.com