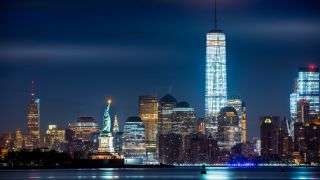 Last updated April 30 at 6:48 p.m. ET.
—New York is reporting at least 318,953 total positive cases of COVID-19 and 19,415 confirmed COVID-19 deaths, with 58,950 patients having recovered and 9,647 currently hospitalized. That makes it still the state with the most U.S. coronavirus cases, though infection rates appear to have slowed. A full 170,534 of those cases and 13,536 confirmed deaths are in New York City, according to official city counts, which tend to lag behind statewide counts. The city is also reporting 5,373 deaths of people who were not tested but were strongly suspected to have the illness.
—The state has seen a consistent decline in both new cases and new deaths since its early-April peak, but it's not out of the woods yet.
—The mainland Dutchess, Erie, Orange, Rockland, and Westchester counties, as well as Long Island's Nassau and Suffolk counties, all have thousands of cases in addition to New York City.
—These statistics likely represent an undercount, given that many people are dying in their homes but are not counted in official tallies because they have not been tested for the virus, as Gothamist and WNYC reported. There's also evidence that infection rates in New York City are much higher than the official count.
Key news and orders
—On March 20, Cuomo ordered all businesses to send home 100% of their workforce. Exemptions include: shipping, media, warehousing, grocery and food production, pharmacies, health care providers, utilities, banks and related financial institutions, according to a statement from Cuomo's office.
—He also placed restrictions on all New Yorkers, requiring social distancing (6 feet between individuals) when in public, including for everyone in grocery stores and other "essential" businesses.
—On May 4, Cuomo produced a checklist of conditions necessary for reopening. He said that none of the state's 10 regions yet meet the standards, though some are closer than others. Importantly, none of the regions have the necessary contact-tracing capacity yet.
Some regions of New York are closer to reopening than others.Currently, no region meets all the requirements necessary to reopen safely and securely.There is a lot of work to do. pic.twitter.com/OWaKHUeUUaMay 4, 2020
—On April 30 Cuomo announced that the Metropolitan Transit Authority would shut the subways from 1 a.m. to 5 a.m. every day in a rare move for disinfection. Homeless advocates said the plan did not take the needs of people who rely on the subways for shelter into account, according to The New York Times.
—On April 24, Cuomo announced an executive order mandating that every New Yorker automatically receive a postage-paid application for a primary ballot. All New Yorkers are eligible to vote by mail.
—Health officials are seeking plasma donations from people who have fully recovered from the illness to help treat those still infected. More information can be found here. As of April 22, orthodox Jewish groups have organized the bulk of plasma donations, according to The Forward.
—On April 1, Dr. Laura M. Huckins, a doctor at Mt. Sinai hospital and lead of the STOP COVID NYC project announced on Twitter an effort to understand and track symptoms of the virus across New York City. She asked individuals across the city to text COVID to 64722, complete a survey, and respond to daily texts asking for updates on their condition. The data, she said, is helpful in fighting the disease whether you are healthy or sick.
—Cuomo announced an order April 17 requiring all public and private labs in New York to follow the direction of the state Department of Health, with the goal of coordinating them to prioritize and ramp up testing.
—Also on April 15, Cuomo announced a series of new executive orders. One requires all New Yorkers to wear masks when entering public spaces. Employers are also required to provide masks to employees who interact with the public, and taxi drivers and people in similar roles are also required to wear masks. The CDC has urged people to do this nationally, using cloth to cover their mouths and noses. Read Live Science's report on the science of cloth masks here.
—On April 6, Cuomo doubled the maximum fine for violating social distancing rules, from $500 to $1,000. There are ongoing complaints about the NYPD's handling of the virus, even as 30 officers have died from COVID-19 as of April 21. On May 2, a video showing an officer beating a man during a social-distancing arrest made news in the city.
—Cuomo ordered the shutdown of all playgrounds and basketball courts in New York City, a more aggressive move than Mayor Bill de Blasio had been willing to make thus far. Cuomo also urged the New York Police Department to take more aggressive action to enforce social distancing rules.
It's not time to reopen yet, but here's how it will work
In addition to announcing his criteria for reopening, Cuomo said it would happen in a staged process. "More essential" businesses with "inherent low risks of infection" will get to go first he said.
Businesses will also be required to adopt the following safety precautions, he said:
New York hotline for coronavirus: 1-888-364-3065.
The 9 Deadliest Viruses on Earth
28 Devastating Infectious Diseases
11 Surprising Facts About the Respiratory System
Originally published on Live Science.
OFFER: Save at least 53% with our latest magazine deal!
With impressive cutaway illustrations that show how things function, and mindblowing photography of the world's most inspiring spectacles, How It Works represents the pinnacle of engaging, factual fun for a mainstream audience keen to keep up with the latest tech and the most impressive phenomena on the planet and beyond. Written and presented in a style that makes even the most complex subjects interesting and easy to understand, How It Works is enjoyed by readers of all ages.
Sourse: www.livescience.com