CORONAVIRUS has spread across the globe and so have hoax conspiracies and false predictions supposedly penned by the French prophet Nostradamus.
The coronavirus (SARS-CoV-2) has infected more than 420,000 people since it emerged in China last November. Before the outbreak, the virus has never been seen in humans, which left health authorities fighting an unknown threat.
Trending
Since the coronavirus appeared, the pathogen has killed nearly 19,000 people as of 7.07am GMT on March 25, the majority of whom died in Italy and China.
But there is a new coronavirus-related threat emerging – the spread of misinformation.
Scores of social media users have flooded Twitter in recent days to share a coronavirus prophecy supposedly penned nearly 500 years ago.
The passage has been attributed to the French writer Michele de Nostredame, or Nostradamus, who many believe had visions of the future.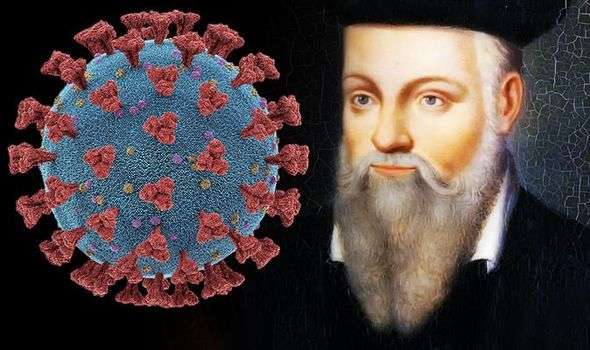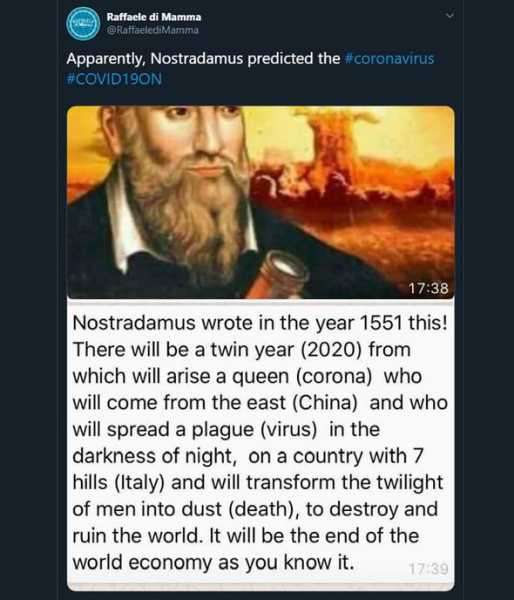 READ MORE
Person who attended 'coronavirus party' contracts virus in US
Nostradamus' followers believe he predicted many world events with precision, including the rise of Adolf Hitler in 1933 and the Great Fire of London in 1666.
Now, people are saying Nostradamus predicted the coronavirus pandemic in a passage eerily reminiscent of the ongoing health scare.
People have been sharing the following message online: "There will be a twin year (2020) from which will arise a queen (corona) who will come from the east (China) and who will spread a plague (virus) in the darkness of night, on a country with 7 hills (Italy) and will transform the twilight of men into dust (death), to destroy and ruin the world. It will be the end of the world economy as you know it."
One person who shared it on Twitter: "Um yeah this was all predicted by Nostradamus #coronavirus #COVID #Q #Quarantine".
Another person who shared the passage said: "Apparently Nostradamus predicted the #coronavirus #COVID19on".
We also found no mention of this supposed prophecy
But did Nostradamus truly write these words nearly 500 years ago?
Nostradamus penned the bulk of his prophecies in his 1555 book Les Propheties.
The vague and often cryptic prophecies took the form of four-lined poems known as quatrains.
DON'T MISS
Nostradamus predicted the coronavirus, claims author [INSIGHT]
Why COVID-19 is NOT the end of the world [ANALYSIS]
Coronavirus UK: How many cases are in your area? [MAP]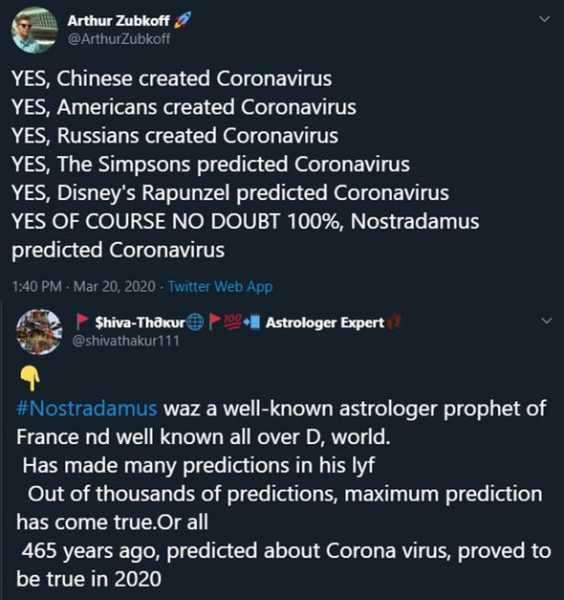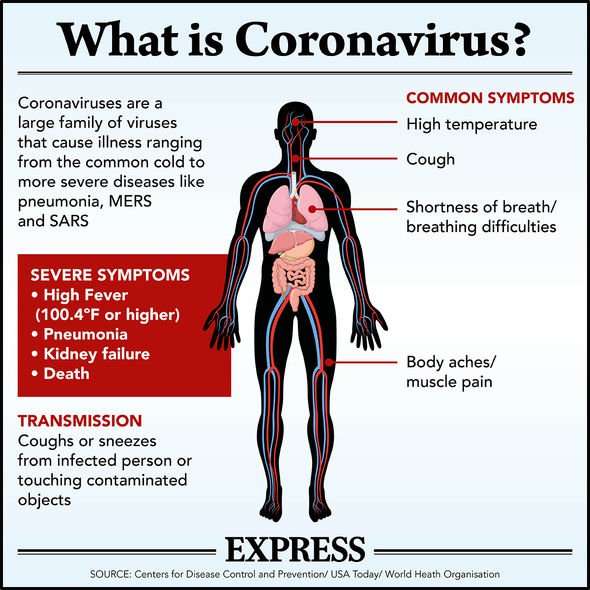 READ MORE
Coronavirus latest: Tory MP warns UK prisoners could be released early
The book is divided into Centuries, each featuring 100 quatrains.
But the above passage does not appear anywhere in the book and was most likely written as an online hoax.
According to the fact-checking website Snopes, the supposed coronavirus prophecy is not genuine.
Snopes said: "Nostradamus wrote a lot of stuff so general – and obscure – that with the help of a little imagination – and some liberal interpretations from the original French – people have claimed he has 'predicted' nearly every event of significance since the mid-16th century.
"But this particular viral prediction was not expressed in quatrain form, nor could we find anything like it published in 'Les Prophéties'.
"We also found no mention of this supposed prophecy prior to the events of early 2020, which generally indicates it is a modern hoax."
There are, however, genuine Nostradamus prophecies that mention plague and pestilence.
But it is unlikely any of them concern the coronavirus pandemic.
Do you have any questions about the coronavirus, self-isolating or the Government lockdown?
Get in touch with us and Express.co.uk will ask an expert to find the answers for you. Email your question to vickiie.oliphant@express.co.uk
Sourse: www.express.co.uk