A MYSTERIOUS UFO has sparked alarm among conspiracy theorists online, after a flying object was spotted during live stream footage of Elon Musk's latest SpaceX Starlink launch.
A mysterious flying object can be seen moving across the sky below one of Elon Musk's SpaceX rockets following a recent space launch. Incredible footage of the UFO was picked up by a renowned YouTube conspiracy theorist Disclose Screen "The Grimreefar" who pointed out the strange shape of the flying object. In the footage, that is available on SpaceX's own YouTube channel, an apparent winged creature can be seen flying across the sky below the space rocket.
The UFO was only recently picked up from the the launch of Elon Musk's cargo rocket boosting Starlink satellites into orbit, which took place in November.
The SpaceX Falcon 9 launch live stream, part of the Starlink mission, raised the suspicions among viewers.
According to Disclose Screen, a winged object resembling what the YouTuber describes as a "dragon-like creature" can be seen lurking below the rocket as it reached the upper atmosphere.
The footage on the conspiracy theory channel shows the dragon-shaped winged shadow circled in red.
JUST IN: BBC host stuns SNP MP by destroying her indy ref claims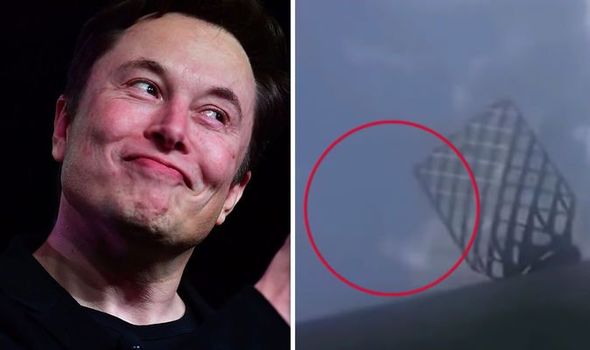 He told viewers: "The only thing I can explain that it is, and I'm not saying it is, but it looks like a flying dragon object."
The video unleashed a frenzy of speculation, with some dismissing it as part of the rocket falling off while others remarked that it could be military intelligence.
Most of the viewers commented on the "amazing UFO footage" while some agreed that the object had a "flapping motion".
One commenter noted: "I don't know about a dragon or whatever, but it's something cloaked."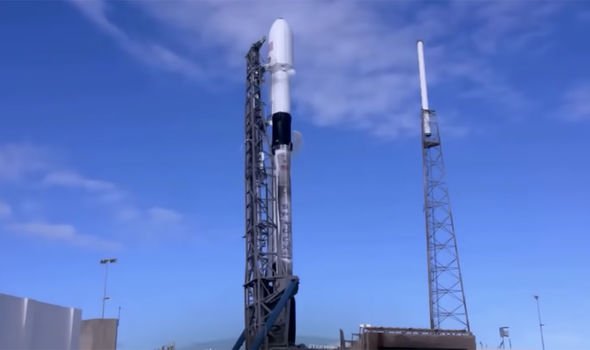 Another remarked: "To say that it was a something it certainly was but to say it was a dragon is a lot of speculation."
One viewed added: "Look like something dragging behind that SpaceX."
Others remarked that it could have simply been a "darkened cloud shadow".
The booster was launched on 11 November and put 60 Starlink satellites into orbit, returning to a floating platform in the Atlantic Ocean.
DON'T MISS:
Christmas travel chaos: Aerial flood footage warning on busiest UK travel day [VIDEO]
Brexiteer MEPs ridicule glum-faced EU officials with 'Merry Brexmas' song [VIDEO]
Boris planning 'Valentine's Day Massacre' to deliver Brexit superteam [LIVE BLOG]
This comes after SpaceX announced a new 60-satellite Starlink mission, making it the second Starlink launch scheduled in the first month of the new year.
The US recently approved SpaceX's request to increase the number of lanes its Starlink satellites can orbit
Last night, Spacex CEO Elon Musk congratuled the formal launch of the US Government's Space Force.
Referencing Star Trek, he tweeted "Starlet begins" after President Donald Trump singed the National Defense Authorization Act of 2020, launching Space Force.
Sourse: www.express.co.uk