WORLD WAR 3 tensions are running dangerously high just days after a leading British psychic warned of a war in the Middle East involving Iran, the US and Saudi Arabia.
World War 3 could erupt in the Middle East in the aftermath of the United States assassination of Iran's revered General Qassem Soleimani. On Friday, January 3, a US airstrike in Baghdad, Iraq, killed the military leader who led Iran's elite Quds Force.
President Donald Trump justified the attack as a preventive measure against acts of terror against American citizens in the Middle East.
The US Defense Department also claimed General Soleimani was killed because "he was actively developing plans to attack American diplomats and service members in Iraq and throughout the region".
The Iranian general is accused of masterminding an attack on the US embassy in Baghdad earlier this week.
Iran's Supreme Leader Ayatollah Khomeini has since vowed "retaliation" for the assassination, calling General Soleimani a "martyr" who died after years of struggle.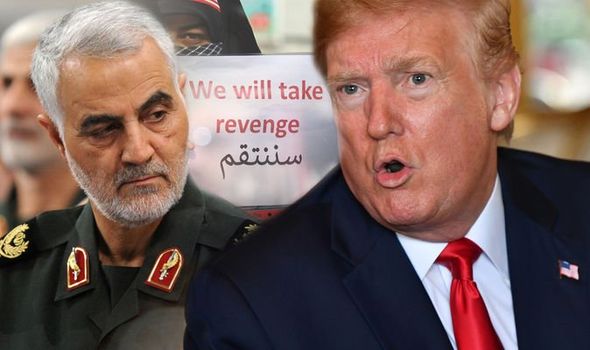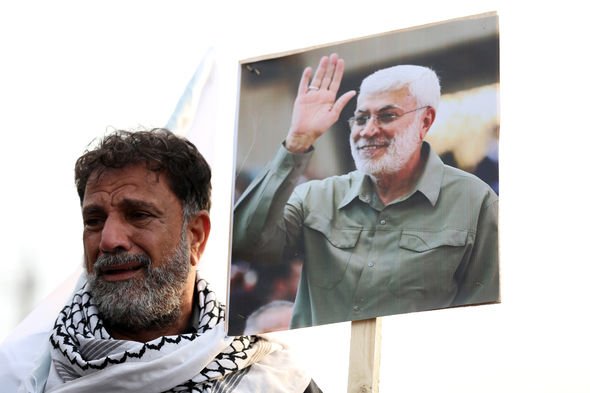 READ MORE
Terrifying moment Iran unveils red flag warning of 'battle to come'
The US airstrike in Iraq has been called an open act of war against Iran and the move was condemned by world leaders.
Many now fear World War 3 is on the table if the situation in the Middle East deteriorates into an all-out conflict.
British psychic and medium Craig Hamilton-Parker of Psychics.co.uk told Express.co.uk in his 2020 predictions, a war will ravage the Middle East between 2020 and 2021.
But could this conflict be the World War 3 many are afraid will erupt between the US and Iran?
According to Mr Hamilton-Parker, an armed conflict in the Middle East will follow widespread riots on the streets of Iran.
The riots will be suppressed by Ayatollah Khameni, followed by involvement from Saudi Arabia.
We took action last night to stop a war
At the same time, Mr Hamilton-Parker said Saudi Arabia will make "huge arms deals" with the US and Europe.
War will then be declared between Iran and Saudi Arabia with the US joining the fray after an aircraft carrier is struck by a missile.
Of the back of the conflict, however, the US and Russia will sign a temporary peace deal.
DON'T MISS
World War 3: What are the most dangerous countries in the world? [MAP]
Donald Trump's attack STOPPED World War 3 from happening [INSIGHT]
Latest news on World War 3 as tensions rises between US and Iran [LIVE]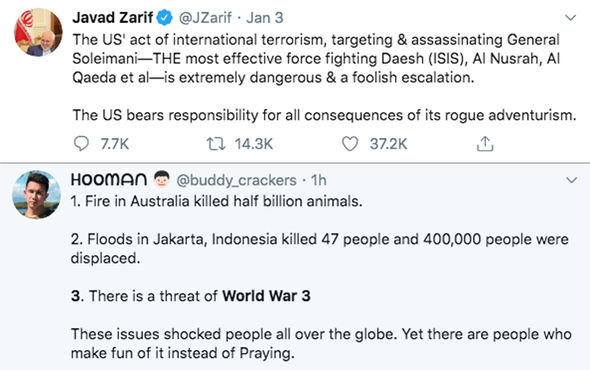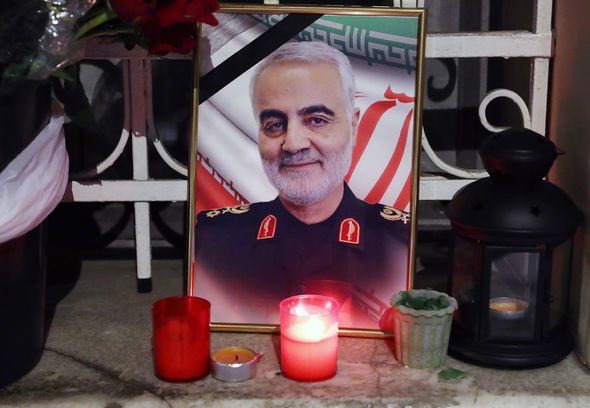 READ MORE
Iran expert exposes how nation will 'strike' at US over airstrike
Mr Hamilton-Parker listed his predictions for the war:
Riots in Iran. Ali Khamenei retaliates.
Saudi Arabia sells more Aramco stocks on Stock Exchange.
Saudi Arabia make huge Arms Deal with USA and Europe.
War between Saudi Arabia and Iran.
American Aircraft Carrier struck by missile.
Putin and Trump enforce a temporary peace deal.
General Soleimani was killed on Friday at Baghdad airport alongside Iran-backed militia figures.
His death has prompted widespread unrest across Iran with protesters chanting "death to America" on the streets
Iran's foreign minister Javad Zarif dubbed the attack in a tweet an "act of international terrorism, targeting and assassinating General Soleimani".
Trending
Mr Zarif added: "The US bears all responsibility for all consequences of its rogue adventurism."
Shortly after the airstrike was carried out, President Trump tweeted an image of the US flag.
The US President later said: "We took action last night to stop a war. We did not take action to start a war."
He added: "If Americans anywhere are threatened, we have all of those targets already fully identified, and I am ready and prepared to take whatever action is necessary, and that in particular refers to Iran.
Sourse: www.express.co.uk