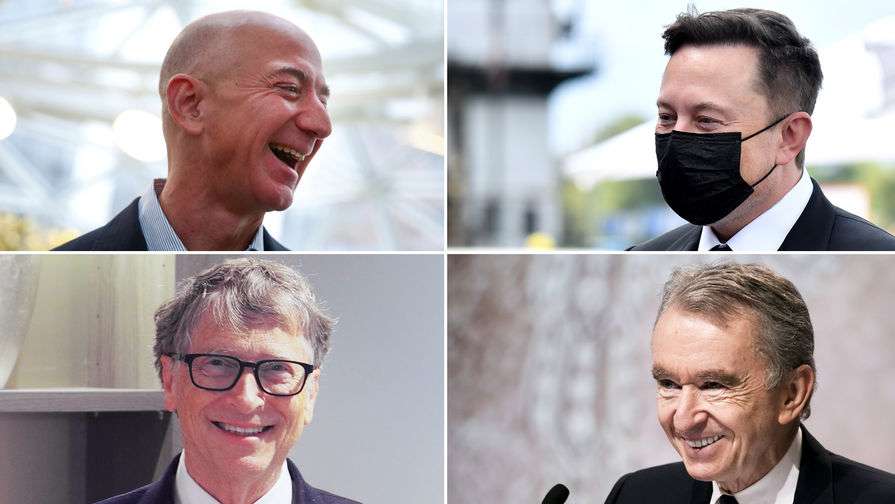 2020 has become a difficult year for all residents of the Earth, except for Elon Mask – the fortune of the head of Tesla and SpaceX has increased by a record amount, providing him with second place in the ranking of billionaires compiled by Bloomberg. Thus, Musk overtook Bill Gates and approached the leader of the list in the person of Amazon founder Jeff Bezos. How the engineer managed to become the second richest man on the planet – in the material "Gazeta.Ru."
The head of Tesla and SpaceX, Elon Musk, became the second richest person in the world, overtaking Microsoft co-founder Bill Gates, Bloomberg reports. The fortune of the 49-year-old entrepreneur increased by $7.2 billion due to an increase in the price of shares in his automobile company and amounted to $127.9 billion.
It is worth noting that in 2020 Musk was able to earn an additional $100 billion – more than any of the ranking of the 500 richest people on the planet Bloomberg Billionaires Index.
As a result, he was able to rise from 35th place on the list to second, second only to Amazon CEO Jeff Bezos, whose fortune is $182 billion.
Thanks to Musk's record, Bill Gates lost his second place to another person for just the second time in the history of the rating. The first time the position of the co-founder of Microsoft was temporarily taken in November 2019 by the president of the Louis Vuitton Moet Hennessy (LVMH) group of companies Bernard Arnault. At the moment, he takes fourth place. It is noted that the current state of Bill Gates at $127.7 billion could have been much more if not for his active participation in charity – it is known that he donated about $27 billion for various purposes.
It was the successes of Tesla that became the main reason for the increase in Musk's wealth this year.
Now the market capitalization of this brand is approaching $500 billion. At the same time, the company's shares have risen in price by 520% since the beginning of the year.
It is known that three quarters of Mask's condition are Tesla shares.
Inclusion in the S & P500 index was a catalyst for the influx of funds into the company, investors had been expecting this event for several months, although it was only indirectly related to Tesla's business, Yevgeny Mironyuk, an analyst at Freedom Finance, told Gazeta.Ru. According to the expert, this will force index funds to buy shares of Mask company in the amount of about $50 billion.