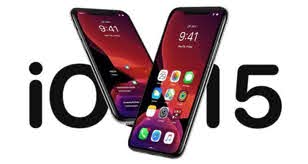 Not even a few months after the release of the operating system new iOS 14, as rumors have already appeared on the Internet about the next version of the OS from Apple. At the same time, three popular models of iOS that will be recognized as outdated by the company may lose support for iPhone 15 at once. Who should think about buying a new smartphone – in the material "Gazeta.Ru."
In the fall of 2021, Apple will release the next version of the new iOS operating system, which, according to tradition, will not be supported by outdated iPhone models, The Verifier portal reports. In particular, by hearsay, owners of the iPhone 6s, iPhone 6s Plus smartphones and original iPhone SE won't be able to be updated to iOS 15.
Thus, the list of "apple" gadgets that will be supported by the new OS is as follows: iPhone 2021, iPhone 12 Pro Max, iPhone 12 Pro, iPhone 12 mini, iPhone 12, iPhone 11, iPhone 11 Pro, iPhone 11 Pro Max, iPhone XS, iPhone XS Max, iPhone XR, iPhone X, iPhone 8, iPhone 8 Plus, iPhone 7, iPhone 7 Plus и iPhone SE (2020).
Owners of all other Apple smartphones should think about upgrading their device if they want to remain protected.
iPhone 6s and iPhone 6s Plus – representatives of the ninth generation of iPhone, introduced in September 2015. iPhone SE was released in March 2016. These models have gained popularity among users, and Apple has provided iOS updates for them over the past five years. However, progress is not in place, and now, if the rumors prove true, the company will stop supporting these three smartphones next year.
It is worth noting that the second generation iPhone SE, which went on sale in 2020, will not affect this, so the gadget will remain relevant for at least several more years.
The current version of the Apple iOS 14 operating system became available to a wide range of users on September 16, 2020.
Among the innovations available to users were desktop widgets, automatic grouping of applications into folders, support for picture-in-picture mode, a more advanced version of Siri voice assistant, security updates, etc.
In addition, thanks to iOS 14, the so-called "secret button" appeared in the iPhone. We are talking about the Back Tap feature, which allows you to control the phone from the back panel using a finger.
The "secret button" options include opening the application switch, notification menu, or the control center, and a Siri call is also available. In addition, there are options to take a screenshot and scroll through a web page or application. You can also set up Back Tap to respond with a pre-prepared message.
This "button" is controlled by holding, double or triple touch.
In addition to the listed "chips," Back Tap also has a connection with the Apple Shortcuts [Shortcuts] application, which allows the user to come up with ways to use the technology himself – this is the key component of the new feature from Apple.