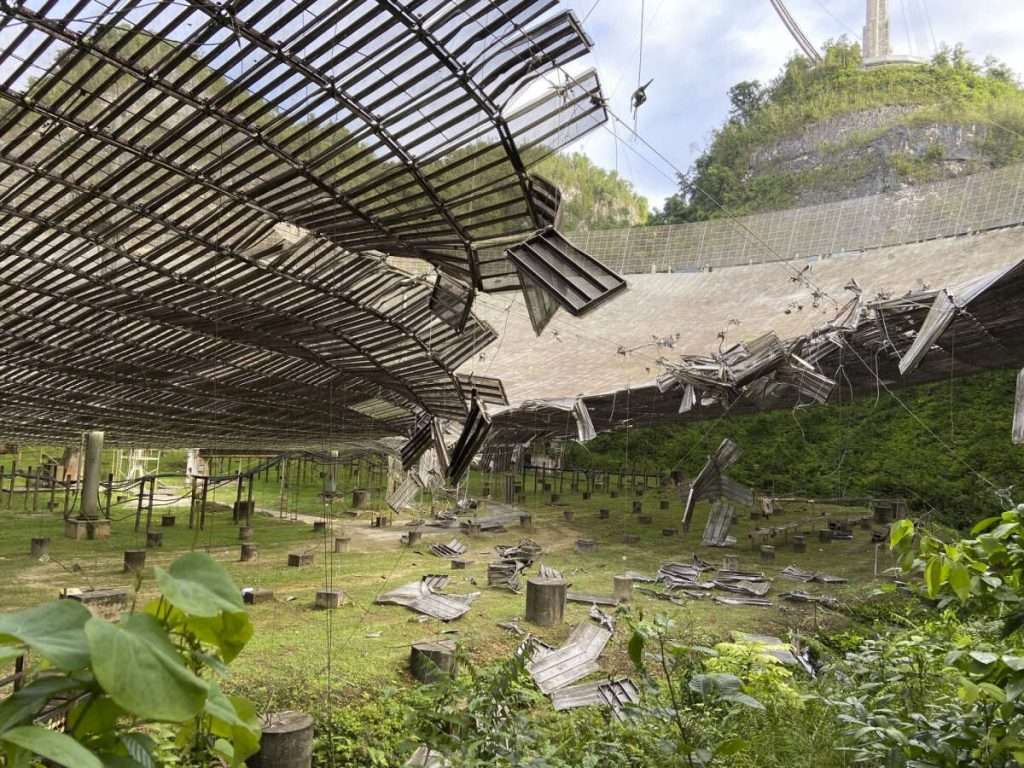 The National Science Foundation (NSF) of the United States announced yesterday, Thursday, the closure of a giant radio telescope located at the Arecibo Observatory, located in Puerto Rico, and this was a great loss for the world scientific community, whose representatives actively used the observatory to search for off-solar planets, asteroids and extraterrestrial life.
An independent agency with federal funding said that continuing to use this one-time radio telescope – one of the largest in the world – is becoming too dangerous due to serious structural damage currently available. One auxiliary Arecibo cable broke in August and struck a 30-meter gap in the reflector plate, and also damaged the dome located above it. Then, on November 6, one of the main steel supporting cables of the telescope broke, after which the observatory management was forced to make a public warning about the possible collapse of the entire structure.
NSF officials noted that even if the technical staff had repaired all the existing damage, engineers did not guarantee the stability of the design in the long term.
"This decision has been difficult for us, but human safety is the number one priority for us," said Sean Jones, assistant director of the NSF Directorate of Physical and Mathematical Sciences. "We realize how important the observatory is for the scientific community and for Puerto Rico."
The telescope was built in the 1960s with funds from the US Department of Defense as part of a missile defense program. During 57 years of operation, it withstood several hurricanes, constant high humidity conditions and a recent series of earthquakes.
In the near future, NSF plans to return to service the secondary instruments of the observatory, including two LIDAR complexes, one of which is located on the nearby island of Culebra. These complexes are used to study the upper atmospheric and ionospheric layers, including cloud cover analysis and atmospheric deposition data. In addition, NSF officials reported on the planned restoration of the observatory's excursion center.