At the excavation of the barrow, where the central burial belongs to the Scythian time, archaeologists also found atypical for this era burials.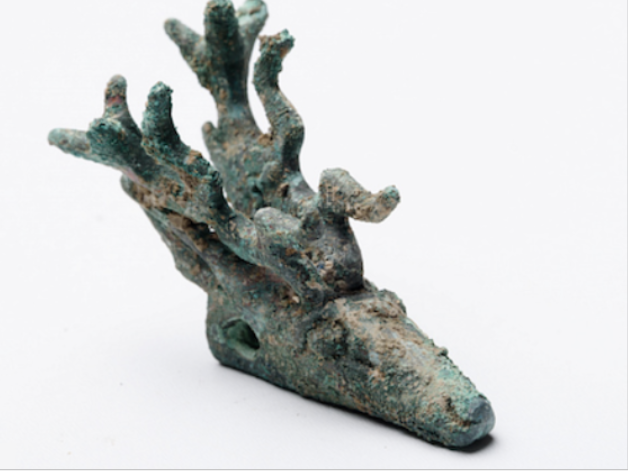 The mound, which is investigated by archaeologists of DSTU and UNTS RAS, is located in the Azov district of the Rostov region. Here scientists found burials from completely different eras. The finds were located throughout the mound. In its field archaeologists found a hoard of things belonging to the Cimmerian period (VIII-VII centuries BC): bronze tesla and kelt, as well as a polished stone axe.
The burial of a Scythian leader or nobleman was found in the central burial. Archaeologists have suggested that the grave was looted, as only the skull remains. Five amphorae placed nearby helped to determine the age. Also, in the central burial, scientists found two more accompanying burials. The Scythian custom included a ritual in which a warrior was put to death at the time of the funeral ceremony. The second grave is a horse, which was regarded as sacred by the Scythians, and therefore it is assumed to be the favourite horse of the leader.
Together with the warrior, spears, an iron sword, a lekif (a Greek incense or oil pot), a sling, an arrow quiver and some broken arrows were found. Archaeologists have suggested that the broken arrows were also part of a ritual: at the burial the priest pronounced a spell, broke the arrows and threw them into the grave. On the warrior's remains lay another find – a gold necklace. The horse's head was adorned with a cast-on deer headband – a uniquely shaped, volumetric ornament not characteristic of the local tribes.
Archaeologists suggest that the burial mound was originally of the Bronze Age, and the Scythians came later:
– The Scythians dismantled the mound and built a rampart around its periphery. In the center of this ring, they began to dig their own burial pit. Thus, this burial pit ended up with a burial of the Bronze Age. That is, by the time of the arrival of the Scythians, there was already a mound. – describes findings the head of the archaeological team, the head of the Department of Archaeology of the Southern Scientific Center of RAS and the Department "Archaeology and History of Culture" DSTU, Dr. Sergei Lukyashko. – We see that this is atypical burial. It contains a lot of eastern objects, as well as things related to the Greek world. We have a hypothesis that these people came from the East. But no conclusions can be drawn from one burial. What it is – random expeditions, the existence of permanent trade and economic ties or the result of migration – remains to be seen.