The Changcheng-5B heavy rocket was launched on April 29 from the Wenchang Cosmodrome. It has injected into earth orbit the Tianhe module, the basic unit of the new Chinese orbital station. It is reported that it has already successfully deployed solar panels. In the near future, the module will perform several maneuvers that will put it into a 370-kilometer working orbit.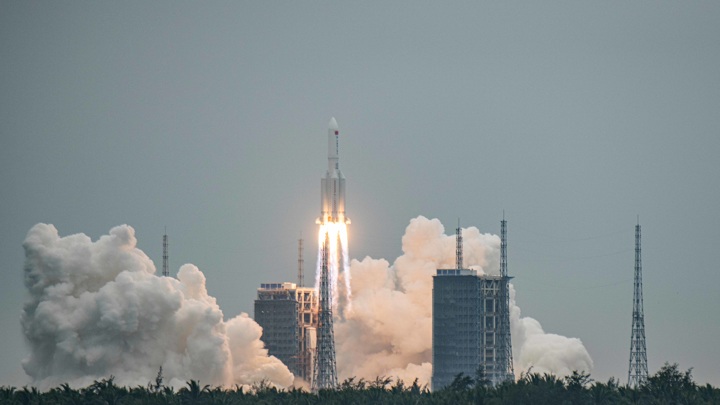 Changcheng-5B rocket launch with Tianhe module. Source: Xinhua
"Tianhe is the largest and heaviest spacecraft in Chinese history. Its length is 16.6 m, diameter 4.2 m, and mass (including fuel) 22.5 tons. In just a few weeks, the Tianzhou supply ship will be launched to it, and in June it will receive its first crew of three (the Shenzhou 12 expedition). Both spacecraft and their launch vehicles have already been delivered to the Wenchang and Jiuquan launch sites and are currently undergoing pre-launch preparation.
By the end of 2022 a total of 10 more spacecraft – four manned, four supply vehicles and two additional laboratory modules – will be launched on Tianhe. After docking the latter, the weight of the station will increase to 66 tons. According to the Chinese authorities, in case of emergency situations requiring evacuation of the crew of "Tianhe" at the Baikonur Jiuquan will always be ready to launch the rocket "Changcheng-2F" with a spacecraft Shenzhou.
Also, an autonomous telescope module "Xuntian" equipped with a two-meter main mirror is planned to be sent to the new station. According to Chinese experts, it will have the same resolution as the Hubble, but it will have a 300 times larger field of view. If necessary, the module will be able to approach and dock with the station for maintenance and replacement of scientific instruments.
It is possible that in the future the orbital outpost of the Celestial Empire may be expanded. The management of Chinese space program is considering the possibility of docking up to three additional modules to it. The total service life of the complex should be at least 10 years.